Create Your Perfect Life
Who would you BE with?
What would that BE like?
Where would you GO?
When do you want it?
WHY do you want it?
How would you FEEL?
'Get Your Blog On' could BE your perfect vehicle to finally create that freedom you deserve & desire.
Learn How To Easily Create & Monetize Your Blog This Afternoon

Easy To Learn
'Get Your Blog On' walks you through learning how to setup your blog, giving you a professional edge online.
Simple To Create
Step-by-Step training guides you through creating your blog, so can BE found, BE searchable & build a prosperous business.

Attract Your Customers
All BIG businesses attract their customers by answering questions & providing solutions on their website & blog. Start Today!

Save Time + Money
The most economical way to build a blog. On-Demand training saves you time, money & headache of figuring it out yourself! Freedom & flexibility to learn at your own pace.

No Techie BS
Taught by real humans, speaking human! No confusing jargon. Finally! An easy-to-follow solution to setting up your dream biz online!

Leverage The Internet
People search online 6.5 Billion times per day. Use this to your advantage to get in front of thousands of people (Even while you're out playing!)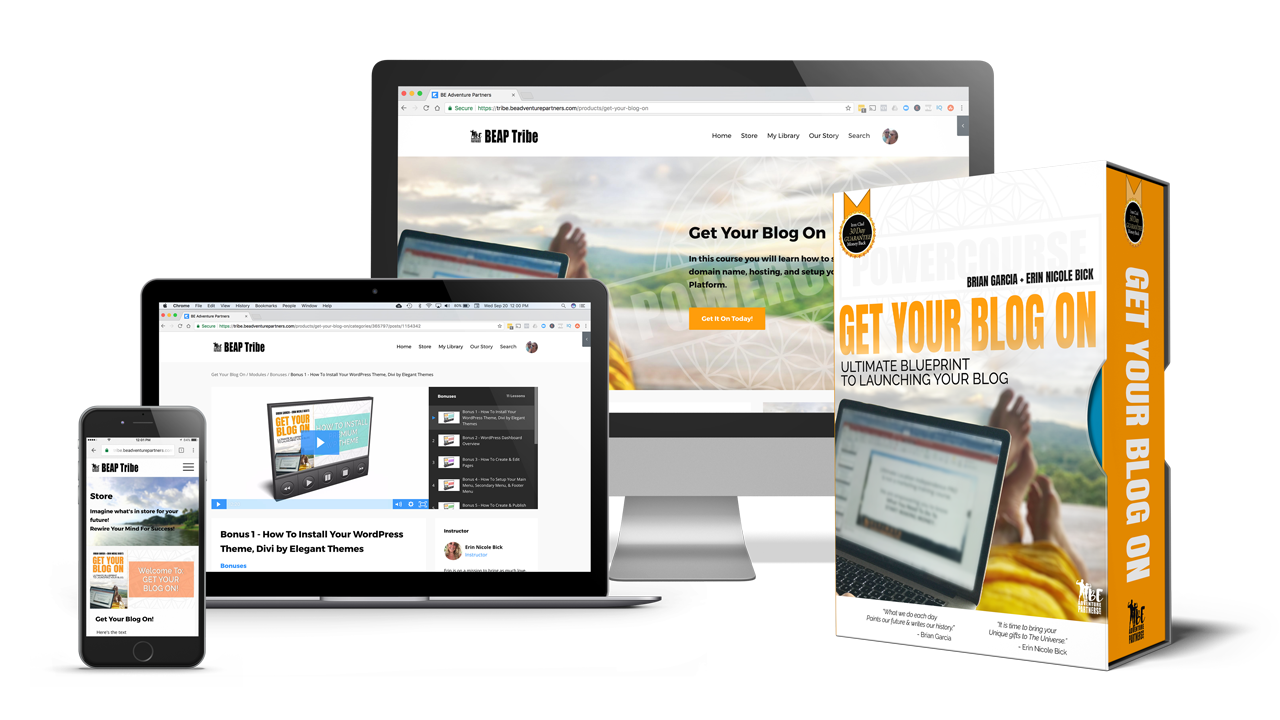 Freedom. Time. Experiences. Personal Development. Financial Independence.
What's your idea of Living An Extraordinary Life? 'Get Your Blog On' could BE that missing link to achieving all that you desire!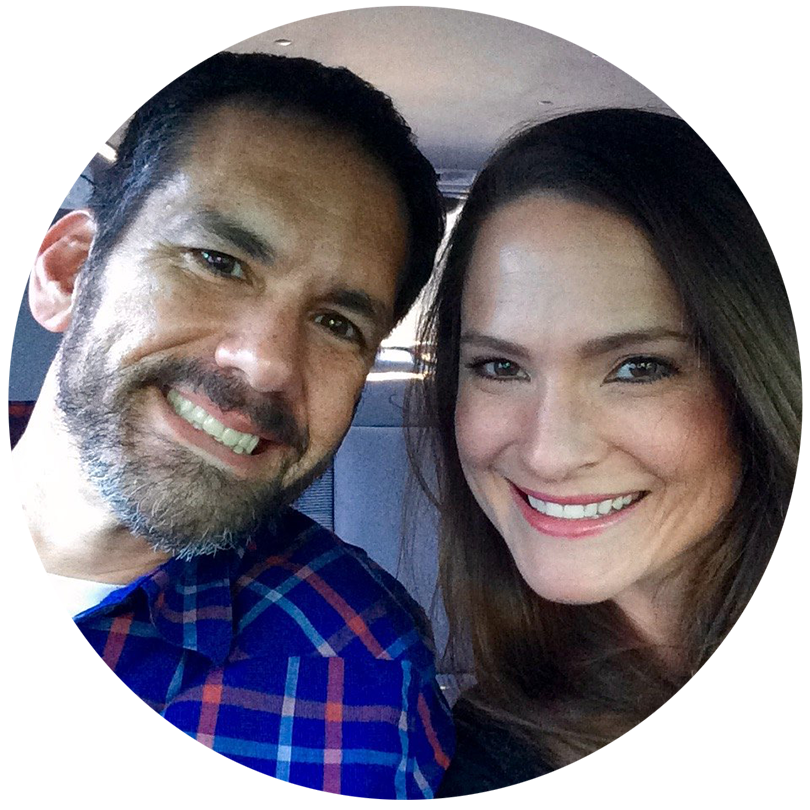 "If it was not for the BE Adventure Partners "Get Your Blog On" e-course there is no way we would have been able to figure this out…trust us we tried. We were able to easily follow along step-by -step… Not only were Brian and Erin easy to follow but their personality shined through in this course… They literally saved us days, weeks, and months of our time… Without them, we would still be lost. We are now in the process of producing real, meaningful content, like the Pros. With their help I now know we will be able to do this…thank you, Brian and Erin… you have helped change our lives." – Rachel + Shaun Hurtado
Creating A Blog Can BE Complicated
'Get Your Blog On' PowerCourse Makes It Straightforward
Video Training Makes It Easy
Learning & following along is fast & efficient. Step-by-Step videos make it simple to implement as you go.
Get Your Questions Answered
Engage in the BE Adventure Partners Exclusive Tribe! Become a valuable member, mingling with our community of bloggers & online business owners from all over the Globe. Get your questions answered quickly!
Mobile Learning Environment
BEcoming Location Independent? This learning environment is mobile! You can watch from any device, and take your training with you! Gone are the days of putting it off until tomorrow! Get started today!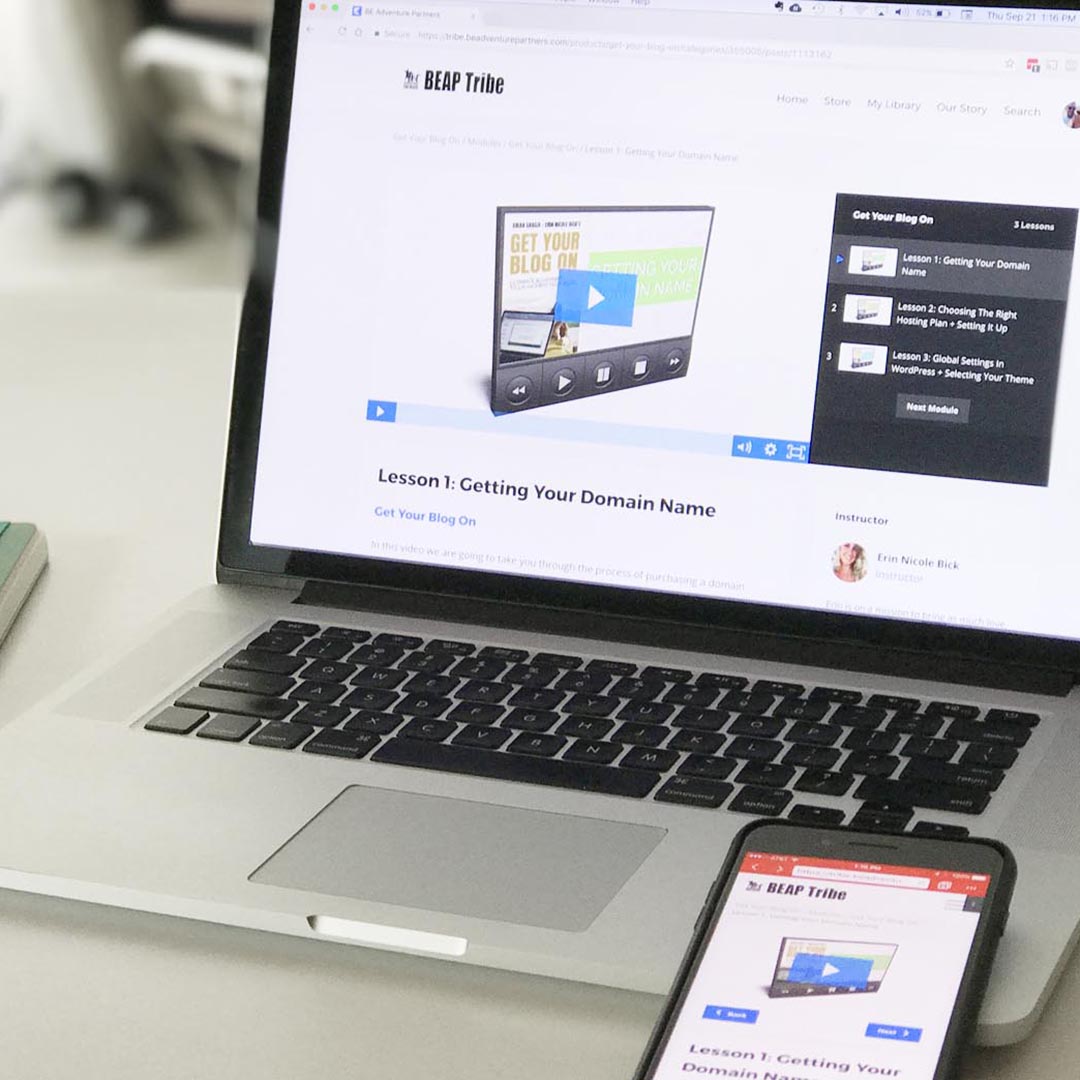 "Everybody told me to start a blog, so I did! I had good content, but no followers! I kept asking how to promote it and build it? There was no one to answer! They either didn't know or didn't want to tell! Then I found 'Get Your Blog On'! Oh did it ever answer my questions and help me build my blog! It made it so easy, even for this no techy! Brian and Erin have been a Godsend! They have helped me every step of the way! Thanks to Get Your Blog On I am blogging!" – Lisa Oakleaf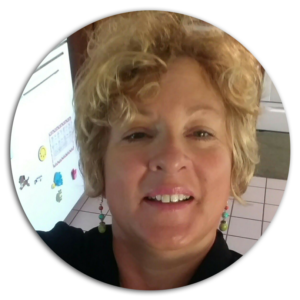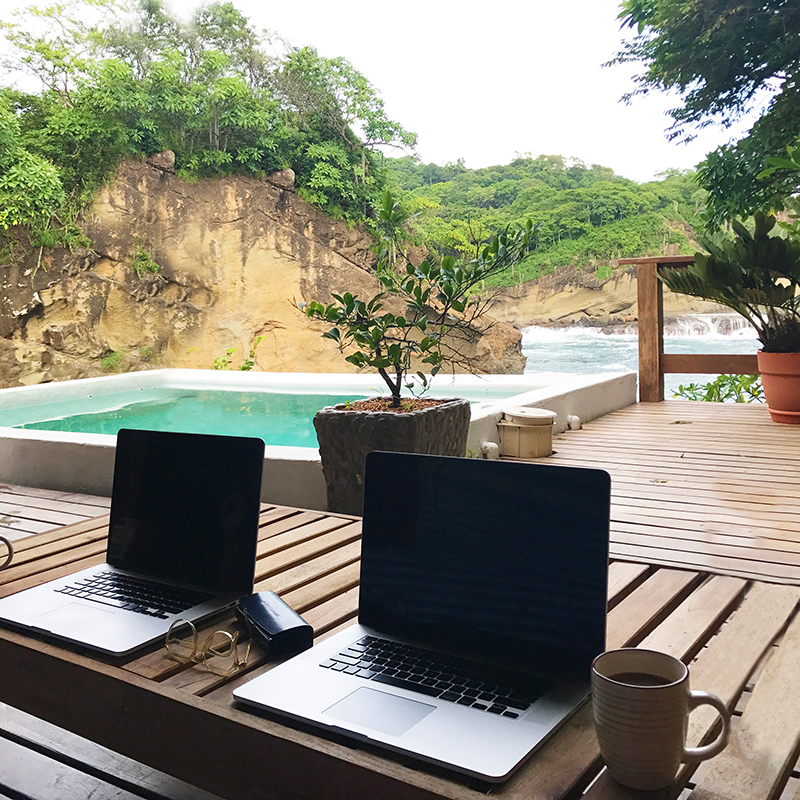 Getting Your Domain Name
Choosing The Right Hosting Plan + Setting It Up
Global Settings In WordPress + Selecting Your Theme
How To Install Your Premium Theme
WordPress Dashboard Overview
How To Create & Edit Pages
How To Setup Your Menus
How To Create & Publish Blog Posts
How To Make Your Site Visible To Search Engines
How To Make Images In Canva
How To Add Images To Pages & Blog Posts
How To Embed YouTube Videos To Pages & Blog Posts
How To Link To Your Affiliate Products
How To Link To Other Content Internally
eBook – How To Build A Profitable Blog That Travels With You
Online Business Building Resources PDF
And much much more…
Blogging invites people into your home online. It is a place where you can teach, entertain, and inspire your audience. This allows them to get to know you, your brand, and all that you offer.
People are searching for answers to their most pressing questions. They are seeking out products, services, and information that could change their lives.
Blogging allows you to answer those questions, fulfill those desires, and build trust in a more dynamic way than ever before.
Over 6.5 billion searches are made online each day. Leverage the power of the internet to offer irresistible solutions to the people who are searching for what you got!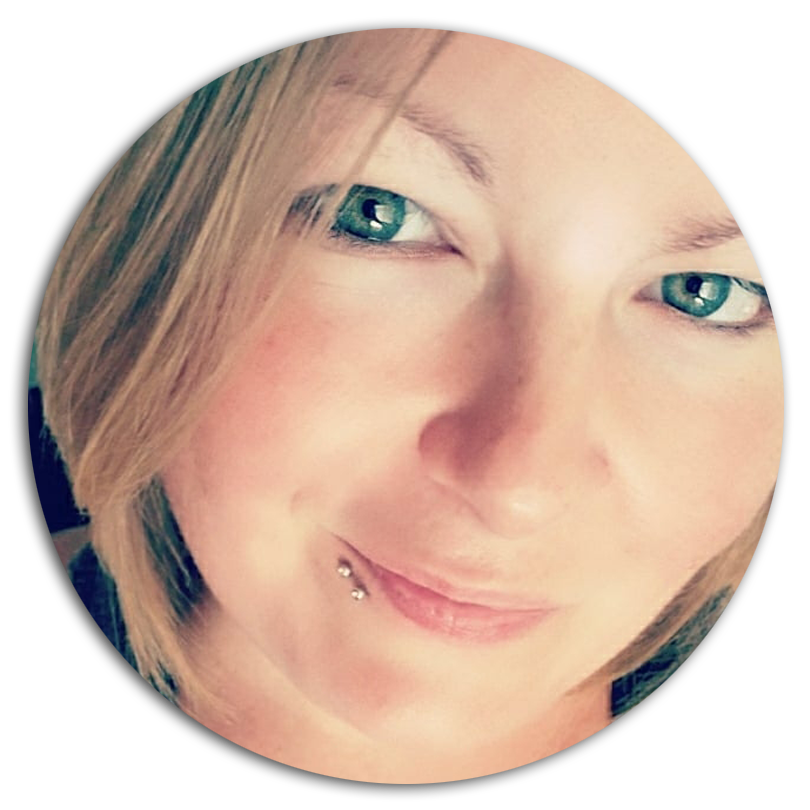 "I had been working on blogging for a few years and had put so much effort into it with no results. I ended up losing my sense of pride for what I had created. Mainly because I just didn't know what I was doing or how to set it all up. Then I met this cute, quirky couple who introduced me to a full program called "Get Your Blog On" to show me step-by-step how to set up and run my blog! I dug deep and really jumped in head first and was done with my blog site in a very short amount of time! I couldn't be happier with the outcome and I am able to go  back to the program anytime I need to 🙂 These 2 beautiful souls are so powerful and funny! They are pretty badass mentors but have become pretty badass friends also! Thank you so very much Erin and Brian!<3" – Katherine Ann
IRON CLAD GUARANTEE
We are removing 100% of the risk, and placing it on our shoulders! Prove to us that you applied the training, and you weren't able to publish your blog! No problem! We will gladly issue you a refund within 30 days… No questions asked!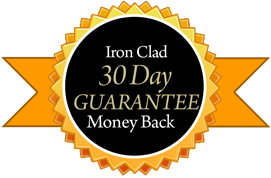 We have a combined two decades of marketing & business building experience with 100% of our focus now in online business development. We have invested an insane amount of money in our marketing & online business building education We have spent hours upon hours diving into online business development…
If building an online business that you can run from any wifi connection is your goal… MASTERING what we are sharing in this course is the first step to getting yourself there! And now you can compress YEARS of time, study, and sacrifice into one Powerful Course! You can start to consume just 1 minute from right now immediately after you buy.
YES, you will get INSTANT ACCESS to the 'Get Your Blog On' modules and bonuses immediately after checkout!
We know this course is going to help you instantly connect with YOUR dream clients & customers!
Get Your Blog On PowerCourse
Here's What You Get:
Instant access to the ENTIRE Get Your Blog On PowerCourse which will show you exactly how to build your website & blog, step-by-step…
Our 30-Day Money Back Guarantee
21 Bonuses on ninja blogging tips & tricks to create a pro blog that you can start earning profit from like real businesses.
Our exclusive Tools & Resources PDF download so that you know what tools actually work for you when building your business online.
Your Extraordinary Vision PDF download to dial in what you want to create in life & business.
How To Build A Profitable Blog That Travels With You PDF download to use as a resource to follow along through the video training series.
See exactly how this is done on the free masterclass training webinar.
If you're ready to start Get Your Blog On, you can do so here.
Get Your Blog On Gives You Everything You Need To Create Your Website & Blog Step-By-Step
Get Your Blog On comes with a 30 Day money back guarantee.
Click here now to get started, or click here to attend our free masterclass training webinar to learn more.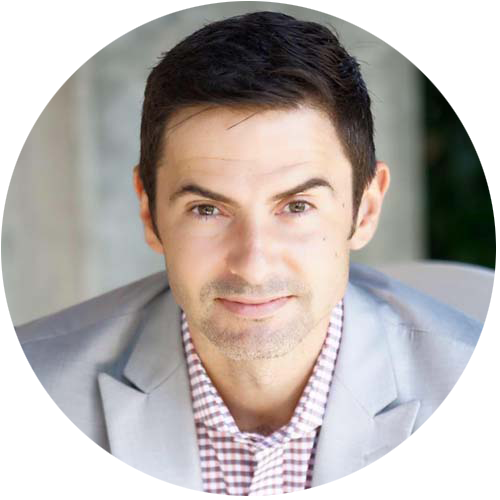 Brian and Erin are the real deal!
"Be Adventure Partners, Brian and Erin are the real deal! Lots of people talk about chasing their dreams, and creating their dream life… but Brian and Erin are doing it! If I'm looking for leaders to learn from I look for people who are actually living the life I desire. These two are inspiring people through their actions, their passion and their drive to live life to its fullest. If you dream of one day living the laptop lifestyle and creating more freedom in your life through a simple online business, you have to learn how Brian and Erin are doing it right now. I couldn't think of two people that are more suited to showing you how to bring more adventure and success into your life!" – Norbert Orlewicz, Online Marketing Strategist, Co-Founder MLSP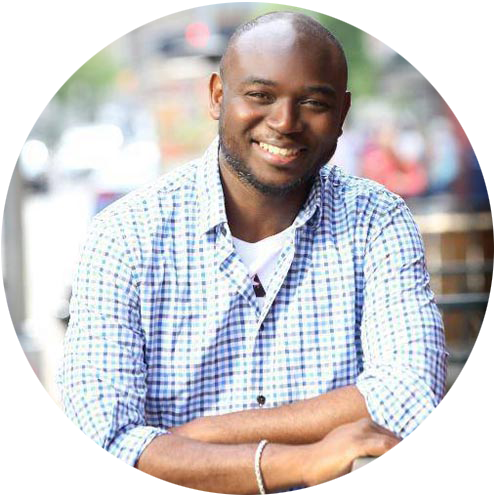 Inspiring, passionate and leaders...
Inspiring, passionate and leaders are just a few of the words I would use to describe Erin and Brian. After just a few coaching sessions with them, I can confidently say that if you desire to live a life of freedom, travel the world, all while building a profitable and successful business, BE Adventure Partners, Erin, and Brian are the perfect team to get you there." – Antonio Thompson, Online Marketer, Speaker, Trainer, and Coach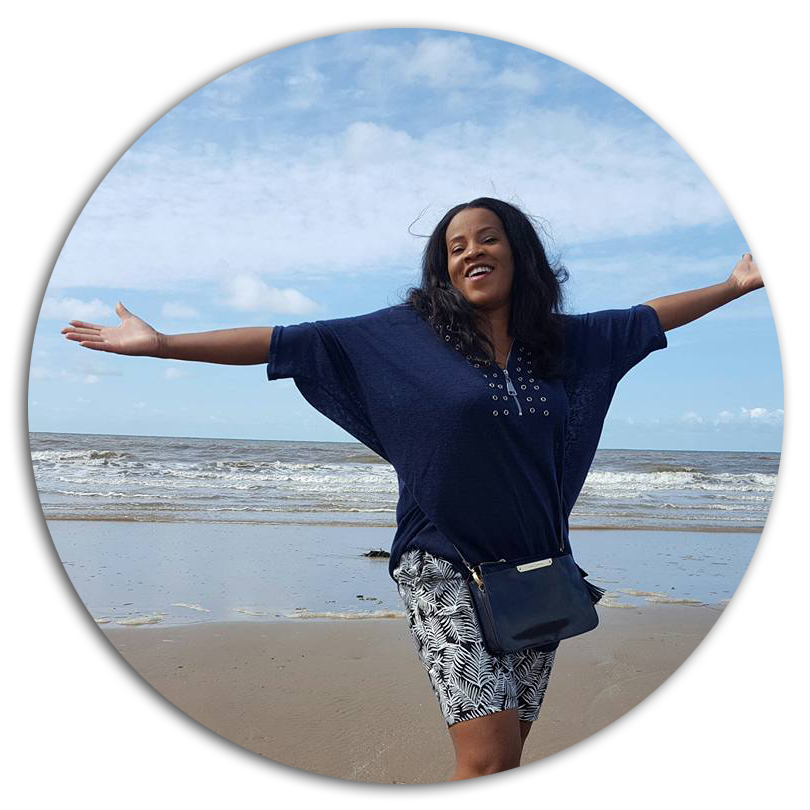 "Get Your Blog On" showed me step by step...
"Before I was introduced to "Get Your Blog On" I was not sure how I was going to set up my blog, in order to establish my business online . But "Get Your Blog On" showed me step by step using video tutorials on how to step up my blog and websites. It was very easy to follow no technical words or jargon. Now my blog is all up and running.Thank you sooooo much to the Be Adventure Partners!" – Ifyony Egesi
Lesson 1 - Getting Your Domain Name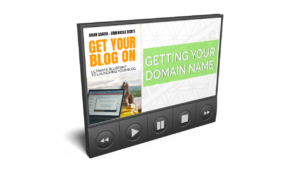 The secret revealed to setting up your domain name correctly, and the custom settings that most people mess up. We are also going to help you navigate through the hidden costs + upsales that registrars tend to stick ya with!
Lesson 2 - Choosing The Right Hosting Plan + Setting It Up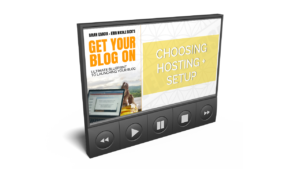 The mystical hosting plan… Knowing which one to pick can save you time & money! This lesson reveals a couple different options so you will be empowered knowing that you have selected the right set-up for your purposes!
Lesson 3 - Global Settings In WordPress + Selecting Your Theme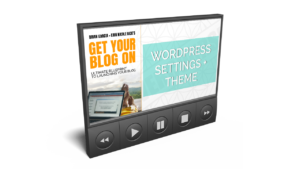 We explore the various themes that WordPress has to offer, along with global settings that control your website/blog. Setting up the back end of your website right from the start will save you a lot of time when it comes to blogging.
Bonus 1 - How To Install Your Premium Theme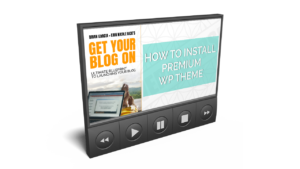 You want your website/blog to look real sleek & modern right?
Having a website that is on the cutting edge, gives you power & flexibility to grow as your business gets bigger! This is essential to having an online business! It is also super attractive to your potential clients, customers, and super fans!
Bonus 2 - WordPress Dashboard Overview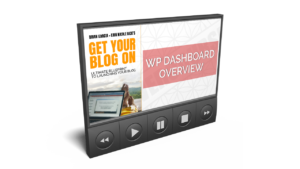 Priceless knowledge when it comes to getting things done! Just knowing the language of a website alone, allows making updates quicker, can make transitions from task to task smoother, so you avoid pulling out your hair! Making blogging for the technically challenged a breeze!
Bonus 3 - How To Create & Edit Pages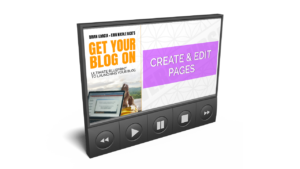 Building out the structure of your site so it is attractive in appearance, helps build the know, love & trust factor with your audience! People are more opt to buy when your site looks professional! Isn't that exciting?!
Bonus 4 - How To Setup Your Menus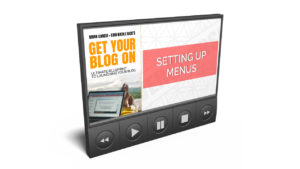 When your current & future customers/clients go to your site, you want it to be easy for them to find what they are looking for. Setting up your navigation is simple, and allows your audience to get the solution to their problems. What they discover… YOUR Products & Services! Cha-Ching!
Bonus 5 - How To Create & Publish Blog Posts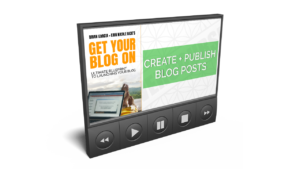 Exactly what you have been waiting for! This bonus is going to show you how to display your well earned knowledge, express yourself, and bring value to your fans!  Search engines LOVE fresh content! 
(AND so does YOUR audience!) 
Your website/blog is more likely to be served up if you keep it fresh! BE seen! BE heard! Grow a die hard fan base that is on the same mission you are!
Bonus 6 - How To Make Your Site Visible To Search Engines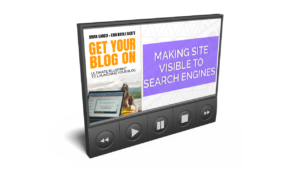 What good is your content if it isn't being seen by your audience?
Making your site visible to search engines… Like Google… Is of incredible importance if you are wanting to build success in the online space!
Bonus 7 - How To Make & Edit Images For Your Site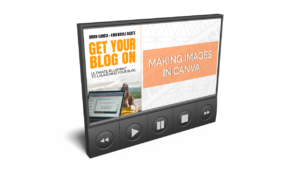 It doesn't take a degree in Graphic Design to create beautiful images! Now there are awesome FREE to use applications that allow you to create stunning imagery for your very own eBooks, PDFs, cover photos, website, social pages, blog posts… The list goes on! Imagery is one of the best ways to captivate your audience, and make them fall in love with you, and your content at first glance!
Bonus 8 - How To Add Images To Pages & Blog Posts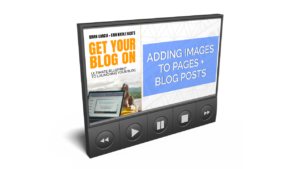 Adding images to your website/blog is as easy as pointing, and clicking once you find out exactly how to do it. Something we would like to share with you is how images relate to having your blog ranked on Google!
Bonus 9 - How To Embed YouTube Videos To Pages & Blog Posts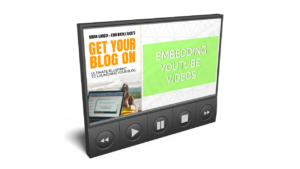 Video is one of the most powerful ways to engage with your audience these days! Embedding your super valuable vids into your blog posts will not only attract more viewers… It will also help you rank on Google!
Bonus 10 - How To Link To Your Affiliate Products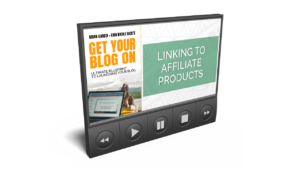 The mystery behind making money blogging revealed!
We dive deep into the different ways you can link to products & services that give people the solutions they need, and make you money!
Bonus 11 - How To Link To Other Content Internally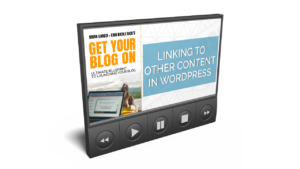 You wanna keep people on your website! You want them to hang out, surf around, and discover all that you have to offer! You want them to buy your products & services! This technique alone will keep people on your site, engaged, and coming back for more!
Bonus 12 - Creating Your Google Maps Business Listing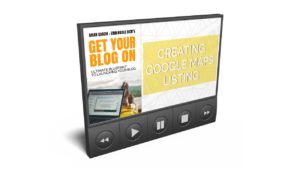 What this will do for you is establish your business listing online. When people are searching for your business on Google, your listing could show up giving them your contact information to include your phone number, website address, and useful information.
Bonus 13 - Connecting Your Website To Your Facebook Business Page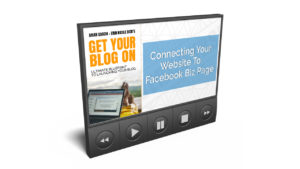 Create a place to grow your audience and provide them with valuable information, entertain them, and give solutions to their problems. Using a Facebook Business Page in conjunction with your website is simply the fastest way to grow a community.
Bonus 14 - How To Add Your Facebook Pixel To Your Website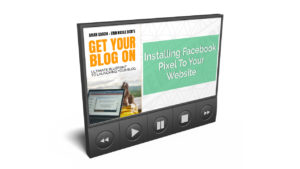 Have you ever been surfing around on the internet, shopping or looking at things for sale? Later when you went to Facebook, all of the sudden you saw some of the items you were looking at (products or services) being offered to you for sale on Facebook? This lesson is going to teach you how to leverage this power for your business online.
Bonus 15 - How To Set Any Page As The "Homepage"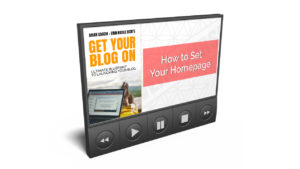 In this lesson we are going to go over how to set any page on your website to be the homepage. Why is this important? Let's say you are working on a new front page of your blog or website, by creating the new page in the background, you can easily switch to the new page by following this lesson, step-by-step.
Bonus 16 - How To Setup Your Facebook Business Page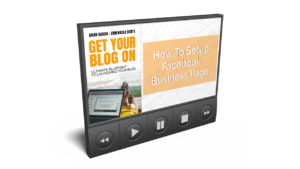 What does it take to build a business? People! An Audience! Raving & rabid fans! Guess what? Facebook has over 2 Billion People all in one place. Using Facebook Business Page is simply the easiest way to go from an audience of ZERO to thousands of targeted fans, fast.
Bonus 17 - How To Set OG Title, Description, Image using Yoast Plugin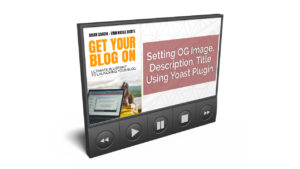 When you share your content (blog posts & web pages) to Facebook, and other social media platforms, there is a displayed image, title, and description that is automatically scraped off your website to display. This lesson will teach you how to force a certain image, title text, and description text to be displayed.
Bonus 18 - How To Create Transparent Background PNG Images In Pixlr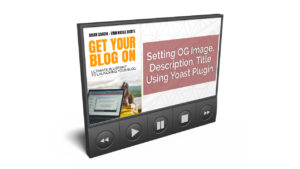 When you have an image, like a logo, that has space around it with no colors, sometimes you're going to want to float it on top of a background image or color. This lesson is going to show you how to remove the color area round a logo that is supposed to be transparent.
Bonus 19 - 30 Page eBook How To Build A Profitable Blog That Travels With You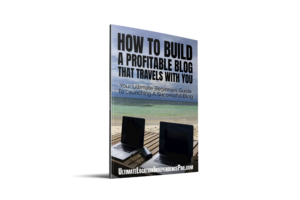 The manual for this course, so you can follow step-by-step alongside the videos. Follow every click of the way!
Bonus 20 - BEAP Resources PDF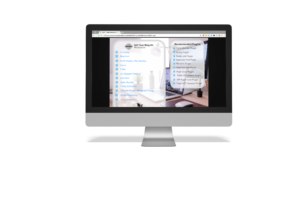 The sacred, most trusted, resources every successful business owner uses to build their empire online! We did a whole lot of sorting & sifting to find the best tools before we would ever share them with you! Cross our hearts!
Bonus 21 - Vision Worksheet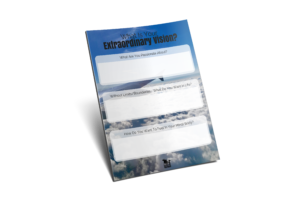 Knowing where you desire to go is the first step to creating the life of your dreams! This bonus will help you start mapping out how you want your future to BE!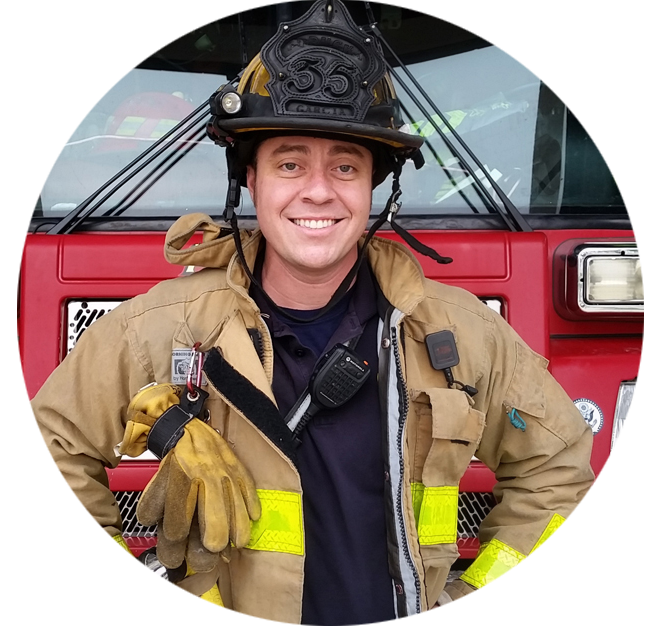 9-Year Firefighter, Now Location Independent
All Brian wanted was to live a life he never needed a vacation from. Exhausted from shift work & seeing trauma, the dream of traveling the world, meeting the love of his life, and creating prosperity from any WiFi connection was just a decision away from becoming reality.
After nearly 9 years as a Firefighter, Brian put his boots on the shelf for the last time. What did he do? He wrote down exactly what he wanted in life, which allowed him to see what he needed to do to make it happen. It was clear that in order to live a life of freedom, he must invest in himself, personal development, and learn some new skills that anyone could master. Doing this allowed him to create a business online, which is what could allow anyone to have the freedom they dream of.
Hairstylist Of 11 Years With A Dream To BE Free
Erin was a Hairstylist for 11 years in a high end salon downtown Toronto! She was pretty much an underpaid therapist, finding out that even the most wealthy & beautiful people all suffer from insecurities that keep them stuck! (Just like her, and quite possibly you as well!)
Luckily she found personal development! She was introduced to goal setting! She visualized her dream love, and a lifestyle where she could BE wherever, whenever, without ever looking at prices! She realized her worth, and was inspired to quit drugs, leave negative relationships, and focus on her health & mental wellbeing.
Her purpose called her to build a business that would help people create a life worth living! She didn't make a dime for 2 years, but her desire to change lives was strong! Once she learned how to market & brand herself like a pro, she realized anyone could do this! (Even the technically challenged… Like she was!)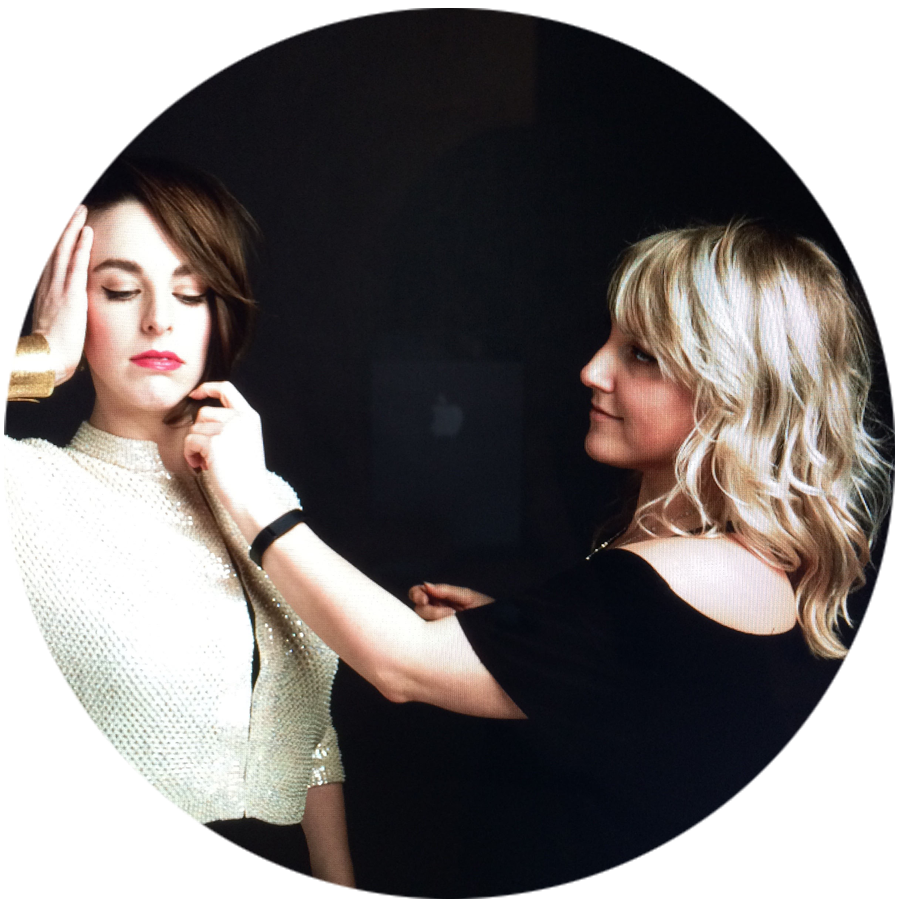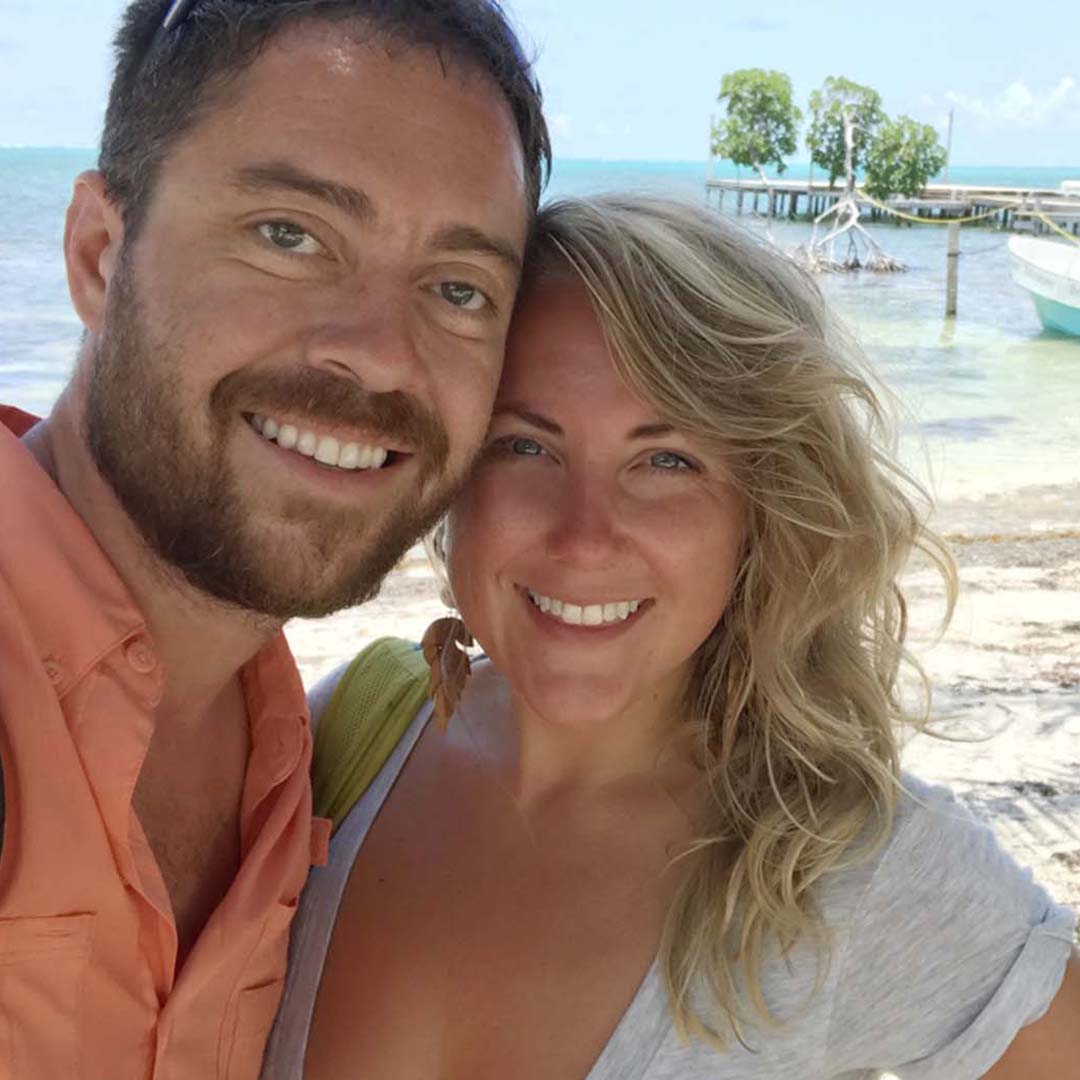 Hi! We're Brian Garcia + Erin Nicole Bick
People have been asking us how we can travel the world, and not have "jobs"?! We both had a vision to travel the world, and live an extraordinary life, not chained down to a job. That's when we created BE Adventure Partners!
We have learned a lot over the course of our entrepreneurial journey, to include blogging, and a whole bunch of other valuable skills.
Our experience & all of the questions our Tribe was asking, inspired us to produce this PowerCourse, 'Get Your Blog On!' For all you Adventure Friends, we look forward to seeing what you create in your life using this course!
See you on the inside!