I have always been a dreamer… A creator… A problem solver… A lover… A manifester…
One of my greatest gifts… Seeing people's authentic beauty, inside & out.  I was a Professional Hairstylist for 11 years, working as the top stylist in a high end hair salon downtown Toronto. I did weddings, hair & makeup for photoshoots, album art, and magazines. I even wrote a few articles about hair that were published. It was a blast, but became very stressful! I wanted to shift my focus to internal beauty, instead of worrying so much about the external!
My passion to learn more about internal love & beauty pulled me in another direction though!
Which turned out to be the best thing that ever happened to me! I was on a rough course… Addicted to drugs, alcohol, shopping, eating, and unhealthy relationships. I started to lose myself, and not recognize who I was anymore. I realized if I didn't change my ways, then nothing would change! I sought out Spirituality, and Personal Development… Which lead me to my first business opportunity ONLINE! Talk about fish out of water! I struggled big time for 2 years straight, not making a dime! I even quit my job prematurely to make the thing work because I believed so much in what I was wanting to create!
I am forever grateful for my entrepreneurial journey!
It forced me to take a look at my behaviors, and assess the direction I was going! Personal Development & Spirituality changed me deeply! It helped me realize the life I actually wanted to be living, learn how to goal set, and know that I could live out my Vision & Passion! It lead me to making some very necessary decisions in my life that seemed really hard at the time, but were exactly what lead me here to this moment! I have never been happier!
Floundering around in my business lead me to a marketing training platform… Which is where I met the love of my life, my Adventure Partner Brian Garcia. I will let him share with you what brought him down that path… But for me, everything changed once I learned how to market & brand myself like a professional.
Now I am a Facebook Marketing Ninja, a Branding Expert, and a Mindset Educator!
Wild where your path takes you once you set outrageous goals, and start running towards them!
Know that you are the creator of your life experience! You have the power to take any big beautiful idea, and turn it into a profitable business! Brian + I are living proof! Go check out our story to see how we did it!
Check out our recent must read articles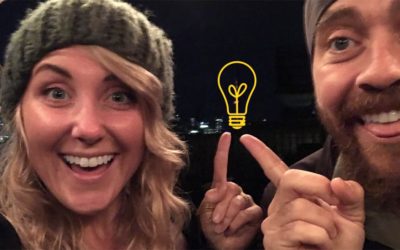 It is the age of the internet and online business ideas seem to BE flowing from every thought! Brilliant online business ideas that will inspire you to create your empire online could give you the freedom to experience life, your way! There I was… up to my elbows in...
read more