Experience Cerro Monserrate Bogotá Hike In Colombia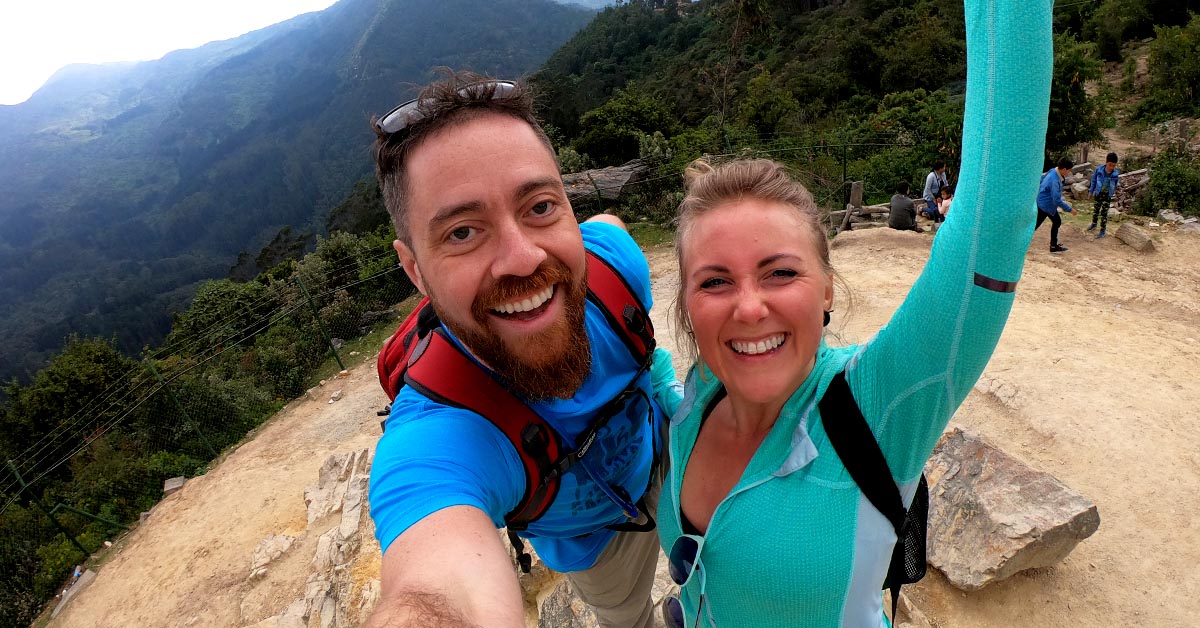 Thinking about checking out the Monserrate Bogotá hike? This is not for the faint of heart, but kids were doing it, so it shouldn't be that bad, right?
After hiking Monserrate, this hill left both Erin & I super sore, worn out and I had a case of altitude sickness, which crippled me the whole next day. More on that in a moment…
But first…
Not a reader? Watch this on the BEAP YouTube Channel!
What You Need To Know BEFORE Hiking Monserrate?
If you're on a budget and like a good self-inflicted ass-kicking beginning at 8,666 ft above sea level, then you're going to LOVE hiking Cerro Monserrate in Bogotá! What's cool is that you're going to experience 1,968 ft of elevation gain in about 1.5 miles of very steep hiking trail.
What's deceiving is that the name "Cerro de Monserrate" means Hill of Monserrate. This "hill" feels more like a mountain and rises above the Capital city of Colombia, Bogotá. It can be seen from nearly every corner of Bogotá and is one of the biggest tourist attractions in the city.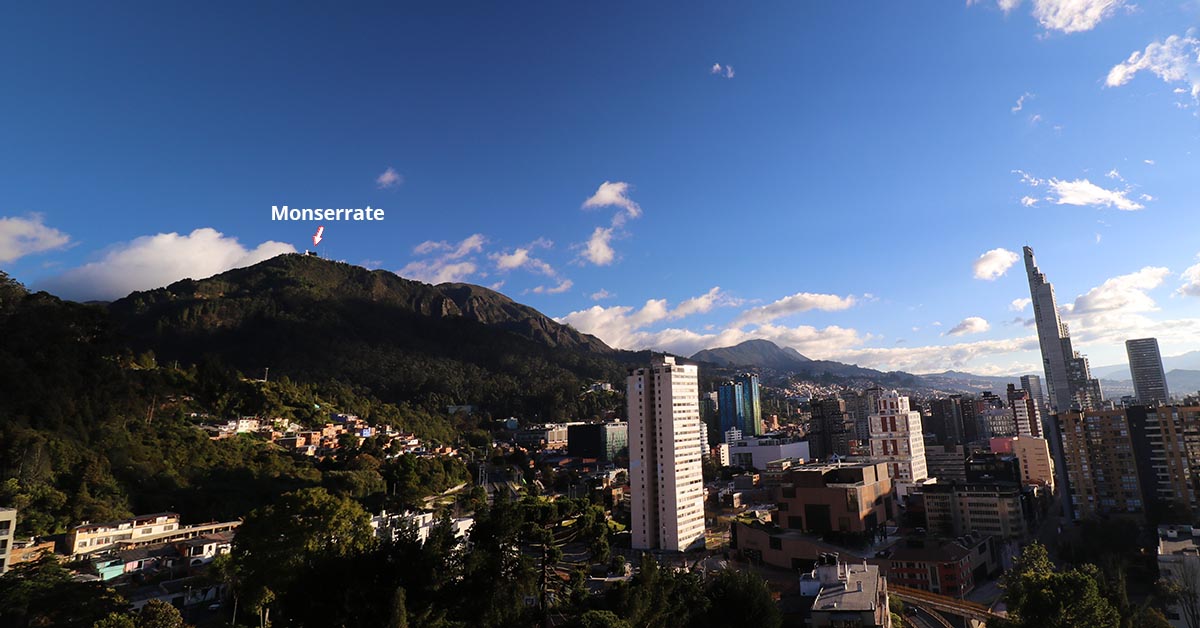 What Does It Cost to Hike Monserrate?
Hiking Monserrate is FREE!
Yep… Not a single Colombian Peso required to begin this experience, but you should still bring some cash with you because there are vendors the whole way up and restaurants at the top.
Monserrate Bogotá Hike Tip #1: Wear sunscreen
If we were to do this again, we would have lathered up in sunscreen. The problem is that even though it was a cloudy day, the UV rays are brutal at higher altitudes. We both got a nice burn on our faces & necks.
Monserrate Bogotá Hike Tip #2: Bring plenty of water
Erin brought two 28oz Klean Kanteen's full of water and had to buy one more 500ml bottle on our hike back down. I brought my 85oz CamelBak full of water and nearly finished it.
Monserrate Bogotá Hike Tip #3: Start Early
The later you start, the more people will be on the trail. Now, if we were to hike Monserrate again, we would have started WAY earlier! When we arrived around 11:15am, the place was crawling with people. It was so packed, the majority of the hike we were shoulder to shoulder with the other Monserrate Hikers.
Monserrate Bogotá Hike Tip #4: Trail Hours
If you're the type that enjoys afternoon hikes, you've gotta get on the Monserrate Hiking Trail BEFORE 1pm EST. The trail hours are 5am to 1pm EST. So if you're an early riser and don't need the sun to light your path, then you can get on the hill before the majority.
After reading a bit about the Monserrat Hike on Wikipedia, come to find out the trail was closed for quite some time for renovation and because of wildfire. The Monserrate Trail reopened in 2017.
Is The Monserrate Bogotá Hike Safe?
In short, yes. Upon entering, there are official, armed Colombian Police conducting random searches of people's bags & backpacks. When we entered, they advised that we put our backpacks on our front for "security purposes." As you hike there are police around nearly every corner. I don't think we went more than a minute or two without seeing an officer in their official bright yellow jackets.
We ended up wearing our backpacks like normal. I put a mini carabiner through the zippers to make unzipping from behind nearly impossible without me feeling something going on.
Erin hiked in front of me most of the time, so I kept an eye on her pack.
We had zero safety issues on the trail.
One thing we didn't do is pull out our Canon 80D with the fluffy Rode VideoMicro on top. That would have drawn a ton of attention. So we limited our videography to using the GoPro 7 Black.
All in all, the more people that are on the trail, the safer you'll be. Just feel for it by using your intuition.
Where To Start Monserrate Hike?
When you Google Monserrate, you get the pin for the top of the mountain (which is not so helpful). Using Satellite View, we were able to find the Monserrate Hiking Trail entrance. To make it easier for you, below is the pin we dropped so that you can find the trailhead, faster.
Hiking Entrance: Cerro de Monserrate Bogotá
If you're wanting to Hike Monserrate, this is the trailhead entrance. There's only one in/out.
Unlike the hiking trails we enjoy the most (dirt paths rarely trekked) the Monserrate Hike is COMPLETELY paved with rock & concrete.
I get it… something THIS popular, which has been hiked for the last 4 centuries needs to have some erosion controls. Considering the amount of traffic this hill gets each day, paving it is the only logical choice to preserve the hillside. 
How Long Does It Take To Hike Monserrate?
It depends… If you're doing this hike as a pilgrimage on your hands and knees, it'll take all day. But if you're going at it bipedally (standing upright on your two feet), then set aside 1-2 hours for the hike up.
Something to keep in mind is that this is the never-ending Stairmaster. Nearly every step is going up AND you're at a high altitude.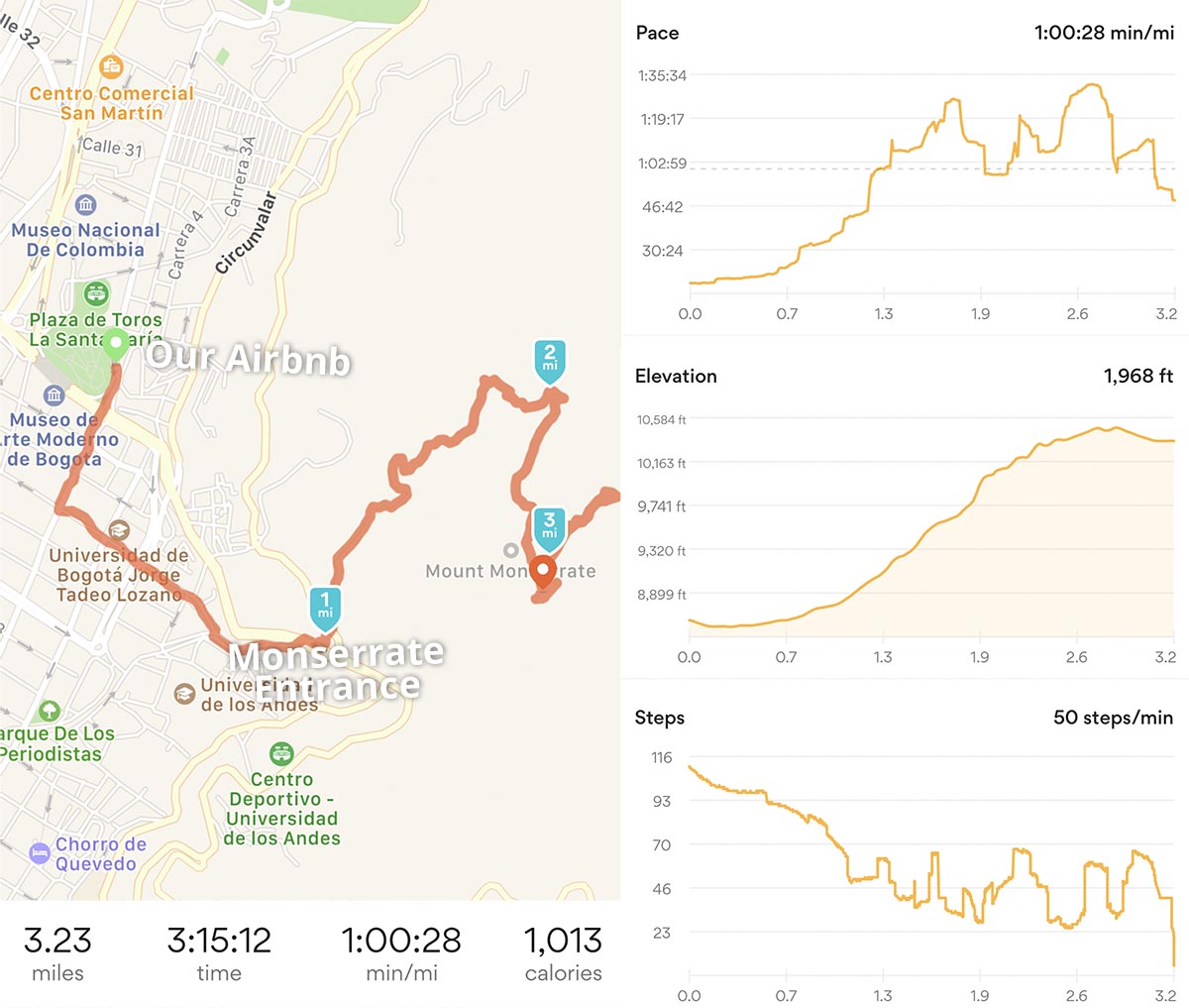 What If I'm Susceptible To Altitude Sickness?
Do not try this hike if you have altitude sickness or have just arrived in Bogotá. Wait a few days for your body to acclimate to the thin air.
We waited nearly 3 weeks to climb it and I still got hit with symptoms of altitude sickness. If you've never experienced altitude sickness, it's no fun. This was the first time that I have experienced it and had no idea that I was susceptible to altitude sickness.
Come to find out, there are three severities of altitude sickness. As per WebMD, the one I had is "Acute Mountain Sickness."
Here are the symptoms I had:
Headache
Dizziness
Fatigue & loss of energy
Shortness of breath
Problems with sleep.
The next morning after the hike, I felt like a jumbo jet ran into my head. My eyes and head hurt so bad with piercing pain that I was completely immobilized for the entire day.
Just a note… I'm not one that likes to go to the doctor or even take medicine because I believe that the body has the capability to take care of itself. However, while laid out in bed, Erin went to the local pharmacy to find some ibuprofen, which helped reduce the piercing pain considerably.
As I write this, it's actually the end of the day after hiking Monserrat and I'm finally feeling considerably better… Not 100% yet… But better.
Other Ways To Get To The Top & Back Down Of Monserrate
Now, if you're not the hiking type, or this blog post changed your mind about hiking Monserrate, there are two other ways to get to the top & back down. We didn't take either of them, but they are available.
Funicular (Train): The first option, which we heard from a local is the most reliable, is taking the "Funicular." This is simply a little train that goes nearly vertical up and through the mountain.
Teleférico de Monserrate (Cable Car): The second, less reliable option, is taking the "Teleférico de Monserrate." This is a cable car, which looks like it would have been a neat experience.
Both options have strange operating hours that we heard change frequently. You may want to go to the ticket booth in advance to see what the current hours are so that you don't miss the departure times.
Originally, we wanted to take the Teleférico de Monserrate back down from the top, but it was already closed for the day.
Then we went to the ticket booth to buy our Funicular tickets and they said the wait was over 2 hours to take the train down. HOLY SMOKES!
Erin and I looked at each other and said… "Well… Looks like we're hiking down."
Between hiking down and walking back to our Airbnb, it took about 1hr 45min. Still faster than waiting for the Funicular AND we got back to our place quick. WIN!
In Conclusion
Cerro de Monserrate Bogotá hike definitely tested our endurance. I think that it would have been "easier" if it were at a lower altitude. However, we definitely advise that you should go for this experience. You never know what you're capable of until you just do it!
That goes with anything… From physical endurance activities, to starting a business online so that you can BE where you want, when you want. It starts by taking the first step and enjoying the experience as you go.
We believe in you!
Did This Help You? If so, we would greatly appreciate it if you comment below and share on Facebook, or any of your favorite social media pages!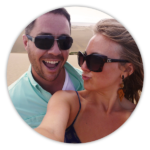 Brian Garcia + Erin Nicole Bick are full-time location independent, online business owners. Brian's background is in firefighting, digital + photographic imaging, and web development. Erin's background is in professional hairstyling, social intuition, personal development, creative writing, and brand identity development. Together, they create eCourses, high-end online business development coaching, and social media marketing strategies. They go by… BE Adventure Partners!

Check out our must read articles about Lifestyle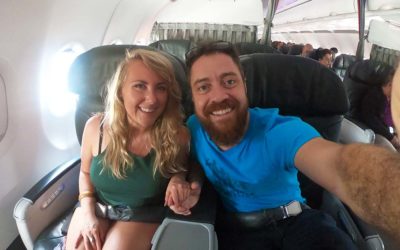 Today is a travel day where we're headed from Medellín to Santa Marta Colombia. Little do we know,...
read more

BE Adventure Partners guides people in making money online. Earn an independent living from your knowledge, skills & passions. Become self-reliant. Live a smart & simple life on your terms.