Travel Day: Medellín to Santa Marta Colombia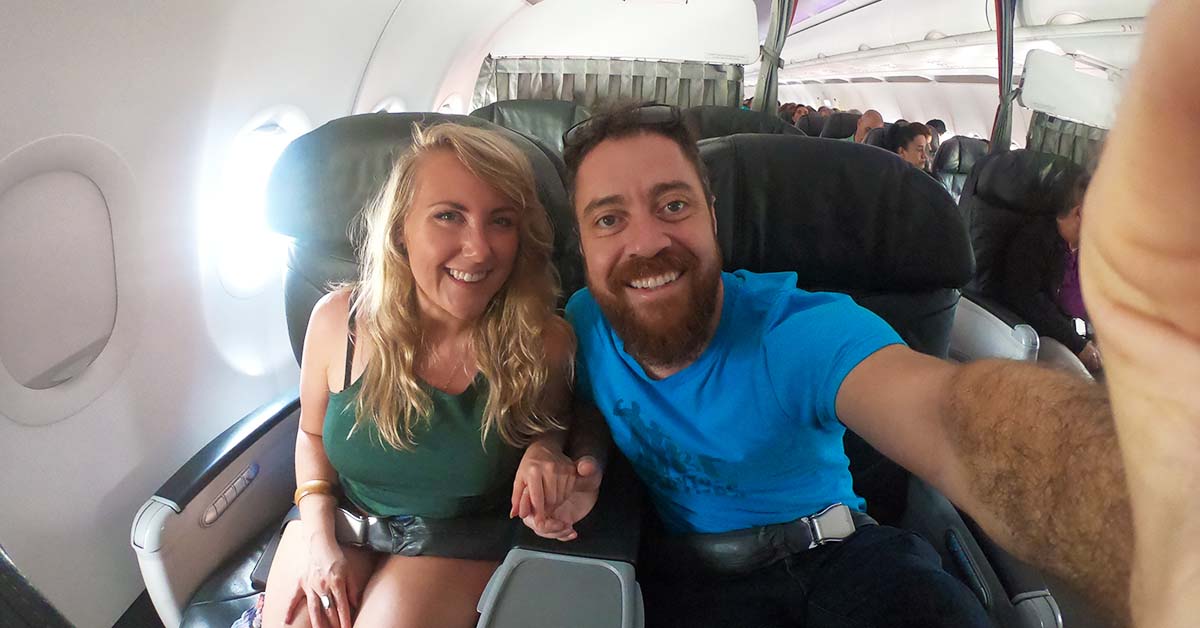 Today is a travel day where we're headed from Medellín to Santa Marta Colombia. Little do we know, Avianca Airline is about to ruin us forever.
In just two months, Erin & I will have been traveling for two years straight! All of this is done with carry-on bags and staying in Airbnb's.
Want to know how we travel full-time so you could too?? Check out our Creation Story »
Not a reader? Watch this on the BEAP YouTube Channel!
How to go from Medellín to Santa Marta, Colombia
We started out by securing our trusty driver, Alvaro, to take us from the Poblado area of Medellín to José María Córdova International Airport. This is about an hour drive with a max speed limit of 60 kph. It's definitely leisurely.
Luckily, the ride is extremely scenic. You'll never run out of cool landscapes to see.
Along the route, you'll see signs that show a cat crossing. Apparently, there's small tigers that look like Oncilla, which is also known as the northern tiger cat.
Alvaro didn't know what kind of tiger… He just said, "Son pequeños tigres" (they're small tigers).
Too bad, we didn't get to see them. Alvaro said they are pretty awesome looking and had seen them many of times.
Back to the cab! If you pick up a cab off the street, be sure to agree on a price to the airport BEFORE you get in or load your luggage. We recommend getting your Airbnb host to schedule a driver for you because they probably have a go-to guy who is safe and trusted.

Getting a FREE Upgrade to Business Class on Avianca Airlines
Before traveling in South America, neither of us had used Avianca Airlines (or any of the other airlines that fly within Colombia.) So it was a huge risk to use them the first time.
Here's what we did to settle on trying out Avianca Airlines:
Go to Google and search "X Airline Reviews"
Read the reviews on multiple review sites
Avianca Airlines ends up being the most expensive airline to fly within Colombia. There're other airlines that are half or a third the price, but the recent reviews swayed us to pay the premium and here's why…
There were reviewers that said a few days ago, "I took X airline and I should have paid for Avianca instead. The nickel & dimed me for everything. I didn't print my boarding pass and they charged me $15 USD to print it for me. By the time it was all said and done, I should have just booked with Avianca."
And another review talked about how this guy was taking a carry-on bag and X airline charged him the same price as if he were going to check it (but he carried it on himself).
Both Erin & I read quite a few reviews and most of them said to "Steer clear of these cheap airlines…"
So we did….
First flight we took with Avianca Airlines was from Bogotá to Medellín. It was a wonderful experience with a very clean plane and more legroom than your standard jet in the States.
Three weeks later we didn't think twice and booked another flight with Avianca going from Medellín to Santa Marta, Colombia.
THIS is where the magic happened…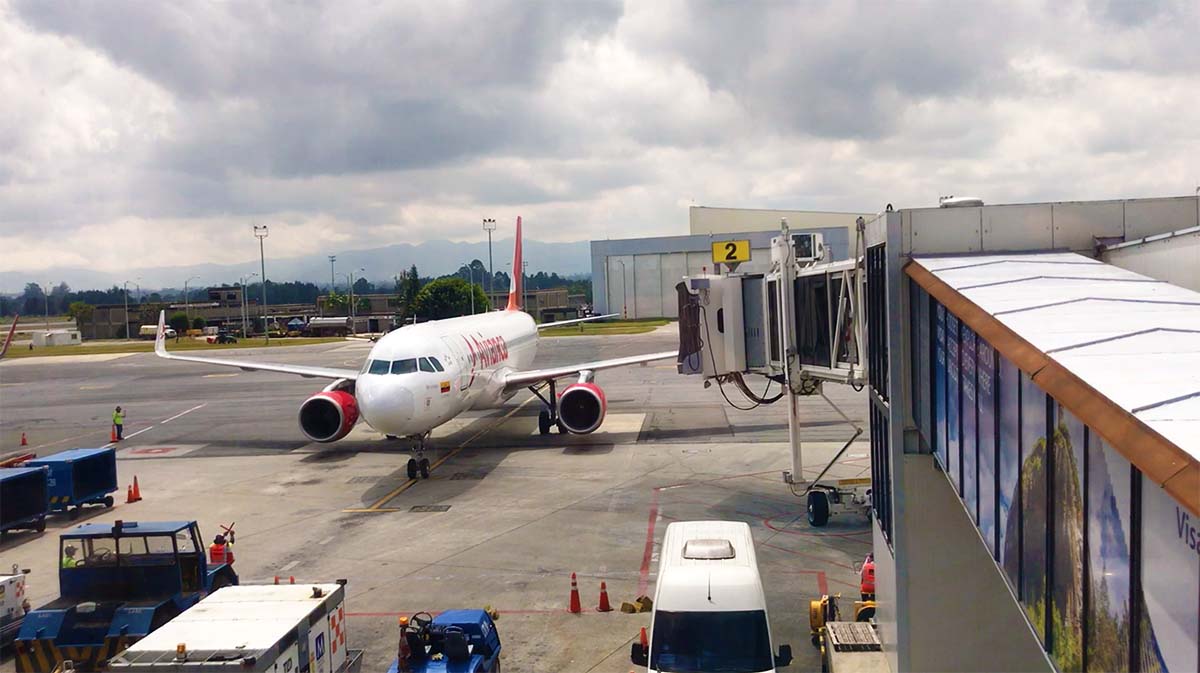 Walking up to the Avianca counter at José María Córdova International Airport with smiles on our faces, we handed the reception our passports telling her, "Nos vamos a Santa Marta…" (We are going to Santa Marta)
After a few minutes, she looks up and smiles saying, "Ahora estás en VIP…" (You are now in VIP)
Looking at each other, Erin said, "I wonder what that gets us…"
Business Class on row 2 of the plane.
BOOM!
This is the first time we've EVER been upgraded from economy all the way past premium, directly to Business Class!
Thank you, Avianca Airlines for ruining us… Now that we've tasted the sweetness that Business Class offers, we no longer want to book economy! Feel free to keep upgrading us (because we appreciate it!)
Traveling from Simón Bolívar International Airport to Santa Marta
Once you land in Santa Marta's Simón Bolívar International Airport, you have a 30-minute drive to the city of Santa Marta, Colombia.
You've got a couple options for this leg of the trip:
Option 1: The bus (This can take longer, but it's dirt cheap)
Option 2: A cab (There's local cabs waiting for you to just hop right in)
Option 3: Pre-Arrange a driver (This is what we did by simply asking our Airbnb host if they have a recommended driver)
The main reason we ask our Airbnb hosts for their preferred driver is because THAT driver is vetted through the Airbnb host to be safe & reliable. A host doesn't want anything bad to happen to their guests, so they make sure that they personally know the driver and can vouch for their credibility.
Along the route, there's a really cool overlook where you can see the entire city of Santa Marta as you are coming down the mountain. Definitely ask your driver to make a pitstop there so you can take pics (or videos).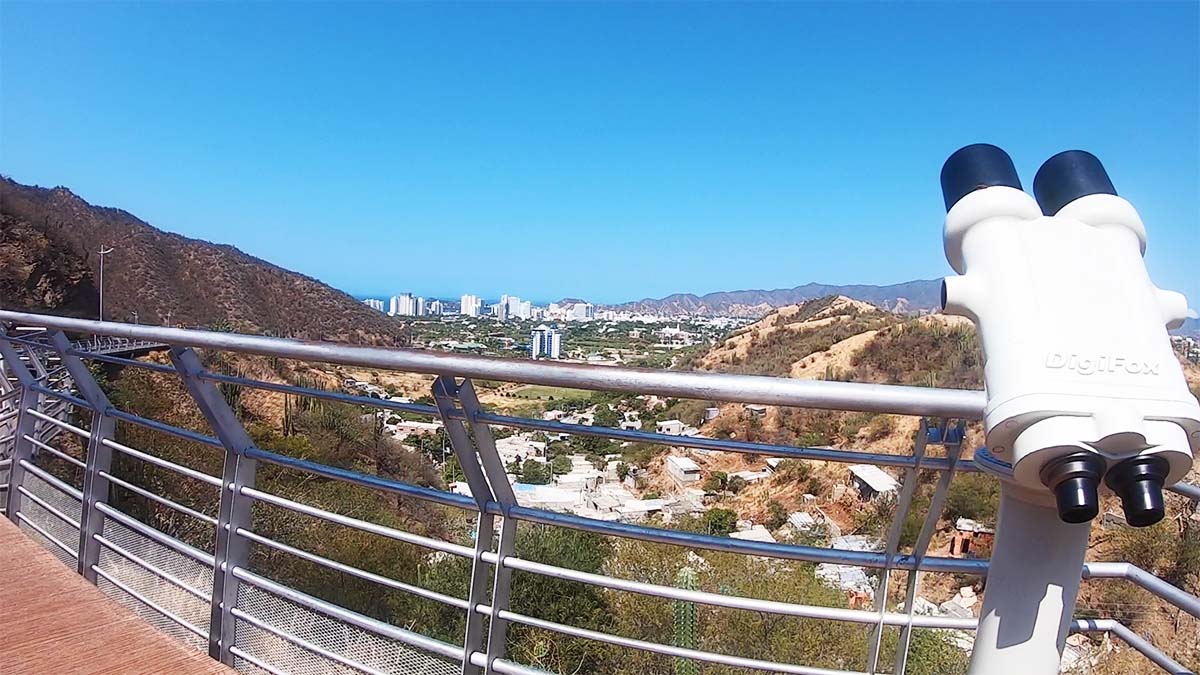 In Conclusion
As you can see, it's fairly easy to travel from Medellín to Santa Marta, Colombia. Once you get to Santa Marta, there's all sorts of good eateries that you'll enjoy. We were surprised to get an upgrade to business class on Avianca Airline. That's a first and hopefully not a last!
Did This Help You? If so, we would greatly appreciate it if you comment below and share on Facebook, or any of your favorite social media pages!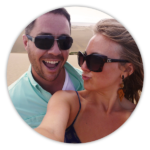 Brian Garcia + Erin Nicole Bick are full-time location independent, online business owners. Brian's background is in firefighting, digital + photographic imaging, and web development. Erin's background is in professional hairstyling, social intuition, personal development, creative writing, and brand identity development. Together, they create eCourses, high-end online business development coaching, and social media marketing strategies. They go by… BE Adventure Partners!

Check out our must read articles about Lifestyle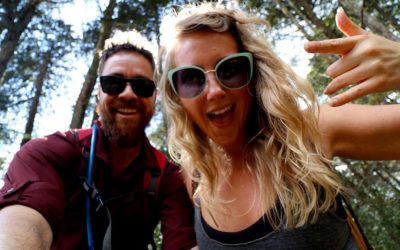 We didn't get to do as much as we wanted in Medellín because I had altitude sickness for the first...
read more

BE Adventure Partners guides people in making money online. Earn an independent living from your knowledge, skills & passions. Become self-reliant. Live a smart & simple life on your terms.