The Reality Of BEing Digital Nomads & Earning Your Travel Badges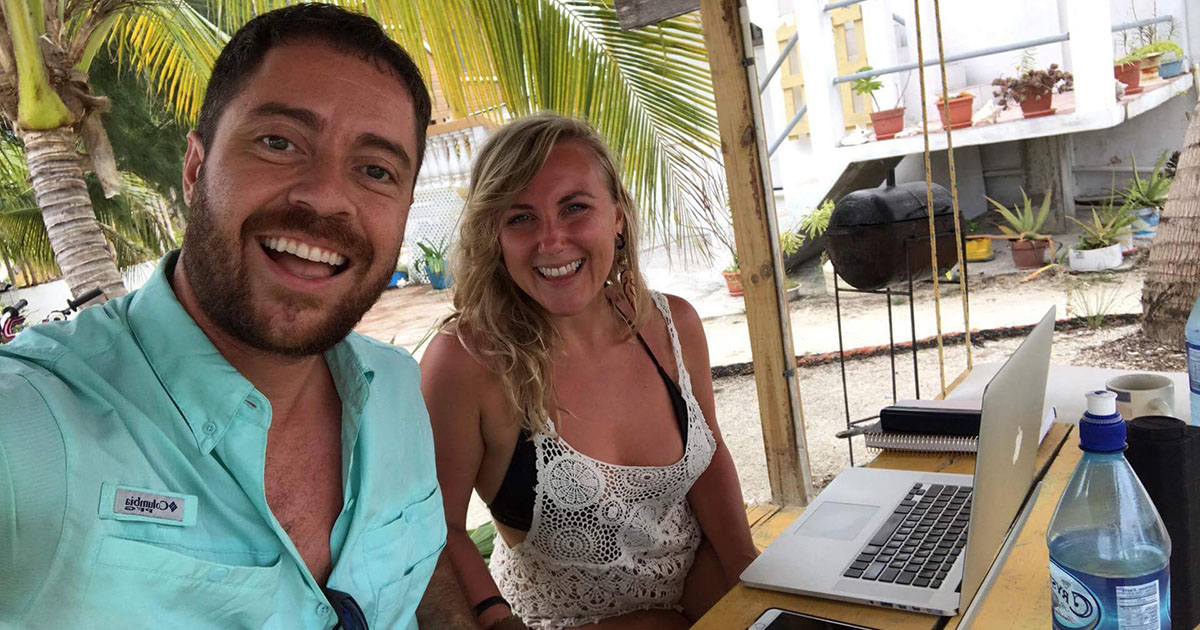 As new Digital Nomads, we are quite honestly learning the ropes!
It's an interesting thing to be in another country, and running your business at the same time. That in itself takes a lot of dedication and straight-up discipline! Which is something we have wavered on.
Though we feel like we have been working a lot… In a businessy, entrepreneurial point of view, we are hardly working at all. We discovered this today while we were riding our bikes, going from store to store collecting groceries for dinner.
We had been working all afternoon. The sun and warm breeze felt so good on our skin. We decided to cruise the island and discover it a bit further. It was wonderful! We found a cute little spot called The Split. This is where Caye Caulker was ripped in half by the last hurricane that blew through. There were some people lounging around in the water at a swim-up bar, and others hanging out on the cement edges of The Split.
The first thing to realize about Caye Caulker is that it is very much a beach town, but it isn't known for its soft sandy beaches… So we felt very excited to finally find this spot!
Brian suggested we bike back to our place, drop off our groceries, throw on our suits, and bike back to spend the afternoon in the sun. I was fully game, but there was something in my head that I just couldn't shake.
I heard our mentors voices in my head… " You work like nobody else now, so you can live better than anyone else later." As we biked back I was having a battle with myself in my head. I really didn't wanna be the bearer of bad news, and tell Brian "NO… We gotta keep working the day away!"
And then I said something…Brian being the beautiful soul he is, he totally understood me. I mean we are already living in Paradise here. We really just gotta figure out some kinks.
The Kinks Of BEing A Digital Nomad:
We have an beautiful outdoor seating area… BUT everytime we go out there we get eaten alive by little bugs that the locals call "no-see-ems". So… We have felt a bit trapped inside.
I have taken a physical beating… First off I cut my hands while working out doing pull-ups. Then my legs got covered in a rash, and I got a brutal hacking cough while I was in the jungle. (Turns out I am allergic to the jungle)
The internet connection isn't always up to snuff with the wifi we are used to… And we need to upload videos for your viewing pleasure.
We are conflicted between enjoying the country we are visiting, and creating content for you!
This is what our place looks like, and most rentals here in BElize:
This may sound a bit like pissing and moaning to you… We really want to be clear that we are SO grateful to be here in BElize. We are also so grateful we took the plunge into this lifestyle.
The main thing is… We have people from all over the world that are counting on us to show up. That is part of the biz… It is a massive part of any biz. This is why we are sharing, and not sugar-coating anything!
If you want to be a successful entrepreneur you gotta show up! AND to be even blunter with you… You gotta do a hell of a lot more than that! You gotta eat, sleep, and breath your biz until that sweet thang turns into what it is you're after, but that isn't when you lay off the gas. That is the moment you turn it up… Because you see… Most business owners think they are in the clear once they start making good money.
That was kind of our mistake when we hit the road. We laid off the gas a bit because we have been traveling around, discovering all of the places we have been. We aren't necessarily doing an adventure every day, but we are really acting like locals. Eating where the locals eat, shopping at the markets, swimming, and paddleboarding in the jungle. We are having fun that is for sure!
It is very important that we keep you, and the rest of our adventure tribe up to speed. More important than that… That we are consistently creating daily content for you so that you can learn how to start building the lifestyle you really want!
The epiphany we had today has lead us to be more driven and focused than ever. We know that right now we are going to have to make a few sacrifices if we want to create something for you everyday and if we want our business to do well!
And guess what? That is a sacrifice we are willing to make. Which really isn't a sacrifice at all. Because you see… We are already living the life we want in most respects.
First of all… We are together! That has been something we have been working towards since the moment we touched skin in June of 2016! And we made that goal happen pretty darn fast.
Second of all… We are traveling the world, and able to work our business online as we go! This is HUGE that we no longer have to be stuck in one place.
Third thing… Is that we have found a way, and acquired some pretty ninja-like skills to market ourselves online like professionals. This is the glue of our business… To any business really. If you want to create a business that will soon enough make money while you sleep this is the key!
Dear Digital Nomads… We have some really exciting things coming your way!
I am going to spill the beans a bit here… BUT we have a really awesome course we are putting together that is going to give you the step by step on how you could finally put it all together, and start creating your dream business from point A – Z!
How exciting it that?!
We are going to cut the learning curve in half for you! That is why we are here earning our travel badges… Figuring out this Digital Nomad thing for you! SO you can break away from working behind that desk! Or working for a boss who doesn't appreciate you. Maybe its the crap hours you can't stand, and the fact that you're slaving away just to get by…
We totally get it! We were there! AND guess what? We flipped it all around in less than a year!
I retired from my hairstyling job 2 years ago, and Brian literally just hung up his Firefighting boots on April 1, 2017! (See the full story How I Quit my Job To Travel The World)
Time is the only thing we cannot get back!
In the video below we give you an update on where we are at now, and what is coming up!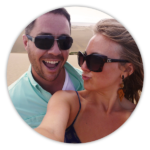 Brian Garcia + Erin Nicole Bick has been traveling full-time since April of 2017. They like to consider themselves location independent. Their goal is to empower others to live life on their terms and create their own definition of independence/freedom. Through their content, eCourses, and consulting they share their simple method for building an online business, and living a happier life.
Did This Blog Post Help You? If so, we would greatly appreciate it if you comment below and share on Facebook, Instagram or any of your favourite social media platforms!

Check out our must-read articles about Lifestyle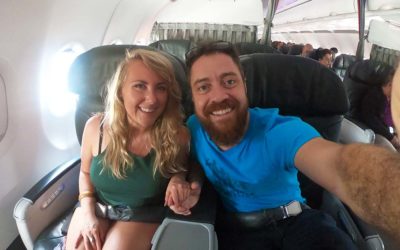 Today is a travel day where we're headed from Medellín to Santa Marta Colombia. Little do we know,...
read more

BE Adventure Partners guides people in making money online. Earn an independent living from your knowledge, skills & passions. Become self-reliant. Live a smart & simple life on your terms.