How to Title & Register A School Bus As A Motorhome In Utah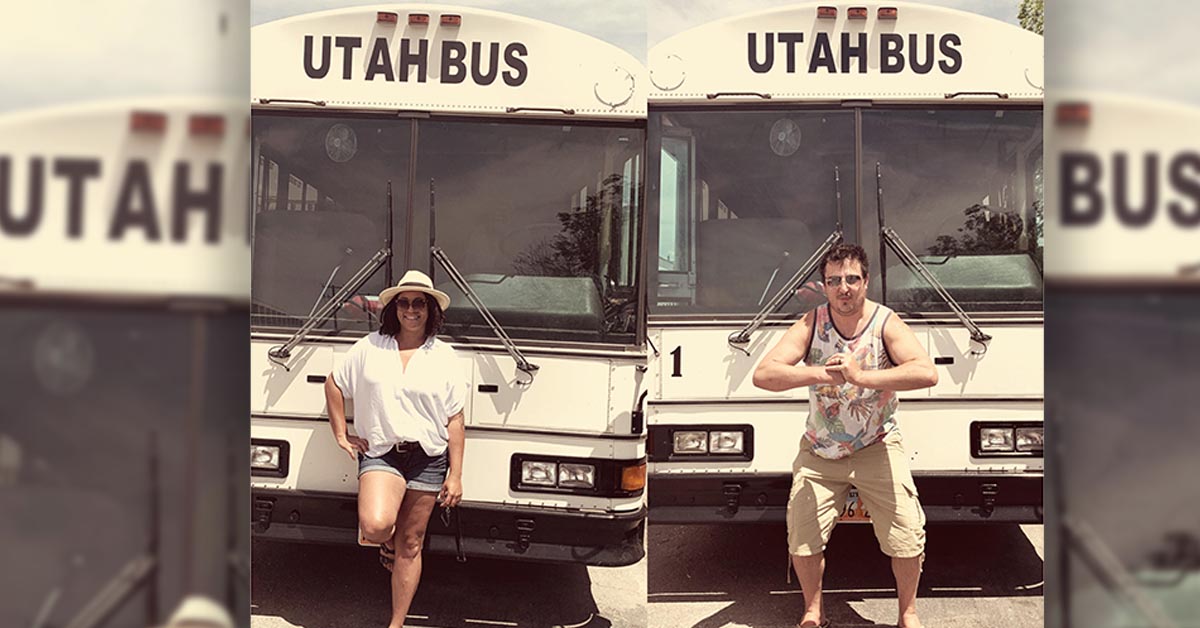 Wonderboy is not just a song by Tenacious D. The story herein is not a fable or fiction… Rather, this is a true account of how Kat & Cam Cooper successfully got their school bus named "Wonderboy" titled & registered as a motorhome in Utah.
If you're looking to get a Utah Motorhome Title for your converted school bus, then this story is for you.
Getting a Utah mobile home title for a converted school bus can be tricky, but is worth it!
Getting a school bus titled & registered as a motorhome may vary from state to state or even from country to country. Use this as a guide to what Kat & Cam Cooper did to get their bus titled as a motorhome because the process may be similar wherever you're at!
In this article, we're featuring Kat & Cam Cooper from Salt Lake City, Utah who are sharing their Skoolie Title Story. Their Skoolie is named Wonderboy!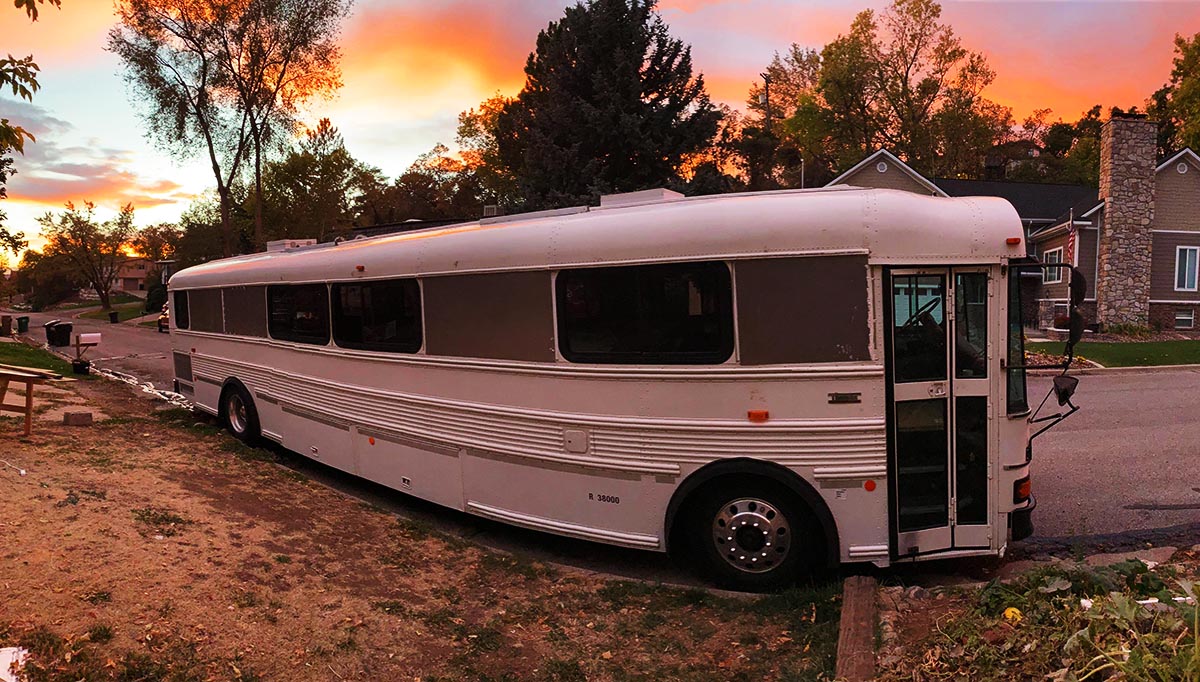 DISCLAIMER: Everyone's situation is different. Laws for titling and registering a school bus as a motorhome vary from country to country, state to state, province to province and even city to city. Also, laws, rules and regulations can change without notice. What works for someone in one place, may not be the same for someone else. Use this Skoolie Title Story as a guide to give you the language you need and to get you going. Ultimately, it is your responsibility to verify what's current in your area. This article is for entertainment purposes only and should not be substituted for legal advice. Please consult your local title and registration governmental agency for current processes & procedures.
How To Title & Register A Converted School Bus To A Motor Home In Utah
To get to the bottom of it, we asked Kat & Cam some questions to see what was the process in Utah to switch the title from an old school bus into a motor home title. Here's what they had to say…
What first intrigued you about building a Skoolie?
We have always been big travelers, with a habit of taking last-minute road trips whenever the mood struck. We just happened upon some #Vanlife videos on youtube and pretty much fell down the rabbit hole haha. We started watching more and more Skoolie videos and just really decided that the life fit exactly what we want. We have been homeowners for 5 years, and the thought of doing the same thing over and over and being tied to one place didn't seem particularly exciting anymore. The freedom of being able to pick up and go and living the simple life with what we truly needed seems like the way to go. So we came up with the plan to buy a school bus, convert it, sell the house and figure it out from there lol
When did you acquire your Skoolie?
June 2020
Where did y'all buy your school bus?
Private Owner/ Business. There was a local charter company who was selling their fleet. They used their busses to take kids back and forth to church camps and corporate charters to Southern Utah. Due to covid, they were forced to sell off their fleet since they could not afford to keep paying high insurance premiums, while not being able to operate. We ended up getting their last (and favorite) bus 🙂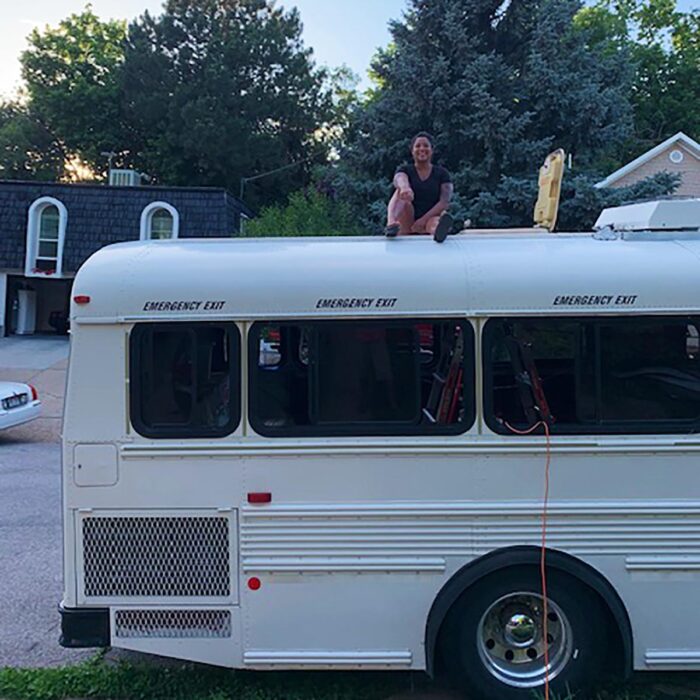 When you bought your school bus, how did you get it from the seller's lot to your conversion location?
The seller of the bus actually drove it back to our house for us. He even took the time to show us all the knobs, switches, tips, and tricks that may help us out down the road.
Want our used school bus visual inspection form? Get It Free
What components did you need to install to meet the Utah mobile home title requirements to go from school bus to RV?
In Utah, it is a toss-up. I called the DMV multiple times and they have no set "requirements" that need to be on the bus. Every time I called they told me something different. They said they would need to see photos to prove that it definitely wasn't being used as a School Bus and photos at the end of the conversation. But we got incredibly lucky.
What were the steps required to register & title your school bus as a motorhome / RV in Utah?
After we purchased the bus and got the bill of sale, title, and proof of insurance, we went to the DMV. They required us to pay tax, title, and registration in order to get a 2-month temp tag. At that point, we had to register it as a school bus and pay the higher amount for registration because of the weight class. If I could do it again, I would have had it weighed before we took the paperwork in initially, to prove that the bus didn't actually weight 38,000lbs (GVWR) They told us that we needed to get emissions done before we could get the plates. After we got the emissions done, I had to go back to the DMV. I had all of the paperwork and just decided to ask one more time about the requirements to get the title and registration changed over to Motorhome. To my complete surprise, the lady working just went ahead and changed everything over after I told her we were doing an RV conversion on it.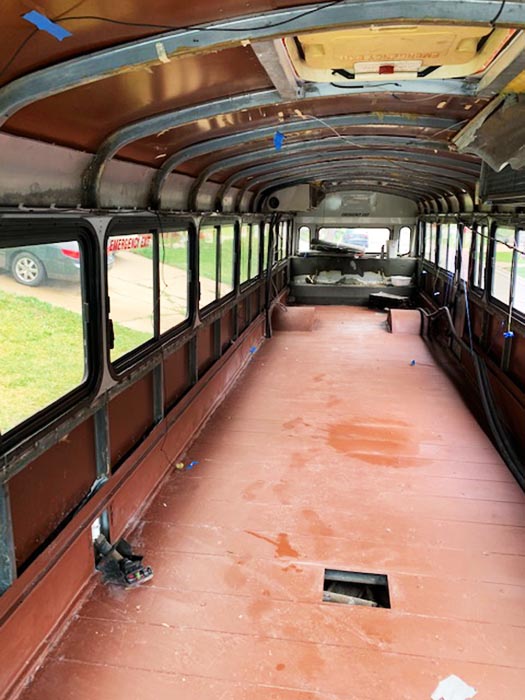 If you are located in the general Salt Lake City area, make a trip up to the Farmington DMV and see if they can help you out with this. My general understanding is if you can't get super lucky with the DMV, they would require these things to convert:
Proof of Insurance
Photos of the completed build
Weight certificate
VIN inspection
Receipts of everything done/bought for the build
A couple forms if it wasn't previously titled in the state of Utah.
Definitely call and chat with your local office and see what they say, maybe even drop into the office and keep bugging them, maybe they will just change it over.
What was your Utah skoolie insurance process AND what kind of RV policy did you need?
We found a great local agent/ broker that was able to set everything up without photos or anything. We were able to get a commercial policy from progressive while it was still titled as a school bus. Once we got it registered/titled as an RV, he was able to get us full coverage for $10,000 for now. We will be upping the blanket coverage amount once we finish the conversion.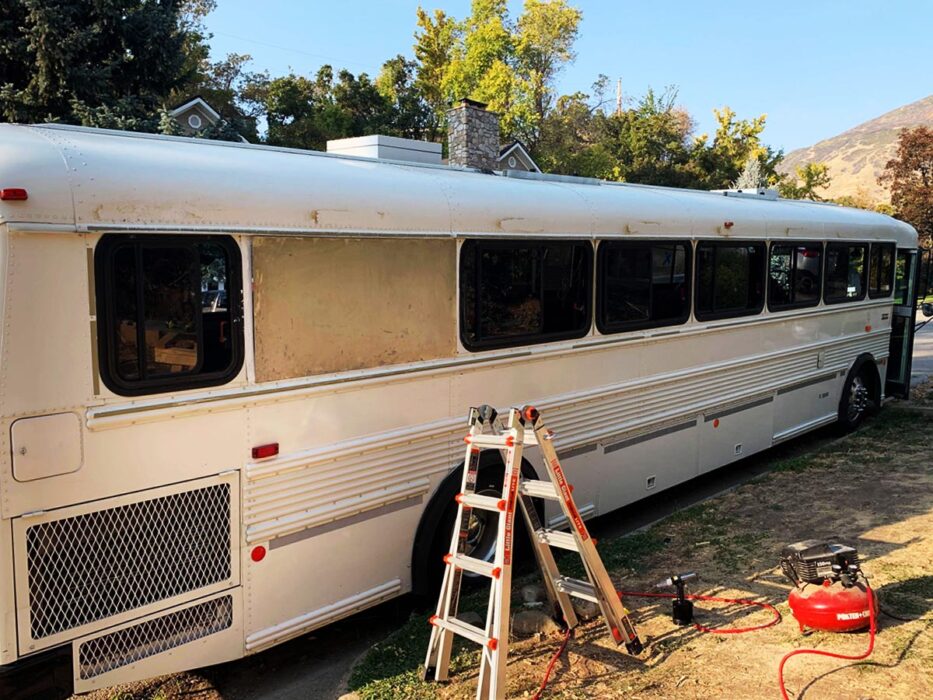 Do you live in your Skoolie full-time?
I'm building it right now & planning to live in it full-time!
What's one piece of wisdom you'd like to give people who are considering converting a school bus into a Skoolie that you wish you knew before you got started?
Be patient!!!! The perfect bus is out there for you. We looked for 9 months before we found our "Wonderboy". Be patient with your build, it's easy to get discouraged and feel like you aren't making any progress. But small steps are steps no matter what. Also, if you are building with your partner/S.O….be patient with them haha, this build is testing every fiber of our marriage but making it stronger as well LOL never knew we would have arguments about drill bits and deep socket wrenches.
What do you think your superpower is (or would be) in a Skoolie build?
Kat: Surprisingly strong when it came to the demo. Problem-solving skills (was able to get the bus started after we accidentally cut the wires to the emergency door oops)
Cam: Very hands on and great knowledge of how to get things built. Knows his way around a saw 🙂
"Wonderboy" by Tenacious D!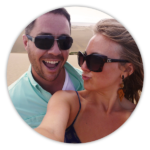 Hey, we're Brian + Erin. Currently, we're workin' on our bug out bus. Lucky the proverbial $hit hadn't hit the fan yet when we picked up this 40-foot beauty in Phoenix AZ and drove it up to Canada to convert it. Hopefully, we all still have time...
Honestly, this bus conversion has been the only sane thing in this insane world lately. We can't tell you how good it feels to BE working on something that lights our souls up and has such potential for a life that is entwined with nature, love, and happiness.
Our main goal is to inspire people to get off-grid and become self-reliant. We are well on our way and are super excited to talk about solutions with others who are shooting for a similar way of living.
Did This Blog Post Help You? If so, we would greatly appreciate it if you comment below and share it with a friend.

Check out our must-read articles about Skoolie Conversion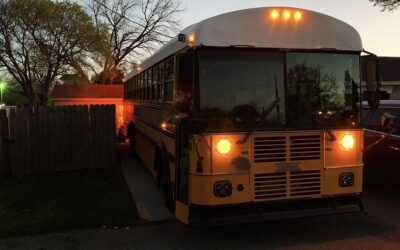 Joeseph & Jennifer Davis from DFW, Texas accidentally won an online auction to buy a school...
read more

BE Adventure Partners guides people in making money online. Earn an independent living from your knowledge, skills & passions. Become self-reliant. Live a smart & simple life on your terms.