How A 19th Century Coffee Farm Is More Successful Than Ever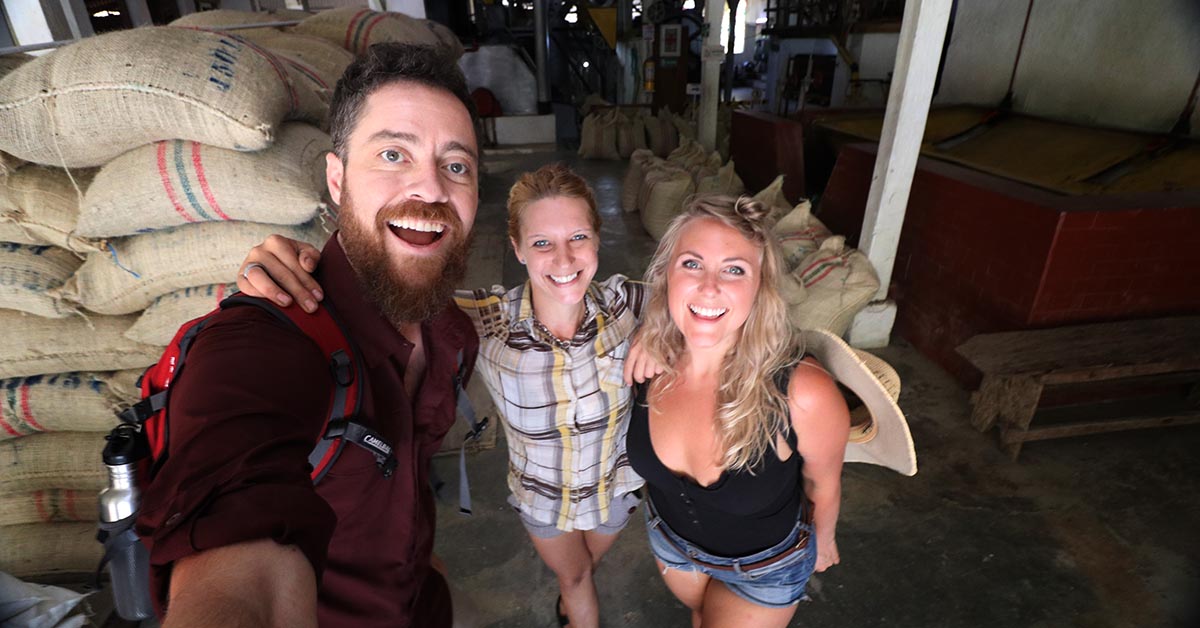 Borrow business secrets from a 126 year old coffee farm, and see how their simple business branched into multiple revenue streams seemingly overnight.
Not a reader? Watch this on the BEAP YouTube Channel!
How is a coffee plantation, built in 1892, thriving more than ever today…
Tucked away in the moody jungle of the Sierra Nevada Mountain Range, La Victoria coffee farm is one of the biggest & oldest coffee producers in northern Colombia, founded by a British couple.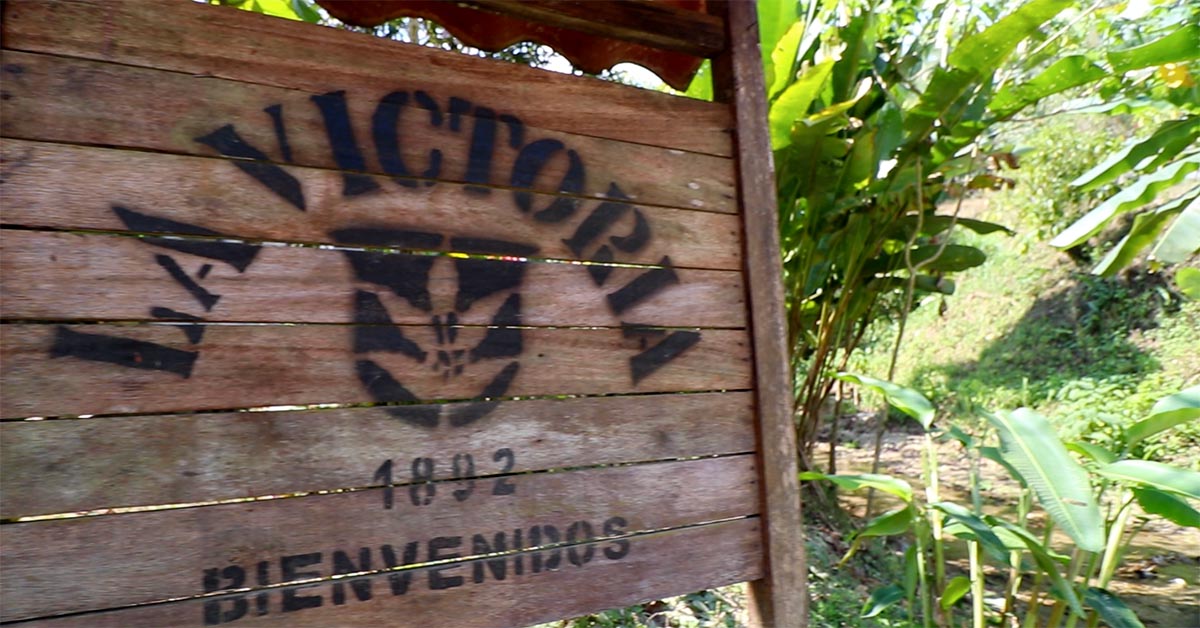 Not only has this old coffee plantation in Minca Colombia passed the test of time, it has survived fierce mother nature. Between the scorching hot weather on the equator, and wild heavy rains this farm continues to be passed through the generations. Before the Brits built the coffee plantation, this was the land of indigenous communities and the ancient Tayrona civilization.
La Victoria Coffee Farm was trendy before trendy was even a thing…
A prime example of a brilliant business model that gives back… This old coffee plantation has been fully sustainable & self-sufficient since the early days, when it was built. We will get back to that in a moment, but first let's talk about why it's so trendy, and another reason why it's so popular with travelers like us. We were actually recommended to take the tour by our Airbnb host, and ended up having a super informative guide named Jasmin. (Watch the coffee farm tour video, and see this hidden gem in the jungle.)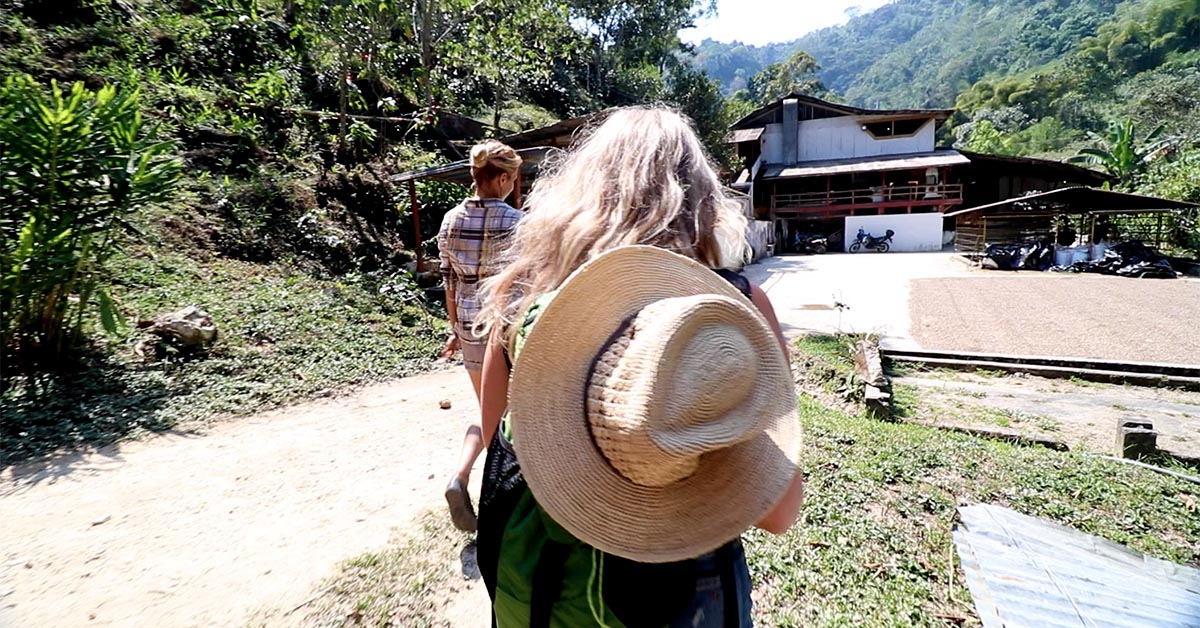 Well, La Victoria is proud to say that they are herbicide & pesticide-free, and they've been an organic farm long before "organic" was trendy. They grow a huge variety of tropical fruits, vegetables, coca leaves, and even harvest organic honey. They have a lot more to offer then just organic arabica coffee.
Multiple streams of income, created & supported by the diverse ecosystem…
Speaking of all the different things La Victoria offers because of its bountiful ecosystem… This incredible jewel in the jungle has also attracted a wave of tourism. Which has quite honestly been a surprise to the surrounding Minca community, but also an economic blessing. In all truth, it's a double edged sword.
Four years ago Minca was still being affected by the armed conflict, just like the rest of Colombia… This community was just getting back their resources, and settling into a normal life. Two years ago, a road finally connected Minca to the oldest city in Colombia, Santa Marta. Guess who found Minca, and started pouring in… Tourists.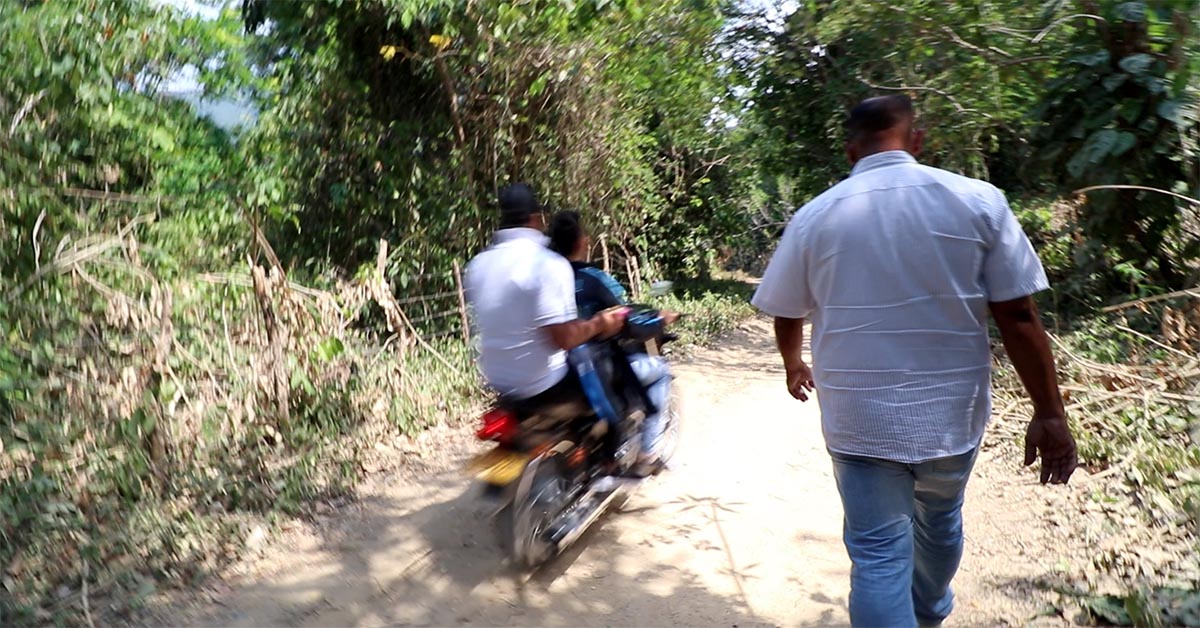 It seems that La Victoria has handled the sudden demand rather well, and has opened up a lot of opportunity to employ locals to help them out. They went from producing coffee to offering tours to people who were just showing up at their coffee plantation. Tourism has become a wonderful source of extra income, as it sits on a 1235 acre nature reserve. Bird watchers & nature lovers have been highly attracted to the Minca area, and La Victoria is definitely leveraging what they have to offer, while preserving their ecosystem.
After a full day of birdwatching, and enjoying nature… Nevada Brewery who now lives on La Victoria's property offers a variety of beers to locals & tourists as well. So everyone benefits.
If it's not broke don't fix it…
We mentioned before that La Victoria is 100% self-sufficient, and it has been since the beginning. That's because it had no choice, as it was not only high up in the mountains of the Sierra Nevada, but also in the midst of a very dense, impassable jungle.
Brilliantly enough, back when they built La Victoria Coffee Farm, one of the first things they did was hire The Pelton Water Wheel Company to install a hydro wheel to power the plantation.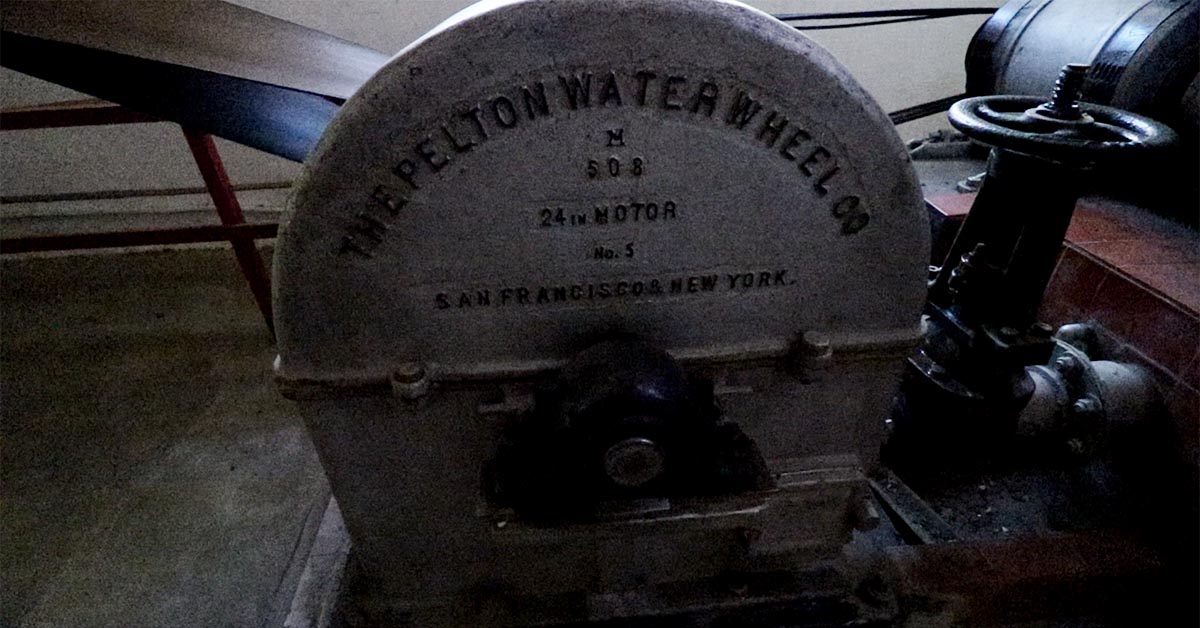 Several fresh water springs feed 3 large holding tanks, up in the mountains, and are piped down to the water wheel to power the plantation. Then the water is directed back into the stream. Not only has this system provided electricity to the coffee plantation since the beginning, but it also provides free power to 20 homes in Minca, a hostel, and the Nevada Brewery. Talk about giving back to the community!
We were thrilled to see La Vitoria still using several original machines in the coffee plantation that have passed the test of time, and were built sturdier than most modern machines. It is certainly nice to see this 19th century company leaving such a small impact on the environment, but such a big impact on their community.
How can you take a leaf out of this coffee farms book, and apply it in your business…
Leverage the resources you have at your fingertips.
BE mindful of how you can give back to the resources that feed your business, leaving a minimal eco footprint no matter what industry you're in.
BE flexible, and see change as an opportunity to expand & grow in yourself along with your business.
Use proven systems that have passed the test of time.
Create a community around your business, and give people something to BE a part of.
Imagine your business 126 years into the future…
A lot of the people who have come to us wanting to build a business online want to BE a success overnight. La Victoria only appeared to BE an overnight success because that's when foreigners found out about it. The truth… It built a strong foundation years ago, based on beautiful morals & values. This is a company that has integrated & protected its environment since the 19th century. No wonder this coffee farm in the dense jungle is still thriving today!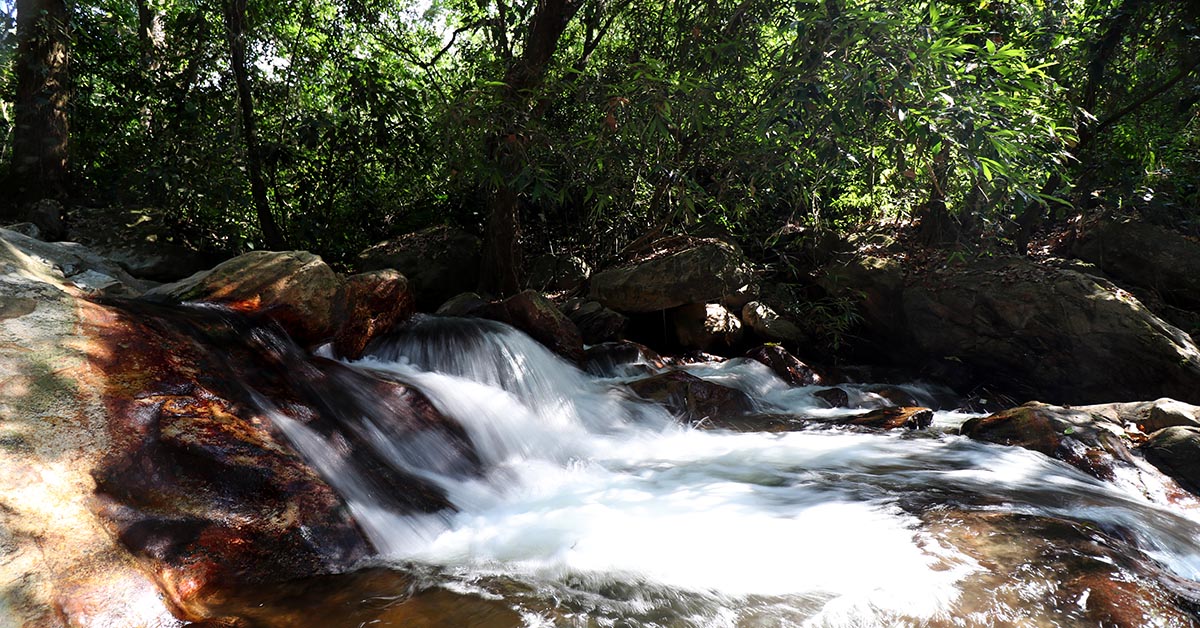 The most successful businesses are based on good values & service that help people solve a problem, fulfil a need, or desire. So think about your values as a person. What's important to you? How could you help people? That is an awesome place start if you are just getting going with your online business, or if you are reworking your existing business.
Surround yourself with others who have the same values as you do…
Sure you can build a business on your own, but it can be lonely & not that fun at times. As you have read above, La Victoria wouldn't be here today if it hadn't contributed, and been supported by the Minca community.
The BE Adventure Partners Exclusive Tribe For Entrepreneurs is here for you while you build your business. Grab your membership today, and get the support you need to build a thriving business online.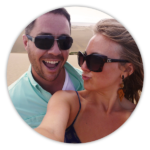 Hey, we're Brian + Erin. Currently, we're workin' on our bug out bus. Lucky the proverbial $hit hadn't hit the fan yet when we picked up this 40-foot beauty in Phoenix AZ and drove it up to Canada to convert it. Hopefully, we all still have time...
Honestly, this bus conversion has been the only sane thing in this insane world lately. We can't tell you how good it feels to BE working on something that lights our souls up and has such potential for a life that is entwined with nature, love, and happiness.
Our main goal is to inspire people to get off-grid and become self-reliant. We are well on our way and are super excited to talk about solutions with others who are shooting for a similar way of living.
Did This Blog Post Help You? If so, we would greatly appreciate it if you comment below and share it with a friend.

Check out our must read articles about Starting Online Business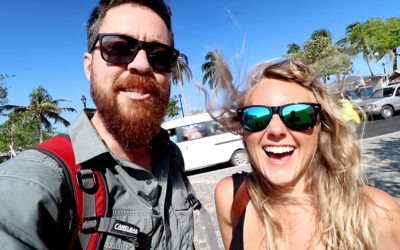 People are searching for good information these days, so when you film your eCourse it's gotta be...
read more

BE Adventure Partners guides people in making money online. Earn an independent living from your knowledge, skills & passions. Become self-reliant. Live a smart & simple life on your terms.