How To Film An Interesting High Quality eCourse In The Wind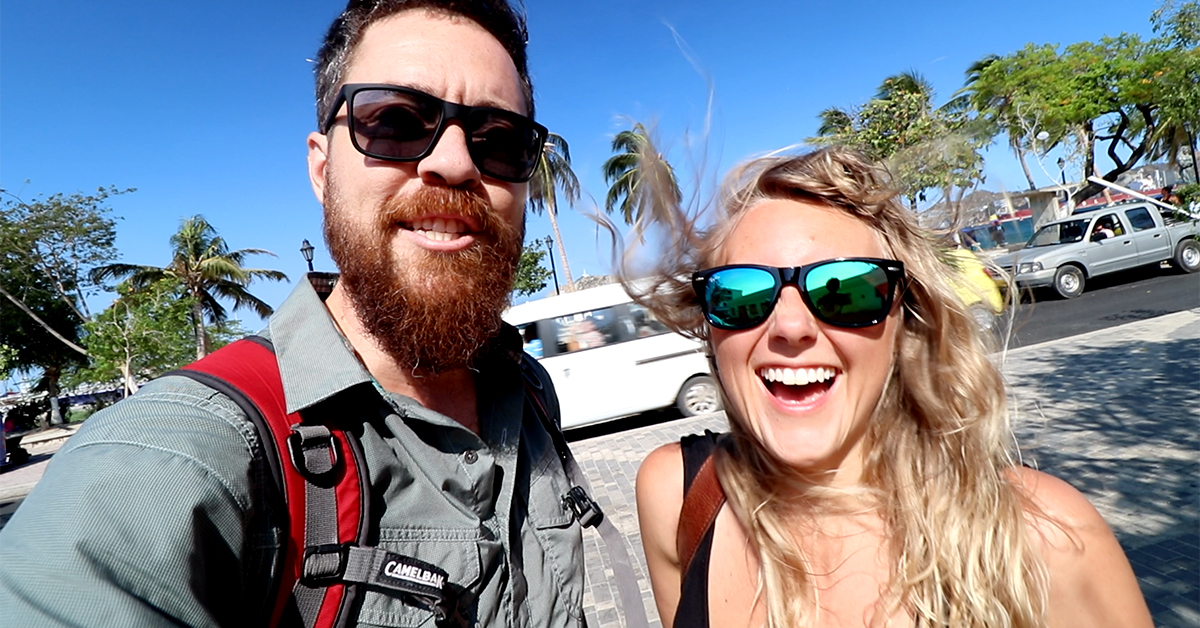 People are searching for good information these days, so when you film your eCourse it's gotta be interesting, high quality, and worth every penny.
Not a reader? Watch this on the BEAP YouTube Channel!
The challenges of filming a quality online course…
Wanting to film a course? Somedays filming a "high quality" eCourse can be more challenging than others… Currently, Brian + I are in Santa Marta, Colombia. We've been traveling full-time with our business since April of 2017, so needless to say, just because we are traveling, our business doesn't stop, and we still need to film our eCourses.
We've been wanting to film a mindset eCourse for ages, and the day had finally come. Our plan was all in place, and we were so excited to get out, and record the whole thing on the beach here in Santa Marta. Not our best plan…
Scouting a good location to film your course…
The winds were whipping when we got down to the beach, blowing sand, rustling trees, honking cars, and the morning sun was moving high in the sky. It was starting to get warm out there, as we were looking for some shade to record under. That wasn't our only challenge while scouting a good film location…
Vendors on Bahía de Santa Marta are hungry for a sale, regardless of your big Canon 80D rig with your fluffy dead cat equipped Rode Mic in front of your face. They will still ask you for a sale (which I kind of admire) since most people we've worked with in online business are so scared to ask. Seems like entrepreneurs here in Santa Marta are fearless! Anyways…
What REALLY matters when filming your online eCourse…
It was obvious the beach wasn't a good spot to film the course with the winds blowing at 53km/h! (We Googled it when we got back.) Our audio would have been terrible with the crazy wind & vendors calling out, not to mention all of the distractions walking around in the background. Even with a high quality microphone like our Rode Mic! You can't fix all of those sounds in post production… You can fix some, but not all.
Even more important when filming an eCourse, you want to keep it simple so people can follow along, and aren't distracted or deterred by crappy audio. Choose a place that is comfortable, where you can focus, and deliver the best content possible. It's not about getting fancy like we were originally going for.
The MOST noteworthy things you need to focus on when you film your course:
Good Audio– Obviously The Best You Can Capture
A Crisp CLEAN Background – No Distractions
Easy To Follow 3 – 5 Step Plan For Your Customer
You Bring The Energy! Make It Fun & Interesting
A Solid Call To Action At The End (ie. An Invite To Your Next Thing)
The whole point of your eCourse…
Take an easy lesson from us. Your online eCourse isn't about waves crashing in the background, though it could be beautiful or interesting if it was a private beach that didn't have so many distractions… It's all about giving your customers a simple step-by-step plan that they can follow so they can get a result.
Instead make it interesting by bringing your best energy, and above all teach what you promised them with passion… They will love it more if you just BE yourself! It will also BE more interesting if you make it interactive. Pose questions that are thought provoking. Invite people to comment, or share the wins they are achieving from your eCourse in a private community as they learn. This will set your eCourse apart from others in your industry, BE more interesting, and certainly more high quality!
Tie a bow on your eCourse like a pro…
If you want the online biz building industry term, this is called a "call to action". Which really just means, telling your customer what to do next. Now this isn't to buy any old thing. This offer MUST be congruent with your eCourse that they just completed. Your offers have to make sense if you want people to invest in your products or services. Consequently, they will go find someone else's offer that does make sense. We go into this much deeper in our Tribe, but basically, you need to point them to the next offer that fits their customer journey with your brand.
Get help creating your first online eCourse…
Filming your first course isn't easy. There are a lot of moving parts that you need to set up beyond just recording it. After creating 7+ eCourses for the Exclusive Tribe we have acquired a lot of skills & information that will help you skip the learning curve we went through. Because not everything we once created is worth offering anymore… We don't want you to waste your time like we did.
In the BEAP Exclusive Tribe For Entrepreneurs, we can help you dial in a simple plan that you can follow. Through mapping out your lessons, recording interesting high quality content, video editing, and dialing in a sales funnel that inspires people to click "buy". We've got your back, and are happy to walk you through LIVE on our Campfire Q+A video calls, or in the Tribe Community! We also offer step-by-step eCourses that you can follow at your own pace, rewind, and keep referring back to as you need.
We're excited to see you in the Tribe!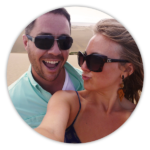 Hey, we're Brian + Erin. Currently, we're workin' on our bug out bus. Lucky the proverbial $hit hadn't hit the fan yet when we picked up this 40-foot beauty in Phoenix AZ and drove it up to Canada to convert it. Hopefully, we all still have time...
Honestly, this bus conversion has been the only sane thing in this insane world lately. We can't tell you how good it feels to BE working on something that lights our souls up and has such potential for a life that is entwined with nature, love, and happiness.
Our main goal is to inspire people to get off-grid and become self-reliant. We are well on our way and are super excited to talk about solutions with others who are shooting for a similar way of living.
Did This Blog Post Help You? If so, we would greatly appreciate it if you comment below and share it with a friend.

Check out our must read articles about Starting Online Business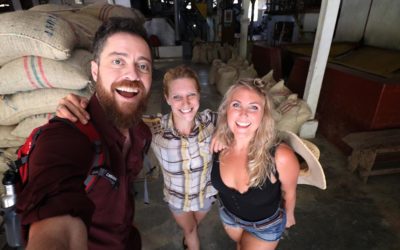 Borrow business secrets from a 126 year old coffee farm, and see how their simple business...
read more

BE Adventure Partners guides people in making money online. Earn an independent living from your knowledge, skills & passions. Become self-reliant. Live a smart & simple life on your terms.