5 Online Business Ideas For Couples (That Could Free You)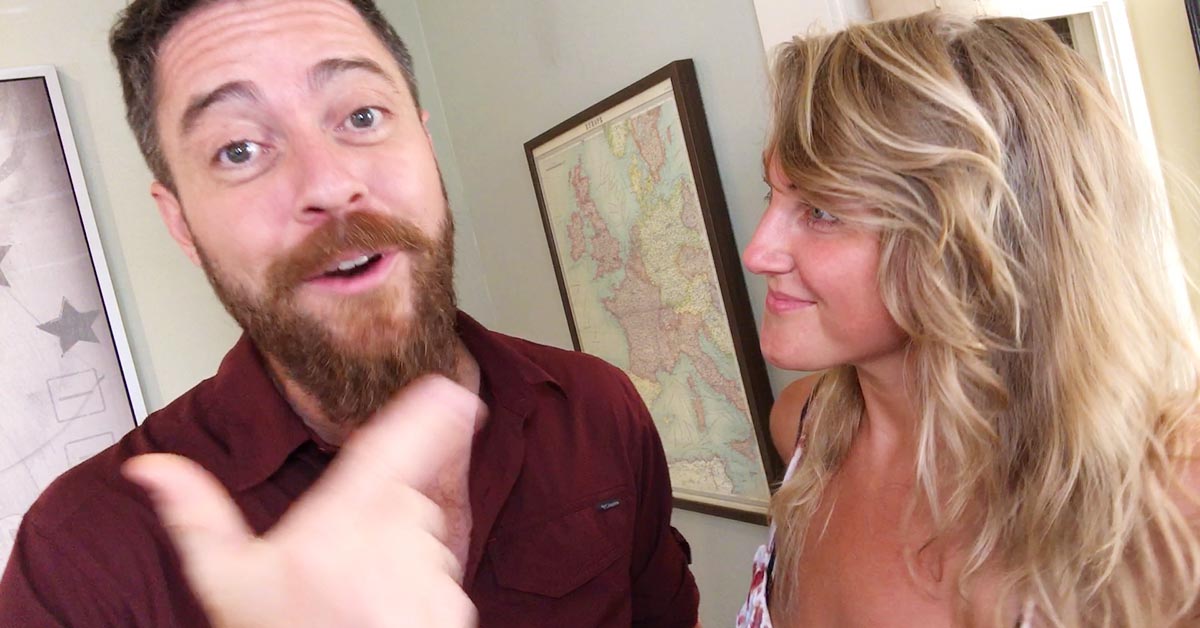 There's nothing worse than being a couple wanting to live an extraordinary life, but you're fresh out of online business ideas. Today, we're going to give you 5 AWESOME online business ideas specifically for couples (if you're flying solo, these could definitely inspire you too!)
Not a reader? Watch this on the BEAP YouTube Channel!
Coming up with an online business idea that's original, and has never been done before is tough.
You shouldn't have to create your own unique product or service when you could find a need already being served online and make it BETTER! You simply have to figure out how to make that idea unique to you and stand out from the crowd!
Believe it or not… Couples have an advantage when it comes to launching an online business idea. You're two unique people who are already a team! You both have opinions, perspective, and most likely have a unique set of skills that you could bring to the table.
Even with all this power, coming up with an online business idea that you BOTH are gonna love can be tricky (which is why you're here, right? To get ideas!)
If you're fresh out of online business ideas, let's dive in & give you some potential niche markets, possible products and services you could offer AND show you how to turn your knowledge to profit.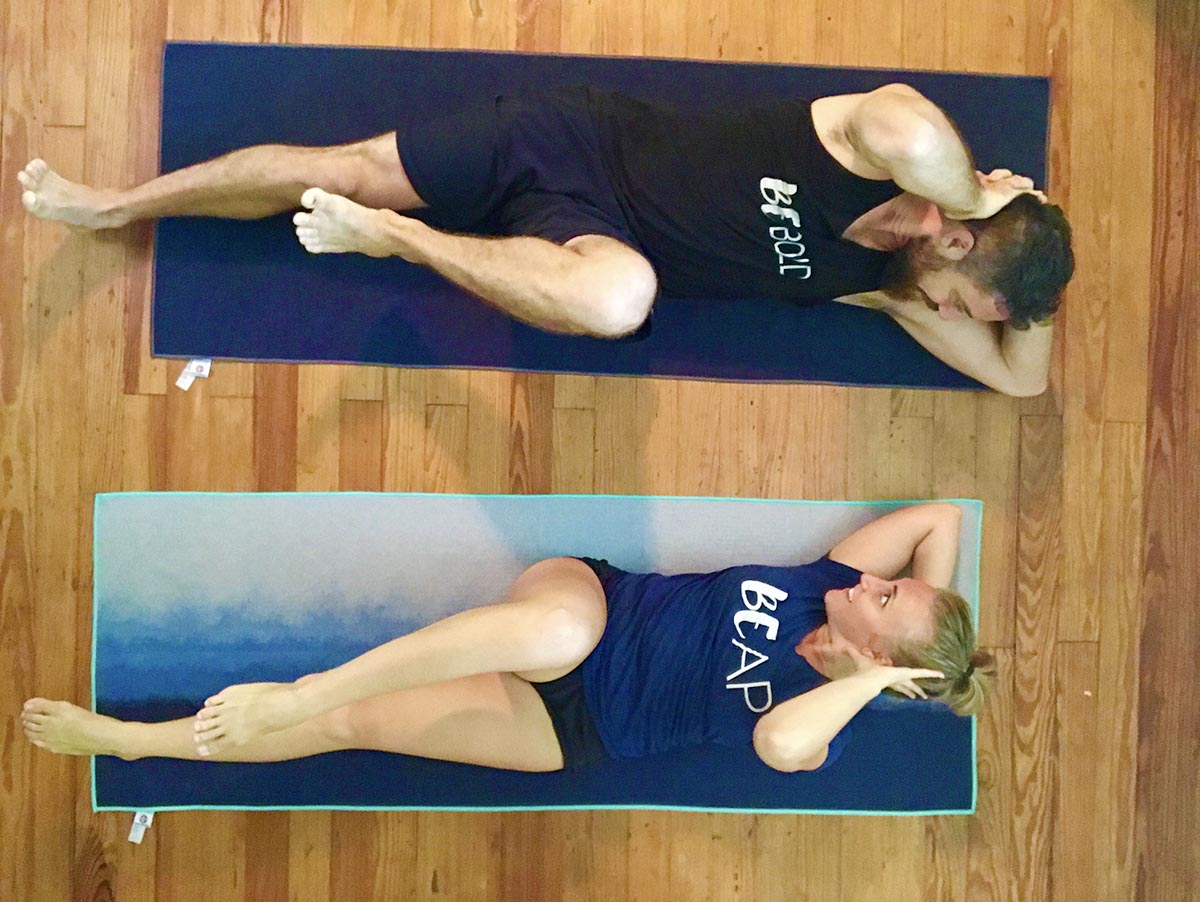 1. ONLINE BUSINESS IDEA: Workout Brand
If you are a couple who already has a rock-hard, beach-ready body OR you're a couple who wants to share the journey to getting in shape, you may be interested in starting a Workout Brand.
What does a workout brand do?
Workout brands can do a number of things (which is exciting!) Imagine that there are other people in the world who would want to follow your journey as you document getting in shape, losing a few pounds, to even sculpting, and toning your body for competition.
Regardless of where you are in your fitness journey, there are millions of other people in the same phase you are, or slightly behind you. They want to be part of a community. They want to learn from you. They are looking for a person who knows what it's like to be in that position and your brand could relate with them perfectly. This builds the "know, like, trust" factor!
Workout brands inspire, educate and motivate their audience to take physical action!
Contrary to popular belief, you don't have to be a certified Kinesiologist or the Kipping King of CrossFit Coach to start a workout brand.
You just need a bit of self-motivation to keep producing content consistently that your audience will love! Be YOURSELF! Share your journey! Share techniques, tips, and workout plana that your audience could participate with! The key is to give them lots of great freebies. This will intrigue them to see what products or services you have behind the curtain.
What products or services could your workout brand offer?
Workout clothing & Gear
Shakes & Supplements
eBooks & Meal Plans
Online Workout Programs & Training Memberships
Most of the things you can offer could be affiliate products/services or partnerships you've made with companies to sell their stuff. Or you could start your own online workout program that people would either pay for a set of classes or for a membership to access all of the classes you create.
How would you launch this online business idea for couples?
There are many different ways you can launch a Workout Brand, as it depends on what you want to offer.
The easiest (and fastest) way to launch is to start a website & blog where you can document your journey. This gives people a way to find you online.
Combine this with your favourite social media, YouTube channel, with a blog and you'll be able to build your audience & your brand at the same time.
Using YouTube, you could post short workouts of you both participating & grow your audience of raving fans!
If you want to offer your own eCourses, then you'll create a membership portal where you can securely host your eCourses.
Create your brand (need help creating a brand? Get Your Brand On will walk you through it)
Launch your website & blog (build a membership site – we use Kajabi)
Find workout products/services you want to offer and/or create your eCourses
Build your audience using your Facebook Business Page, Instagram and YouTube Channel (or a couple that you love using)
Check out our FREE mini course 

Confidently Build An Online Business

 

 to learn more about why eCourses are a smart asset to create, and how you can do it!
2. ONLINE BUSINESS IDEA: Sustainability Brand
Being sustainable is HIGH on the list of a growing population around the globe. From organic gardening to renewable energy, there's no shortage of topics this online business idea could create. The world definitely needs more brands who care about the planet, grow vitamin-rich food, and that are creating clean energy!
What does the Sustainability brand do?
Sustainability brands show people how to live in a way that they can self-maintain a certain level of energy, shelter, produce, animals and freshwater without needing external help. They do all this being environmentally conscious leaving a minimal carbon footprint. This may sound pretty complicated, but for the people interested in this style of life, it's actually a lot of fun to do together! Shoot! Erin and I talk about growing a food forest that produces the perfect amount of vegetables & fruit for us year-round. Heck we even talk about what it would be like to trade goods & services with the surrounding community. When we start doing this, we'll definitely document it so you can follow the journey & get tips on how you could do it too (or maybe we'll follow your brand & build ours with YOUR tips!!) No matter what, times are calling us all to think about solutions. Our lives depend on it. Not just financially.
What products or services could your sustainability brand offer?
If you're the type of couple looking for a good online business idea, don't think you need to carry a ton of products with you to sell online. You can simply offer what's already being produced & sold. Become an affiliate with companies who already offer those products and services (most companies pay 10-50% when a sale is made through YOUR affiliate links! Pretty cool, huh?) Here's a list of possible things you could sell:
Information
Hydroponic Garden Kits
Solar, Wind, & Hydro Power
Tools
eBooks
eCourses
How would you launch this online business idea for couples?
Create your brand
Launch your website & blog
Find products/services you want to offer and/or create your eCourses
Build your audience using your favourite social media, paired with a YouTube Channel
"You don't have to be great to start, but you have to start to be great."
– Zig Ziglar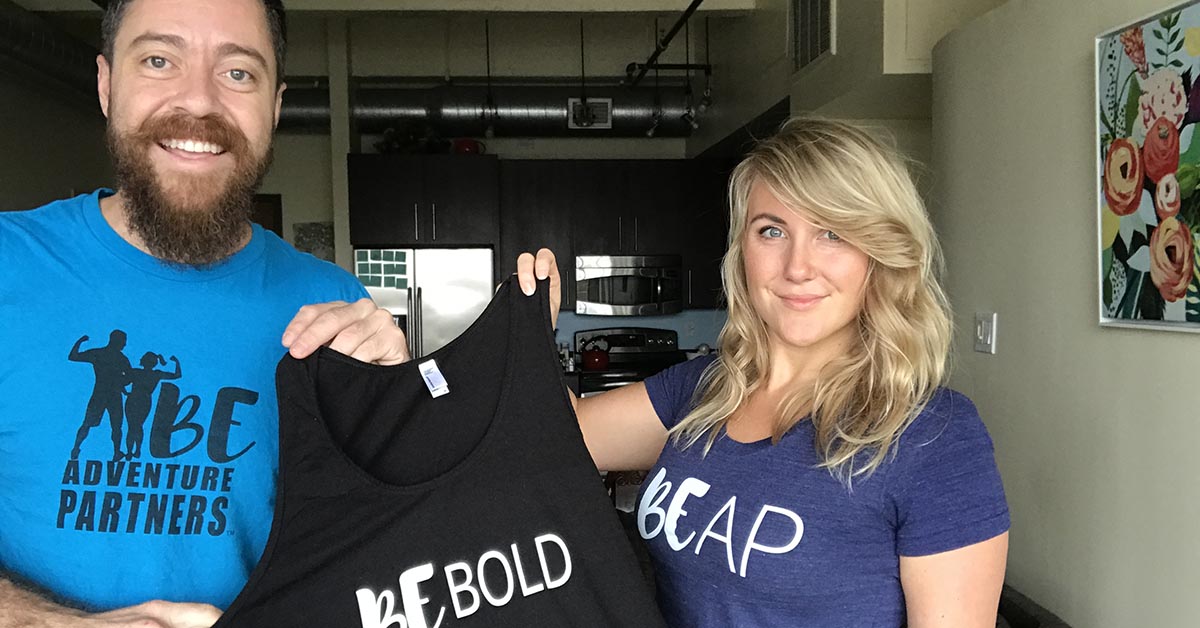 3. ONLINE BUSINESS IDEA: T-Shirt Biz
Maybe you are a creative couple who loves drawing, painting, photography, or digital imagery! Creating a simple T-Shirt Biz may be the perfect online business idea for you! When we started our T-Shirt shop online, we had it up and running in a day! It is pretty easy to set up and is hands-free afterward. So even if you are not the "techie" type, no worries! We've got you covered! What's cool about starting a T-Shirt Biz Online is that you don't have to know how to screenprint, buy the expensive screen printing machines, or even box up tees & take to the post office. We're going to show you an easy, totally hands-off way to do it.
What does a T-Shirt Biz do?
Your T-Shirt Business puts smiles on people's faces, makes them feel comfy, and even gives your customers a message to wear that they relate with! Creating a movement around a message or even giving people a way to BE a part of something by wearing your art is awesome!
What kinds products could your T-Shirt Biz offer?
T-Shirt Businesses can offer more than just awesome Tees… You could also offer:
Tanks
Hoodies
Coffee mugs
Keychains
Laptop skins
Phone cases
Stickers
And whatever else your fulfillment company can print-on-demand
How would you launch this online business idea for couples?
Here's a concise list of how to launch, or you can read more on our in-depth blog post How To Start A T-Shirt Business Online In 24 Hours
Create your brand
Launch your Website & Blog using a shopping cart site (We use TeeSpring cuz it offers a storefront & print on demand service)
Upload your artwork
Build your audience using your favourite social media platform, and if it makes sense, pair it with a YouTube Channel (cuz YT rocks!)
Couples just getting started on their entrepreneurial journey have questions as they grow & scale their online business idea. Get the support you need & be part of a community that won't let you quit! Start your BEAP Tribe Membership today.
4. ONLINE BUSINESS IDEA: Online Services Brand
When you offer a service, many times those services have either a portion or even the entire service, that can be offered online. Whether you are in graphic design, offering tax preparation, or working as a virtual assistant, creating your business online is easily accomplished (when you know what to set up… Keep reading to check out how to set up your business idea online!) By launching your service online, you'll have a greater reach of customers & clients around the world (not just local) AND they will magically start calling you, messaging you, or submitting service requests because NOW they can easily find you by just Googling (or using any other search engine!) What a relief! Not too sure how to do that, and prefer we do it for you? Click HERE
What does an Online Services brand do?
In a nutshell, online services brands provide services online, that don't necessarily need to be performed in person. Now… If you DO offer a service that has to be done in person, there's a way to leverage a team so that the work YOU do is not a cog in that machine. Here's an example of that… Let's say you own a landscaping company. Now, obviously, you cannot install plants, trim bushes & trees, or water a lawn while online. BUT you could have a team in place that does the work, and you switch your role to owner/operator (instead of employee/worker bee).
What products or services could your Online Services brand offer?
Virtual assistance
Remote Business Management
Graphic & website design
SEO (Search Engine Optimization)
Tax preparation
Social Media Management
Software as a service (SaaS)
App development
The list goes on…
Basically, if you are currently offering a service, you can turn part of your company into an online business, leverage growing a team, and you can phase yourself out of doing the physical work. Unless you really like the physical work, then leverage setting up the online business side so you can 10x (or more) your company is a smart plan.
How would you launch this online business idea for couples?
For a couple to launch an online services brand, there are many different configurations. Here's one:
Create your brand
Launch your Website & Blog
Build your audience using your favourite social media paired with a YouTube Channel
Questions?
That's why the BE Adventure Partners Exclusive Tribe For Entrepreneurs was created. So you can get your questions answered as you build your business online. Become part of the community today. Get the support all entrepreneurs need & get access to all the PowerCourses designed specifically to help you take your idea & confidently launch it online.
5. ONLINE BUSINESS IDEA: Tech Niche
As time goes on there's more and more technology that's being developed to help people with various aspects of their lives. If you're the "techie" type and want to help out normal people (like us) understand how these devices help out, we appreciate you building this brand!
What does a Tech Niche brand do?
Tech niche brands are not necessarily in the manufacturing of technology. They can be on the information side too! Imagine a new phone comes out and you waited in line all night to get it. You end up being the first one on the internet to post up your phone review and get a ton of people finding your YouTube channel and your website because of that. You now have people wanting to buy the phone, and when they click on your links & they purchase the phone BINGO! You just earned a commission! Now imagine 10,000 or 100,000 people finding your info AND they found it useful. They then start to cruise around your website & blog as well as binge-watch your videos on your YouTube channel. Your content helps them… They click your links & buy. You just earned a commission because the information you posted was valuable (and maybe they like the personality & charm you both brought to the table!) This is how Tech Niche brands work! Pretty sweet, huh?
Another cool thing you could do is teach people how to use different technology or software programs.
What products or services could your Tech Niche brand offer?
Tech niche brands offer valuable, 3rd party perspective that the retailers need to sell more technology.
Phones
Computers
Wearables
Cameras
Mics
Anything electronic
What spin of personality could you put on this sort of niche that others would want to follow? You are both unique and could each add your own personal spin to a tech brand. That's the couple advantage, and we're sticking to it. 
How would you launch this online business idea for couples?
The easiest way for a couple to launch a tech niche wrapped around information is to…
Create your brand
Launch your Website & Blog
Build your audience using your fave social media platform and pair it with a YouTube Channel
Create eCourses that teach people how to use technology & software products that you love. 
Creating a brand online may not be that intuitive to most people (at least it wasn't for us when we got started). So what we did was took our years of trial and error, success & failure, tens of thousands of dollars spent on training & workshops, as well as determination to build a successful business online and packaged it up for you (so you don't have to struggle as we did in the beginning). Learn how to confidently build a business online… TOGETHER. 
The Tools We Use To Create & Operate A Business Online
Most of these links will get you a pretty sweet discount so that you can save some cash as you launch your online business idea! Starting a business online is not free (there's no real free way to do that…) However… You can minimize your cost when you get started, and then later scale into more powerful tools & resources that will help you even more along your journey!
Exclusive Tribe For Entrepreneurs
➜ Start Risk Free Today
YouTube Channel – for more tips couples can use to grow & scale their online business idea
➜ Subscribe Now & Hit That Bell Notification Icon
Membership Site Platform
➜ Kajabi – 14-Day Free Trial & 20% Off Annual Plans
How To Set Up T-Shirt Shop Online (Step-by-Step Instructions)
➜ BEAP Blog Post
Launch a Website & Blog in 15 Min (or less)
➜ Bluehost – Free Domain Name & SSL Certificate
VIDEO ➜ How To Start A Blog For Your Business in 15 Minutes Using Bluehost
Our Favorite YouTube Tool TubeBuddy
➜ Download TubeBuddy Free Today!
Do you already have a business, but it needs some help?
There is no shame in having a business that isn't quite going the way you want. Building a business is bold AF, PERIOD! It's risky, and people around you may not get it. No worries, we get it! Been there, got the T-shirt!
Maybe your business is going pretty good, but you want to boost it into hyperspeed or create more of an online presence so you can be more hands-off?
Over the past year we have had the pleasure of helping a local business increase their sales by 47% by simply creating an online presence.
Check out our Done For You Services to see if there is something we could do to help boost your company!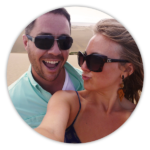 Brian Garcia + Erin Nicole Bick has been traveling full-time since April of 2017. They like to consider themselves location independent. Their goal is to empower others to live life on their terms and create their own definition of independence/freedom. Through their content, eCourses, and consulting they share their simple method for building an online business, and living a happier life.
Did This Blog Post Help You? If so, we would greatly appreciate it if you comment below and share on Facebook, Instagram or any of your favourite social media platforms!

Check out our must-read articles about Starting Online Business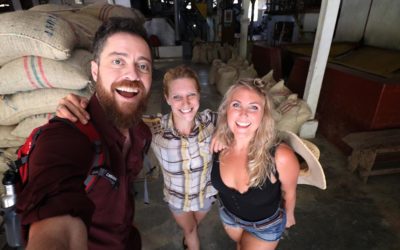 Borrow business secrets from a 126 year old coffee farm, and see how their simple business...
read more

BE Adventure Partners guides people in making money online. Earn an independent living from your knowledge, skills & passions. Become self-reliant. Live a smart & simple life on your terms.