How to Title & Register A School Bus As A Motorhome In Missouri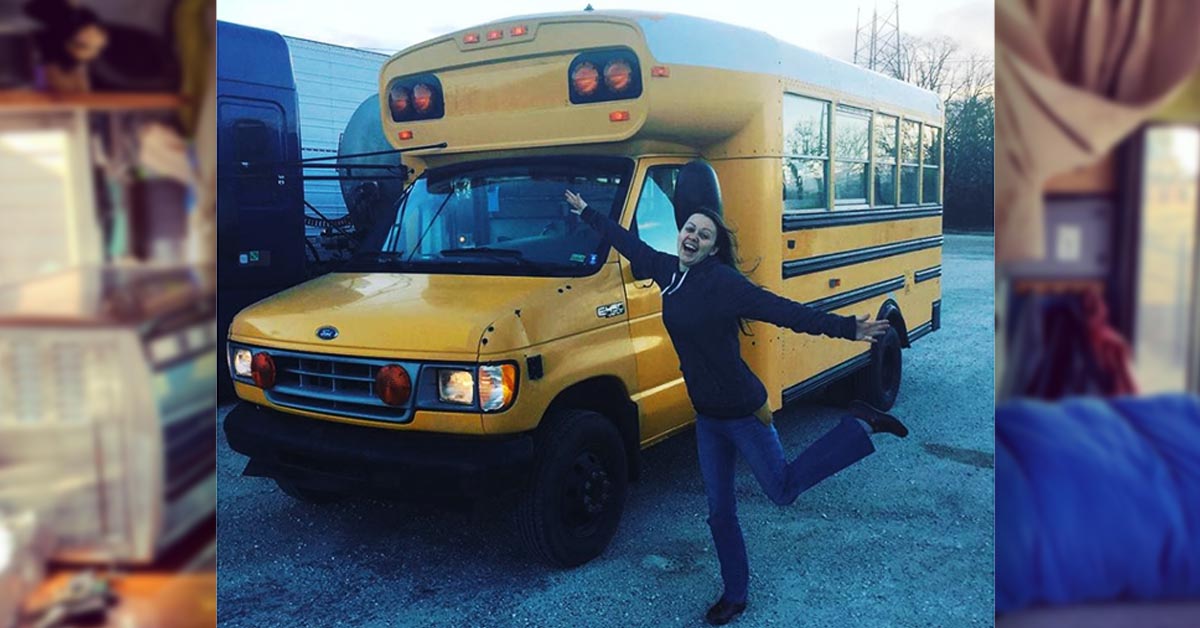 With not much information available, Angela Rose was able to title and insure her school bus as a motorhome in Missouri. Even though the process took some time, she was able to navigate around the red tape and has shared with you her story on how she was able to get her Missouri motorhome title.
If you're looking to get a Missouri Motorhome Title for your converted school bus, then this story is for you.
Learn how to get your school bus titled and insured as a motorhome in  Missouri.
Every country, city, state and province has different requirements for registering a school bus as a motorhome, which can be quite confusing and frustrating. However, being tenacious, like Angela, you'll be able to use this article as a guide where Angela shares her experience about getting a motorhome title in Springfield, Missouri. Who knows, this process may be similar to where you're located!
In this article, we're featuring Angela Rose from Springfield, Missouri who is sharing her Skoolie Title Story. Her Skoolie is named Lovely Rita!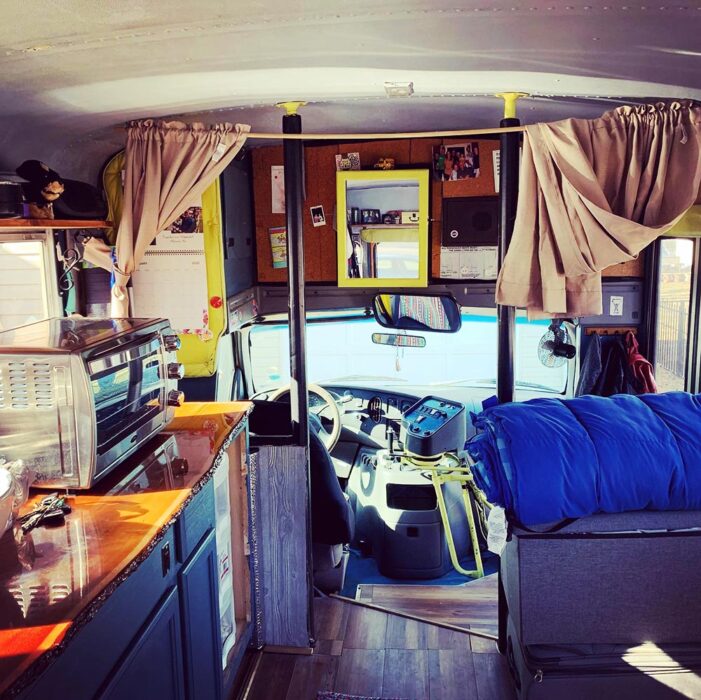 DISCLAIMER: Everyone's situation is different. Laws for titling and registering a school bus as a motorhome vary from country to country, state to state, province to province and even city to city. Also, laws, rules and regulations can change without notice. What works for someone in one place, may not be the same for someone else. Use this Skoolie Title Story as a guide to give you the language you need and to get you going. Ultimately, it is your responsibility to verify what's current in your area. This article is for entertainment purposes only and should not be substituted for legal advice. Please consult your local title and registration governmental agency for current processes & procedures.
How To Title & Register A Converted School Bus To A Motor Home In Missouri
Because title, registration, and insurance requirements seem to be all over the board, we asked Angela what she experienced. Like most Skoolie owners, Angela is free-spirited and extremely tenacious! Let's face it… Converting a Skoolie isn't easy, which is why we're sharing the title & registration stories of others so that you too can get past this first MAJOR hurdle of switching your school bus title, registration, and getting your insurance. Here's what she had to say…
What first intrigued you about building a Skoolie?
I wanted to live independently and be mobile.
When did you acquire your Skoolie?
September 2017
Where did you buy your school bus?
I found my bus on Craigslist for $5000. My brother helped me shop for one.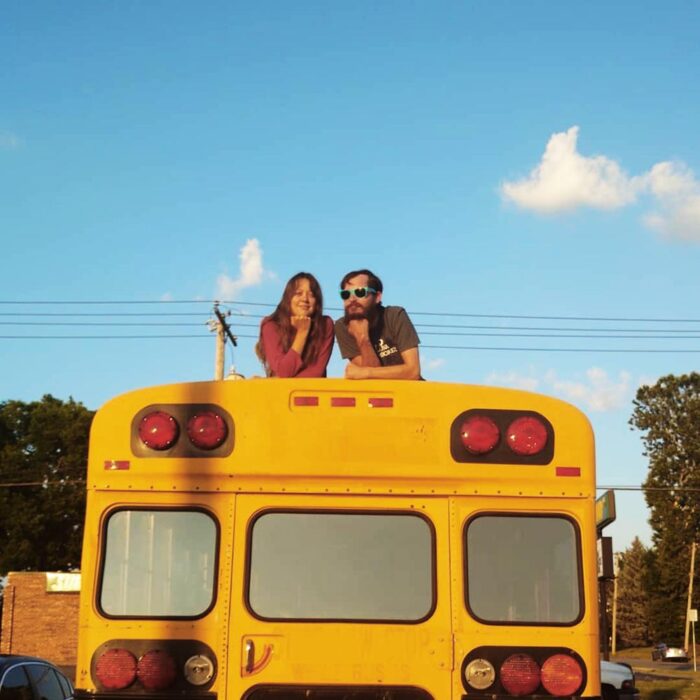 When you bought your school bus, how did you get it from the seller's lot to your conversion location?
I drove it.
Want our used school bus visual inspection form? Get It Free
What components did you need to install to meet the Missouri mobile home title requirements to go from school bus to RV?
I installed the:
Water tanks
Plumbing
A futon
Compost toilet
Had the electricity installed by Camping World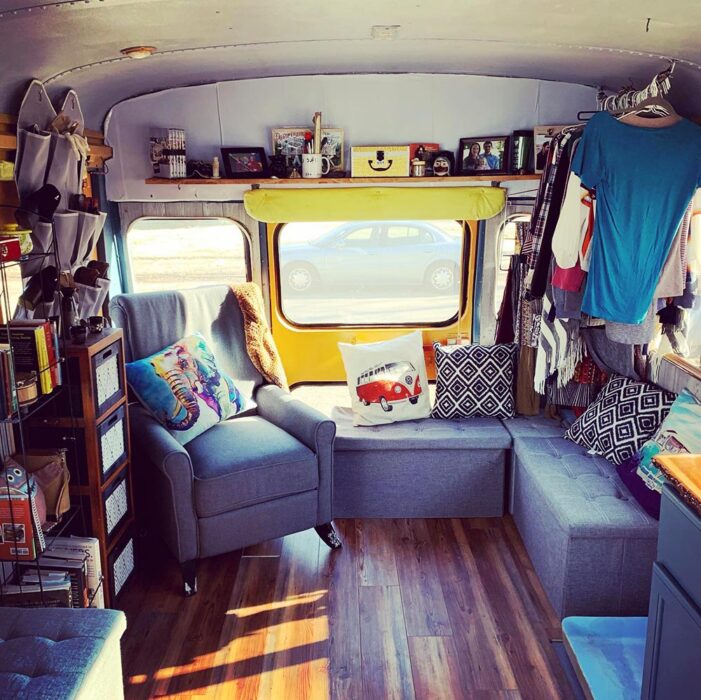 What were the steps required to register & title your school bus as a motorhome / RV in Missouri?
I bought my bus.
My brother and I did the floors, painting, and smaller projects.
I had a plumber install the plumbing and water tanks.
Camping World installed a complete electrical system and solar panels.
I had an inspection done by Highway Patrol to make sure I met the RV requirements for Missouri.
He (Highway Patrol Officer) mailed off my old title with the title registration form (Form 108)
I received the new RV title and took pictures to send to my insurance provider – American National.
They insured it as an RV.
What was your Missouri skoolie insurance process AND what kind of RV policy did you need?
I was initially insured through National General, but they have liability only on Skoolies. After getting it re-titled, I got it insured through my regular automotive insurance provider – American Family Insurance. I had to take pictures of the outside and inside and provide an estimate of its value.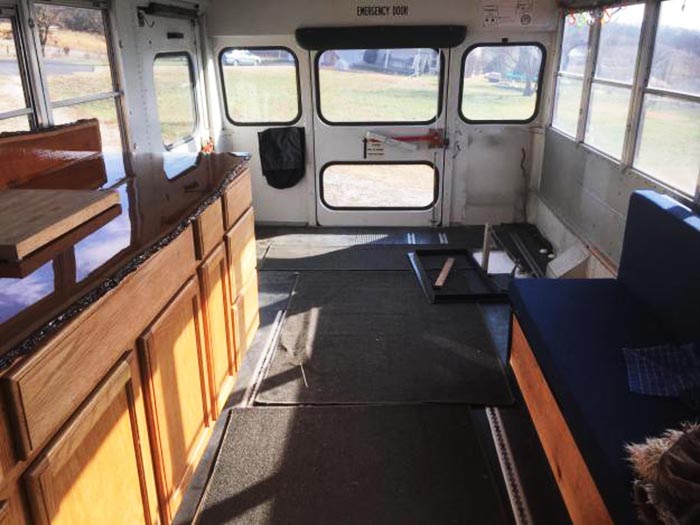 Do you live in your Skoolie full-time?
No, I'm part-time.
What's one piece of wisdom you'd like to give people who are considering converting a school bus into a Skoolie that you wish you knew before you got started?
Start off small and add as you go. I spent a lot of money upfront on items I barely use. Less is more when it comes to life on the road.
What do you think your superpower has been throughout your Skoolie build?
I am tenacious! I like to see projects through to the end.
Here's how to follow Angela Rose & her Skoolie, Lovely Rita: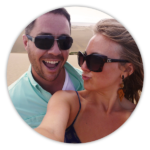 Hey, we're Brian + Erin. Currently, we're workin' on our bug out bus. Lucky the proverbial $hit hadn't hit the fan yet when we picked up this 40-foot beauty in Phoenix AZ and drove it up to Canada to convert it. Hopefully, we all still have time...
Honestly, this bus conversion has been the only sane thing in this insane world lately. We can't tell you how good it feels to BE working on something that lights our souls up and has such potential for a life that is entwined with nature, love, and happiness.
Our main goal is to inspire people to get off-grid and become self-reliant. We are well on our way and are super excited to talk about solutions with others who are shooting for a similar way of living.
Did This Blog Post Help You? If so, we would greatly appreciate it if you comment below and share it with a friend.

Check out our must-read articles about Skoolie Conversion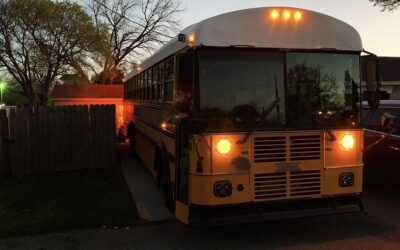 Joeseph & Jennifer Davis from DFW, Texas accidentally won an online auction to buy a school...
read more

BE Adventure Partners guides people in making money online. Earn an independent living from your knowledge, skills & passions. Become self-reliant. Live a smart & simple life on your terms.