Best Grand Canyon Day Hikes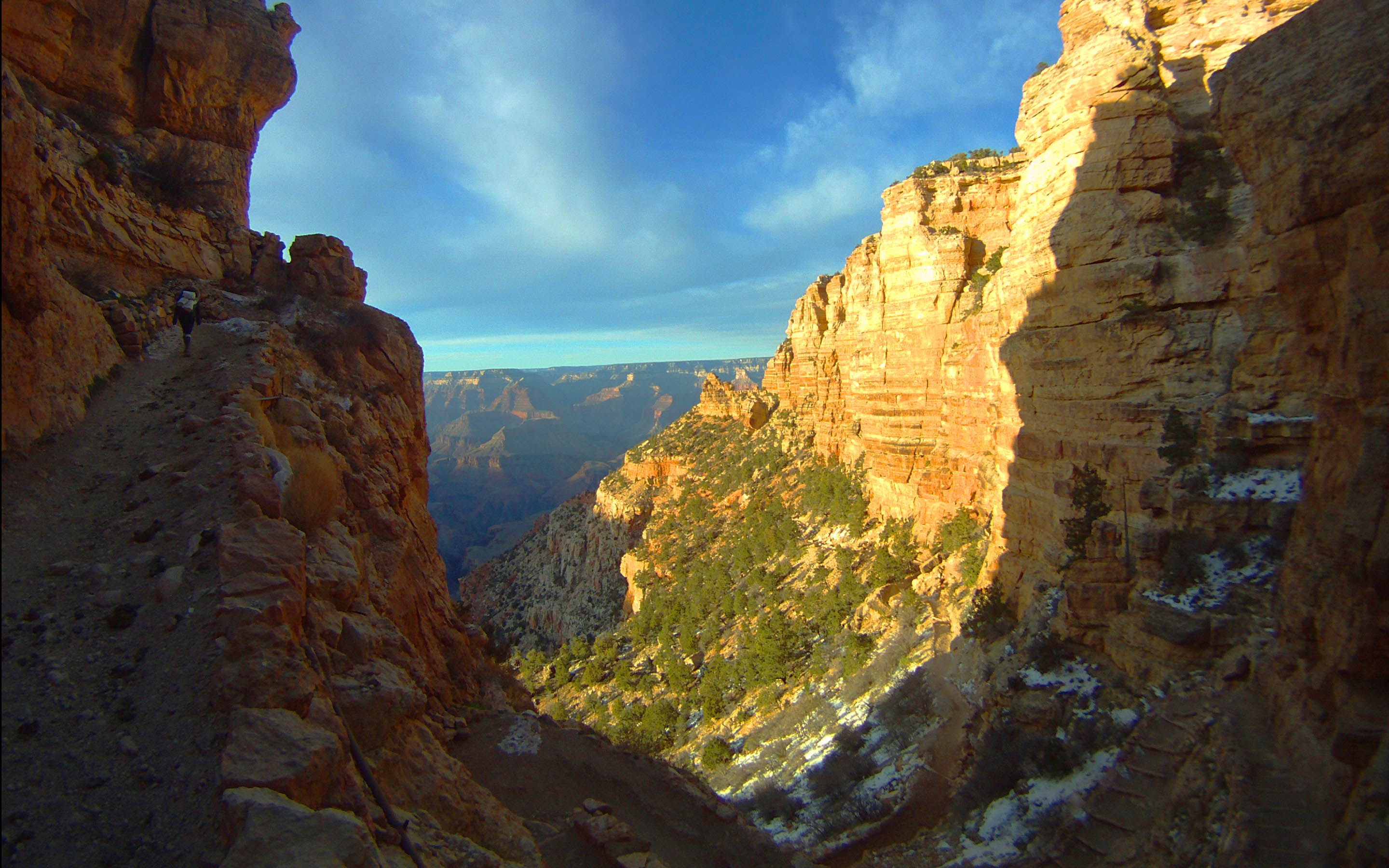 On to another Adventure where we went to find & trek the Best Grand Canyon Day Hikes. And we certainly found them! If you are wanting to go on a hike in the Grand Canyon National Park that you can start and finish in one day (or less), then definitely check these out. You will get a great workout along with seeing amazing views, flora, and fauna throughout the Grand Canyon National Park in Arizona.
We had left an amazing personal development conference in Las Vegas when, in our best form, we wanted to experience an ADVENTURE! (naturally…)
No doubt, we found it!
So we ended up renting a car and headed East, over the Hoover Dam, past Lake Mead and through the Kaibab National forest. We arrived in the South Rim area of the Grand Canyon where we stayed in the little town of Tusayan, which is 1 mile south of the Grand Canyon South Rim entrance.
On To Hiking!
We stopped at the National Geographic Visitor Center and talked with Jim (one of Nat Geo's finest guides) about the Best Grand Canyon Day Hikes.
What we uncovered was a vast amount of information on hikes, preparation and what to expect on the trails.
Hiking the Grand Canyon is no small feat. EVERY trail down into or out of the canyon is challenging. There are no "easy" trails going into the canyon.
Here we are going to cover a few of the best Grand Canyon day hikes that we went on in the South Rim area, in the order we hiked them.
Grand Canyon Rim Trail
On Day 1, w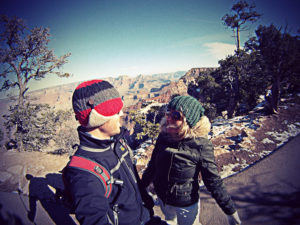 e hit up The Rim Trail that heads west from South Kaibab Trailhead to Hermits Rest. The total distance is around 13 miles each way.
This trail is great for people who want creature comforts. The grand majority of the Rim Trail is paved, lined with geological information and the history of the Grand Canyon.
We found this trail to be an easy stroll and enjoyed the frequency of lookout points that protruded into the canyon. This gave a great, panoramic view of the canyon.
Along the route, there are plenty of places to grab a cold bevy or over-priced tourist knick-knacks.
We did, however, find a place that sold trail crampons. If you have never used these before, in icy conditions, they are a must!
Essentially, you stretch the rubber sling around your shoe or boot and the diamond beads on the bottom prevent you from slipping on ice! We ended up looking at several different pairs and decided on the ICEtrekkers Shoe Diamond Grip because they have aggressive diamond beads on the bottom for maximum traction.
They work amazing! We actually walked across ice patches on the South Kaibab Trail and did NOT slip at all. Previously, it looked like a clown show when we walked on ice!
Grand Canyon South Kaibab Trail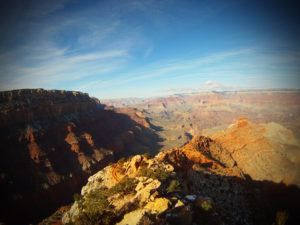 On Day 2 of finding the Best Grand Canyon Day Hikes, we decided to go on one of the "tougher" day hikes…. The South Kaibab Trail. The two main reasons this trail is tough is that there is practically no shade during the entirety of the hike, and there are quite a few steep spots.
Erin and I are both pretty athletic and found this trail to be a solid experience. Like most trails, going down is not that difficult. If you know how to fall and move your feet in front of you, there should be no problem getting to the bottom.
Talk about steep! Hiking back up the trail was another story! Have you ever gotten on the Stairmaster and didn't know when it would end? That's what this trail felt like. But it was well worth it! We powered up the steep grade (with our ICEtrekkers on, of course) and conquered the ascent! It was a ton of fun!
The South Kaibab Trail is part of a trail system that takes you from the South Rim down through Phantom Ranch and back up through Bright Angel Trailhead. This route is 16.5 miles total.
We ended up making a day hike out of this by going 3 miles down from South Kaibab Trailhead to Skeleton Point and back up. This is a perfect day hike because you get to experience a little over 2,000 feet in elevation change in both directions.
The views on the South Kaibab Trail are absolutely amazing! From the glimpse down the edge of the cliffs, to seeing the beautiful layers of rock strata on the walls of the canyon… you'll definitely get some great pics along with priceless memories!
Grand Canyon Bright Angel Trail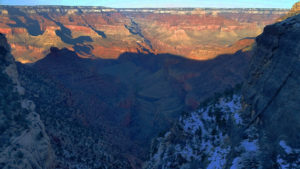 The morning of Day 3 came fast. Hiking the South Kaibab trail the day before left me aching. My calves were sore. My quads felt like rocks and I felt worn out.
Erin looked at me, snuggling closer and we talked about how nice it would be to just lounge around. We were both feeling the aftershock of an ass-kicker of a hike yesterday.
Luckily for us, we are Adventure Partners! We push each other to the limits. We inspire each other to grow in ourselves personally, in our relationship with each other, and physically!
Five… Four… Three… Two… One… UP, UP, And AWAY!
Flying out of bed was the best way to start this hike. Before we allowed our minds to convince us to be lazy, we counted down quick and took action!
The morning air was a crispy 0C (32F) when we started the Bright Angel Trail. This trail was not as steep as the South Kaibab Trail but had more snow & ice on the path because most of it is shaded by the canyon walls.
Right away we strapped on our ICEtrekkers, grabbed each other by the hand and started our trek down with huge smiles on our faces.
How amazing this life that we have created! A life of freedom to go on adventures at the drop of a dime. A life that is allowing us to travel to amazing places and live an extraordinary life. A life by our own design. How fortunate we are to have figured this out, so that we may show others how to do it too!
This hike was amazing! The sun beaming over the edge of the canyon rim on the west-facing wall was absolutely beautiful!
Hikers heading up the trail with the look of, "I'm friggen whooped!" looked up at us as I excitedly said, "How's it going today!!!" They would smile and say, "It's going good… tired… How about you two?" I would respond, "We are doing AMAZING! It is beautiful out! Stay safe!"
The looks on their faces would change from pain to happiness they haven't felt on the way up.
Not going to lie… the way up was pretty tough! The muscle aches & tightness from yesterday were loosened up, which was quite a relief.
We had to get to the top quick! We were on a deadline to get to a secret sunset spot that only the locals know of… Shoshone Point.
We completed the 6-mile round-trip hike. At miles 1.5 and 3, there are restroom stops with a little shelter, just in case nature calls and you want to use an actual toilet.
Grand Canyon Shoshone Point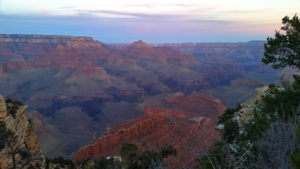 When we arrived in the Grand Canyon, we saw the National Geographic Visitors Center on the main road. What a perfect place to go than there to get the insider scoop from the local pros.
Once inside, a gentleman named, "Jim," came over and asked how we were doing and what he could help us with.
Being the Adventure Partners, we wanted to know the Best Grand Canyon Day Hikes from the perspective of National Geographic's representative! How perfect was this!
The reason we were wanting to know about the best day hikes is that some adventurers want to be able to go on a killer day hike and not have to camp out along the way.
Both Erin and I LOVE to go on extended adventures and trek hundreds of miles. However, we also want to be able to give you the best experience without having to plan on such an excursion, which, at times, can mean quite a bit of experience, gear, and knowledge of map reading.
Jim quickly pulled out a map and showed us the Rim Trail, South Kaibab Trail, Bright Angel Trail and the Top Secret Shoshone Point.
"If I were to take my lady out for a romantic view of the sunset, it would be to Shoshone Point. I would also be sure to pack in a bottle of wine & some snacks to REALLY make it romantic!" Jim said as he smiled huge looking at Erin and back at me. "There's hardly anyone that goes out here because it is extremely easy to overlook and the sign on the gate detours most from staying… Don't mind the sign, as it applies only to groups renting the cliff at the end of the trail. People on foot are always welcome to hike back there."
Shoshone Point is NOT located on the Park's visitor maps. This was the EXACT insider info that we were looking for.
To get there, enter the Grand Canyon National Park from the South Entrance Station. Take Desert View Drive to the east about 1.2 miles past Yaki Point Road. You will see a short gravel drive to the left with a closed swinging arm gate. There are no signs saying that this is the way. There is, however, a sign that states, "Permits Only." That is only if you are renting the cliff at the end. Anyone can hike back there and you can park on the gravel driveway as long as you do not block the gate. Follow the dirt road on foot (with your Honey & a bottle of wine).
This trail is about 3/4 mile each way and is very EASY, flat, and impossible to get lost on (unless you intentionally walk off the dirt road).
Right before your eyes the canyon will appear…. Just you… Your Adventure Partner… And the bottle of wine!
Enjoy the sunset and hike back out under the light from the moon. If it is cloudy out, be sure to bring a flashlight with you.
We had an amazing experience there that neither of us will ever forget. The quiet and solitude with a panoramic view of the canyon was astounding.
Take time to talk with local pros about the places that are not marked on the maps. Break the routine of just going where the maps show and experience a unique adventure that only you and your's can enjoy together. Be sporadic, easy going, and open to new opportunities as they come up. THAT's when TRUE Adventures begin!
Thanks for the tips, Jim!
Hiking Tips
Bring Water & Electrolytes – One of the worst thing you can do to yourself is drinking too much water when feeling extremely thirsty. Replacing your electrolytes is extremely important because if you JUST drink water, you could get something called Hyponatremia. Essentially your body drowns from having too much water on board. Very deadly condition. To avoid that, take in electrolytes with your water.
First Aid Kit – This doesn't need to be huge… But definitely go to your outdoors store and pick up a wilderness first aid kit. If you get cut or stung by an insect along the way, this could help provide relief or stop the bleeding. You'll also have ointments and wipes to sanitize the area to keep infection at bay.
Hiking In Cold Weather – Dress in layers. It is easier to take off one thin layer or put on another thin layer than it is to take off one big coat and not have anything in-between in size. Consider carrying extra thermal layers & socks. Also, consider using crampons like the ICEtrekkers we used in snow or ice conditions. These will help you maintain positive traction to the earth so that you do not slide off a cliff!
Hiking In Warm Weather – I like to wear the convertible hiking pants. These have zippered legs at the knees which allow you to keep on your pant legs to protect from the sun and brush. And if you get warm, you could unzip them to turn them into shorts! Also, be sure to take sunscreen and bug spray to protect against the UV rays and bug bites.
Proper Footwear – Find out what kind of terrain you will be on. There is nothing worse than getting stuck in a snowstorm while wearing thin, lightweight running shoes, or wearing insulated boots in a hot climate.
Day Pack – To keep your hands free, use a daypack. I prefer using a Camelbak because most of them have an insulated area to carry ½ gallon, or more, of water.
Pack Lightweight – There's nothing wrong with being a lightweight! The less weight you carry, the more enjoyable your hiking experience will be.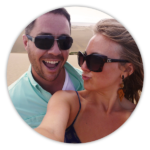 Brian Garcia + Erin Nicole Bick has been traveling full-time since April of 2017. They like to consider themselves location independent. Their goal is to empower others to live life on their terms and create their own definition of independence/freedom. Through their content, eCourses, and consulting they share their simple method for building an online business, and living a happier life.
Did This Blog Post Help You? If so, we would greatly appreciate it if you comment below and share on Facebook, Instagram or any of your favourite social media platforms!

Check out our must-read articles about Lifestyle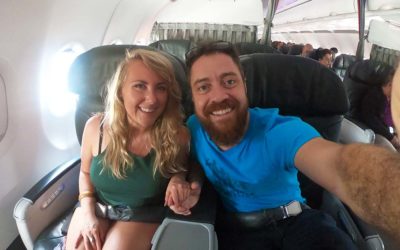 Today is a travel day where we're headed from Medellín to Santa Marta Colombia. Little do we know,...
read more

BE Adventure Partners guides people in making money online. Earn an independent living from your knowledge, skills & passions. Become self-reliant. Live a smart & simple life on your terms.