Comuna 13 – No Longer The Most Dangerous Place On Earth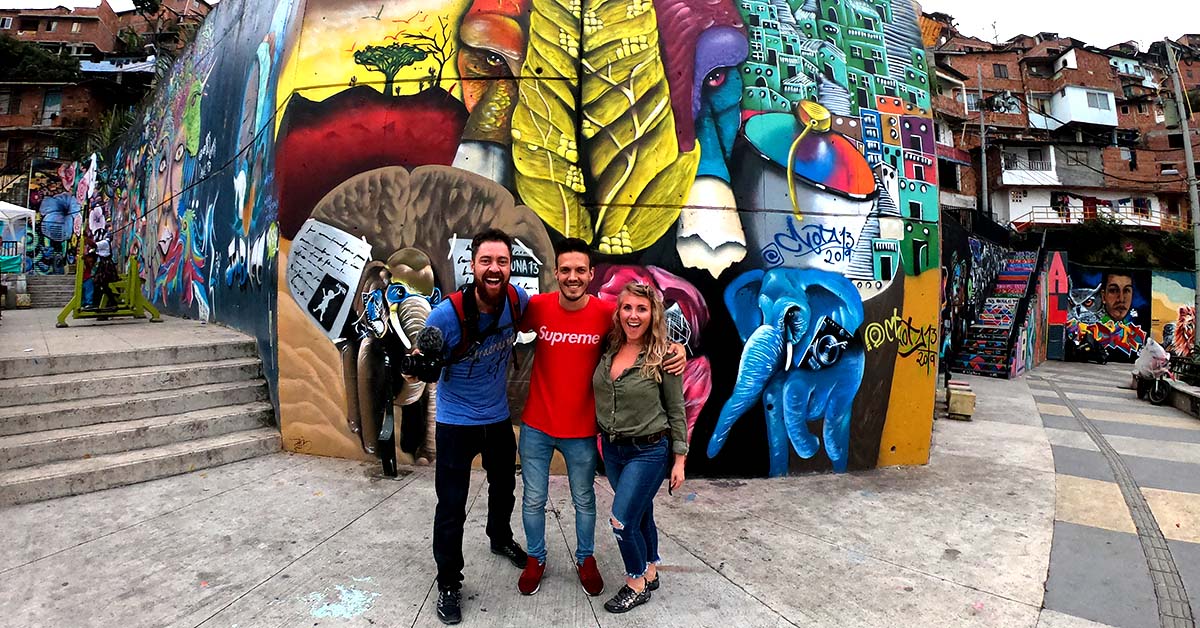 After 50 years of conflict the notorious Comuna 13, or San Javier, Medellín Colombia is no longer the most dangerous place on earth.
This article isn't going to be a journey down memory lane, but merely my perspective of a tour that I went on called "Comuna 13 – From Violence To Innovation" with my Adventure Partner Brian. 
Not a reader? Watch this on the BEAP YouTube Channel!
Why would you want to go to "the most dangerous city in the world" they asked…
When people heard we were traveling to Medellín Colombia they were concerned. Especially with the history of this city. After our hike up Monserrate in Bogotá Colombia, Brian acquired altitude sickness. Monserrate stands 10,000 feet above sea level. So needless to say, for nearly our whole time in Medellín we were pretty laid up in our noisy condo surrounded by high rise construction.
Thus, the moment Brian started feeling better we were both itching to get out outta there! A girlfriend we had met traveling mentioned on one of my Facebook posts that visiting Comuna 13 was a MUST while in Medellín. Funny enough, as we scoured Airbnb for our next place, there it was on the home page. Intrigued by the name of the tour, and the guides passionate description of the experience we booked right away.
Comuna 13 – From Violence To Innovation…
His name is Sebastían. A 26 year old guy who worked in an architect firm for 3 years, and is excited about urban planning. From what we understood… During his studies of urban planning, he had assignments for areas of Medellín that most never see. Areas of the city riddled by drugs, gangs, and all kinds of illegal activity. He was warned not to actually go to the neighborhoods, but to do the research on the internet. Being a young guy, he took the risk, and started exploring parts of the city he said even his dad who is a "Paisa" (born and raised in Medellín) has never seen. Intrigued by the journey of these people, and how they were literally pulling themselves out of hell on earth… He kept going back. Comuna 13 became one of his favorite spots in the city because of the story. A story that he couldn't help but share.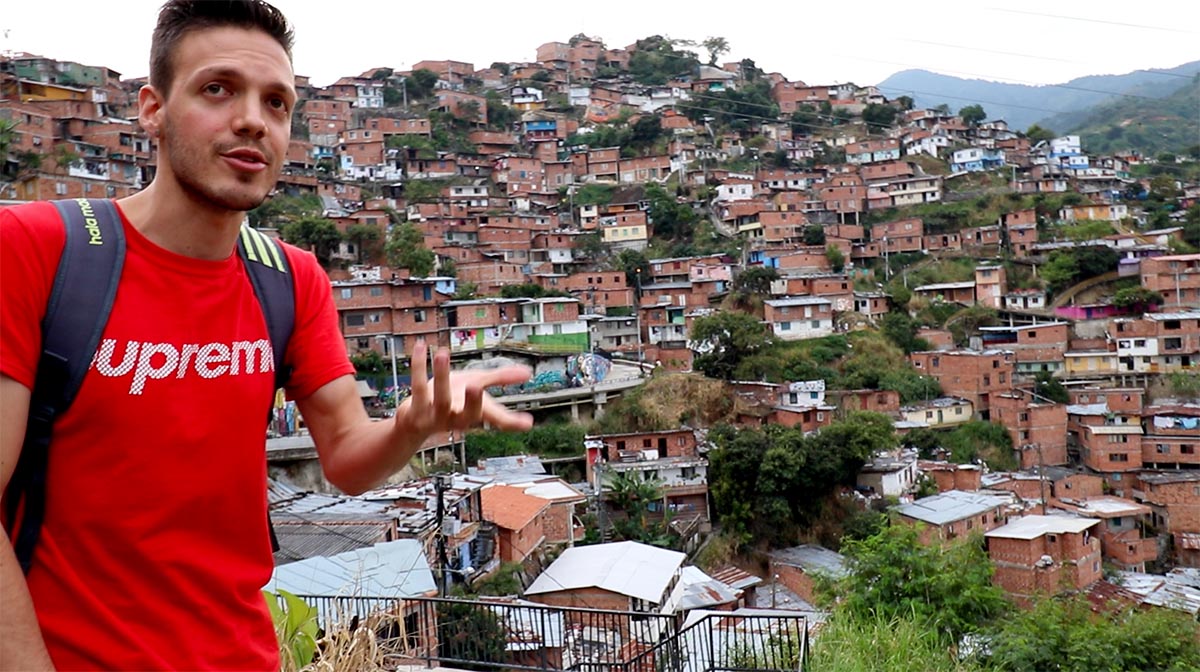 A terrifying history, with a hopeful future…
Rather than start the tour in Comuna 13, Sebastían met us in the bustling city center. A place where just a few years ago, people were terrified to go. Shoot for 50 years people were terrified to leave their houses, because of the gang violence, bombs, and corruption.
In the past few years they have blocked off streets in the city center, and made community spaces with HUGE sculptures by Fernando Botero which have helped warm people up to visiting the area again. Medellín is being transformed from a place of violence to a social space with street vendors everywhere.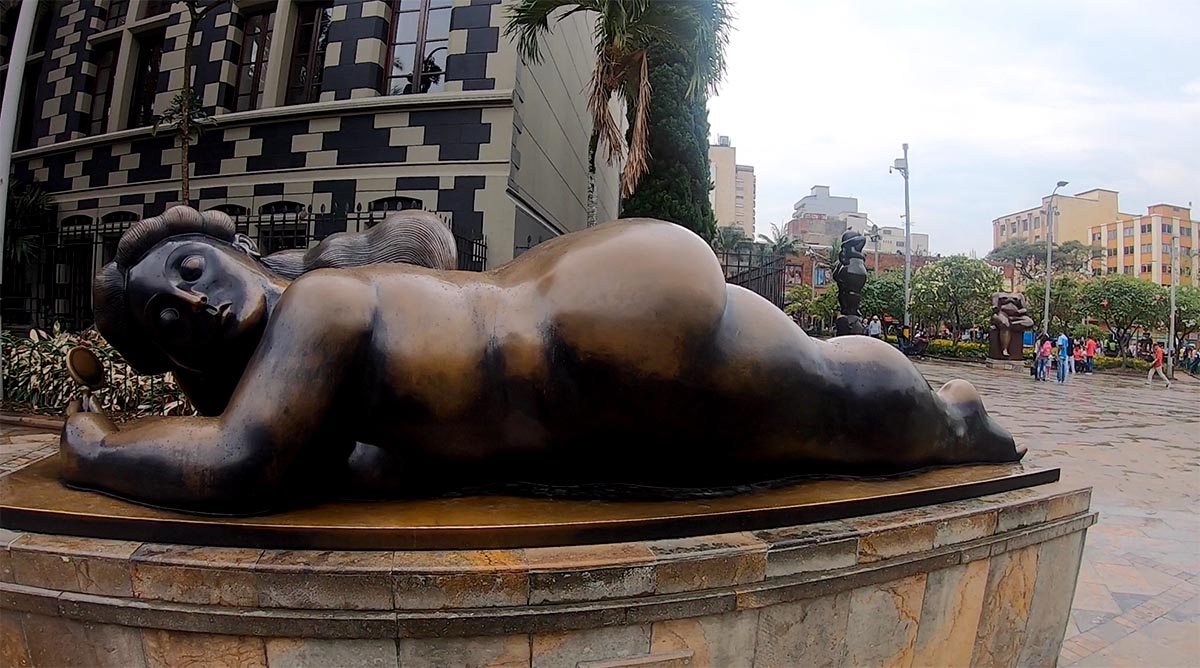 Like most countries we have seen in Central America, downtown Medellín is packed with huge American Stores, and knock off brand names in the streets. It's crazy that consumerism seems to be a top priority, even for people who don't have much. No wonder people steal, deal, and even kill for the shit they see others have on TV… Kind of makes you question what the media is feeding us, doesn't it?
The former most dangerous place on earth finally connected to the city…
You wouldn't think that a few cable cars running up to areas like Comuna 13 would make such a difference, but it has brought the people of this neighborhood a huge amount of opportunity. Before the cable cars were installed people were hiking down hundreds of stairs to get to the city center where most of the jobs are, and then after a long day they would have to hike back up. Now there are 110 cable cars running on the line the feeds Comuna 13, transporting a whopping 30,000 people each day! Talk about life changing.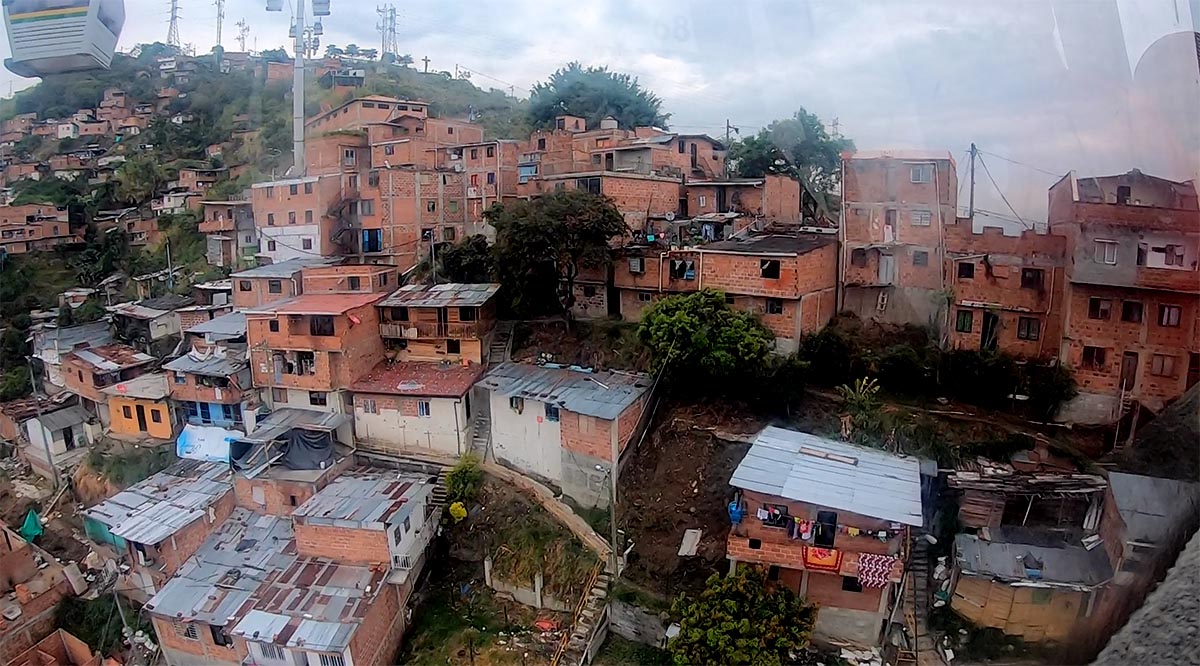 Flying over Comuna 13 on the speedy cable cars, Sebastían pointed out areas of tiny wooden houses, standing on what looks like chopsticks. He explained that these people are yet to have roads, electricity, running water, or a sewage system. Can you even imagine that? Houses, stacked on houses, with 4-6 people living in each home, and you don't have the simple things most of us take for granted…
A reminder painted on the walls…
Enough was enough, after years of the government & military trying to end gang violence… Young people in their 20's – 30's started beating a new drum, and leading the way for the generations to come.
Instead of choosing to run with gangs, or be the next big gang leader… Street performers, artists, and break dancers started to color the neighborhood. Using their creativity to tell a history of violence, separation, and memories of a time they never want to repeat… Reminding upcoming generations that they can choose life, or death. Color means life, and it is obvious that the different forms of art are revitalizing the neighborhood.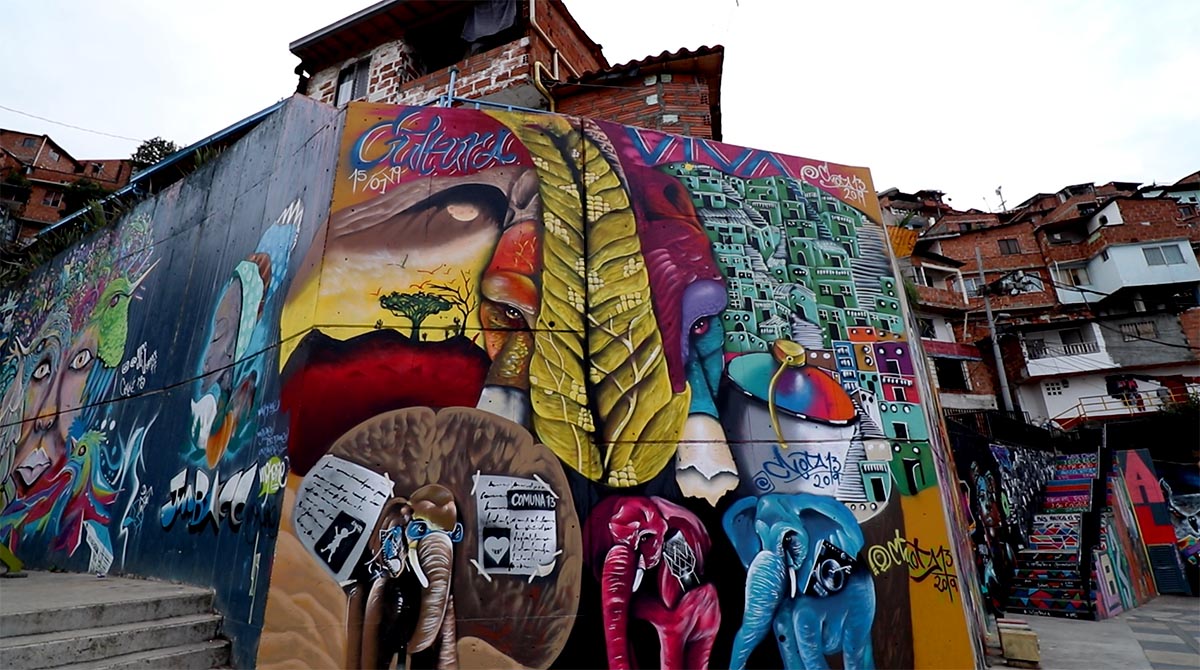 The transformation of Comuna 13…
Walking through the neighborhood it was so beautiful to see thriving little restaurants, shops, and small businesses everywhere. As you travel up the outdoor escalator, there are huge palm trees, balconies with tropical plants, and cute little storefronts the whole way.
It was beautiful to see kids of all ages running through the streets playing, and adults chatting in the public spaces. The government installed the escalators, and large pathways to make it easier for people to get around. They also incorporated outdoor gyms, and spaces where the community can host live events.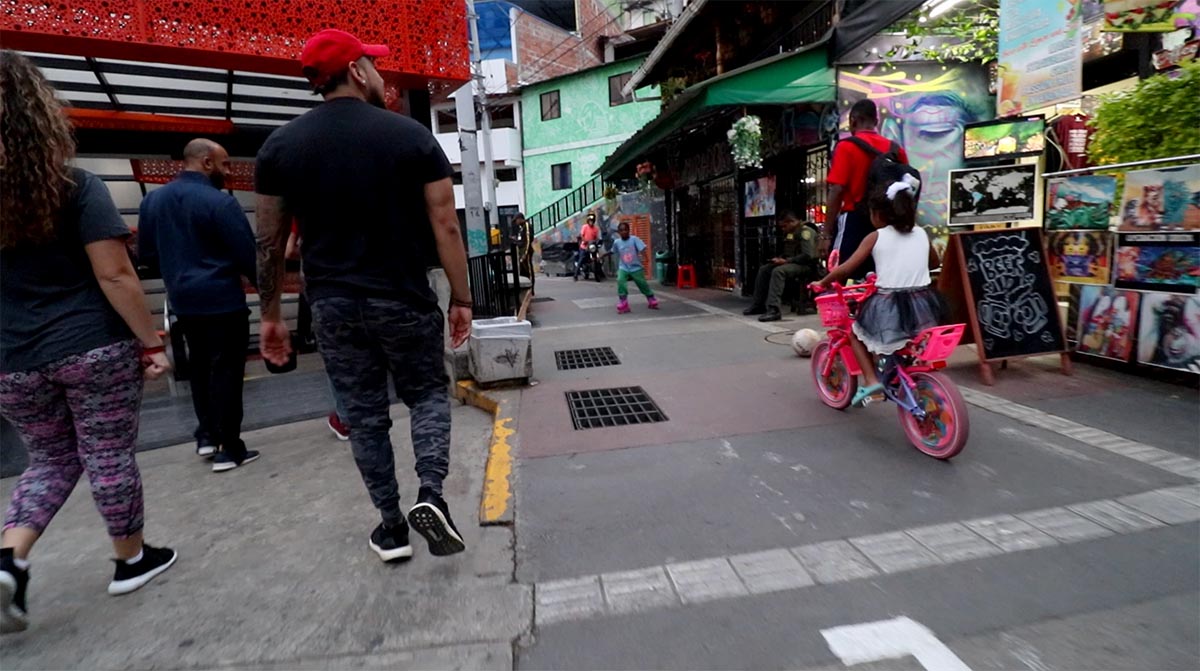 Not too long ago this was a war zone. You would have seen kids as young as 8 running around with guns, because they wouldn't be convicted unless they were 18 or older. Nevermind, you wouldn't have seen it, because most were terrified to stepped foot in Comuna 13, Medellín, or even Colombia because of the violence.
A change of heart…
Thank goodness the government changed their perspective of how they were going to stop the violence in Comuna 13. Instead of sending military into the community in drones, or dropping bombs like they tried time & time again… They made an investment towards better quality of life for these people.
You gotta think, if people don't have a way to get a job, or go to school they get into trouble. Medellín took a risk, and used innovative ideas to help it's people integrate into the city, giving them more opportunities than they ever had before.

Final example of young people bringing light to Comuna 13…
Brave souls like our guide Sebastían took a risk on the once most dangerous place on earth, and invested their time & energy connecting with the heart of Comuna 13. The PEOPLE! The innocent! The young people putting their asses on the line to make a positive change.
Sebastían learned the stories of the people at the forefront of change, and now he shares it with tourists daily. In less than a year, he has been able to make being a guide his full-time gig, and quit his job! The 26 year old entrepreneur is already dreaming up other big urban projects he can lead. Pretty exciting!
This shift in Comuna 13 has brought opportunity for the entire city, and is changing how people think about visiting Medellín & Colombia as a whole! On weekends over 2000 tourists are brought into the area. The community is proud to showcase their art, handy crafts, and cultural food. We highly recommend the homemade popsicles at Creamas Doña Alba, they were wonderful!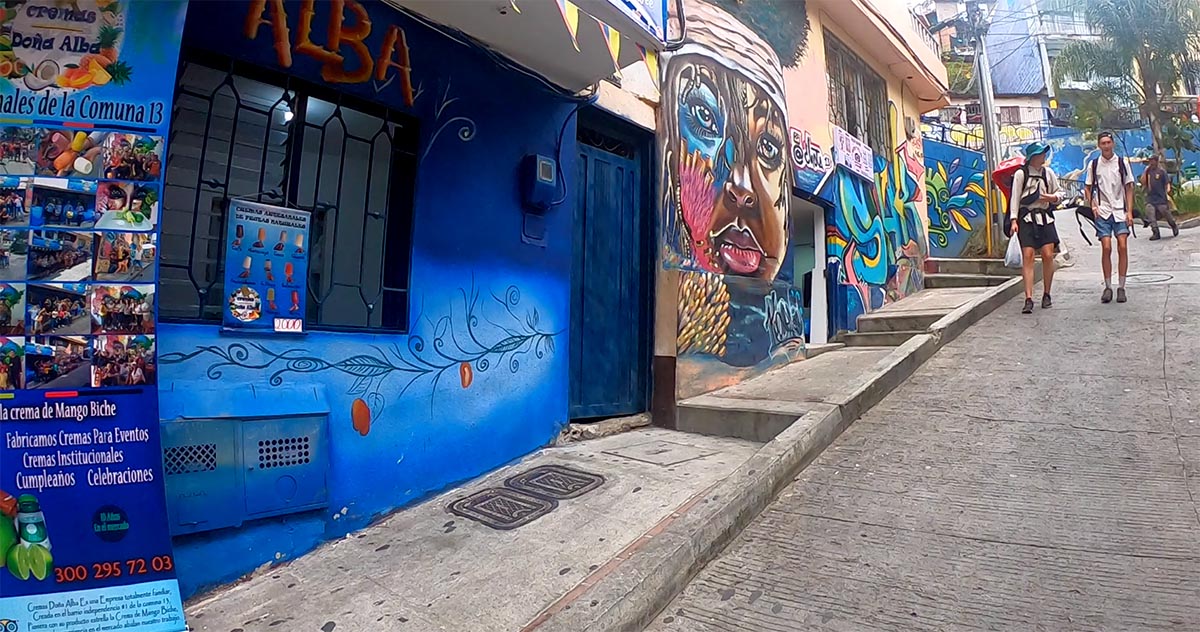 Above all else travel smart…
We caution you that this city is not perfect, like any other big city on the planet. As several locals described to us, "there are lonely places at night." Which basically means don't go there. Do your research, ask your Airbnb host, and use your intuition. If it feels a bit sketchy during the day, it's DEFINITELY not a place to travel at night.
(Here is a great website where you can learn about "no go areas" in Medellín) I highly recommend you take a good look at this while you are planning your travels, so you stay safe & have fun.
Final perspective…
I gotta admit, this has been the most challenging blog post I have ever written. (Even though we had a blast with Sebastían & the others on our tour…) Going to Comuna 13 was really tough for me to process, and my heart hurt for days thinking about what those people went through, and truthfully still does. My greatest hope is that everyone who lives in that area, and those who drop in for a visit keep bringing love & good vibes. That's exactly what this world needs more of. Some areas just need a little extra. So as you read this, hold Comuna 13 in your heart, and send them some love.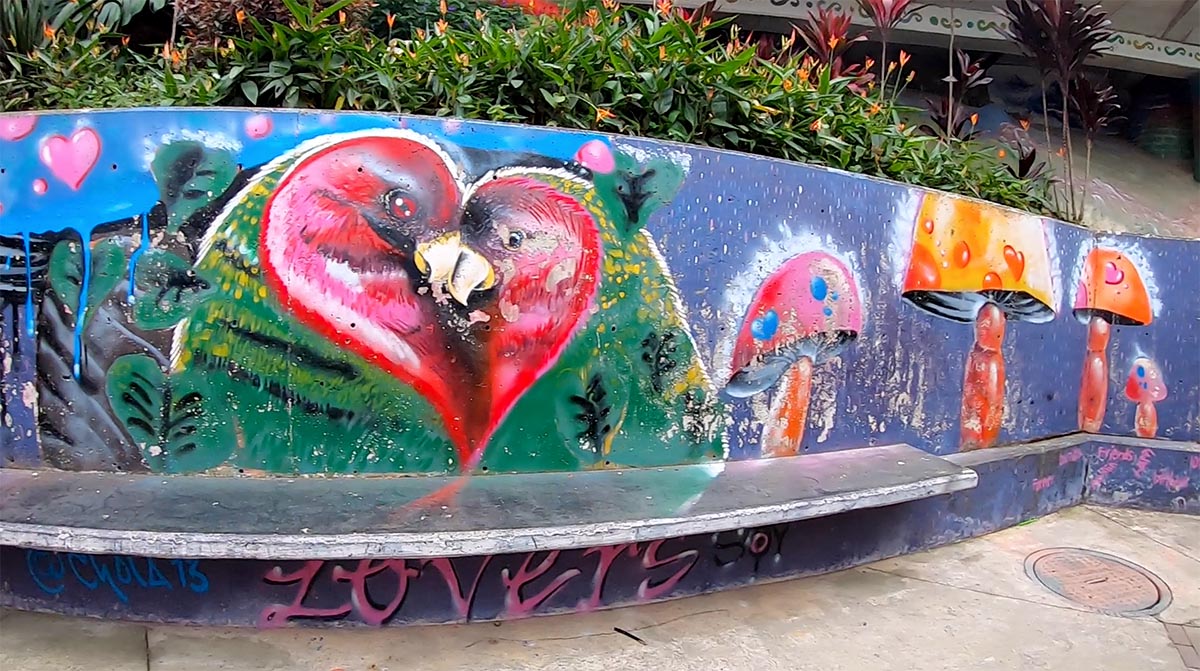 It was really awesome to see the formerly known, most dangerous place on earth being transformed first hand because of innovation, art, and small businesses. If you get a chance to go to Medellín, put this experience on your list, but please do take a guide so you can get the full story & BE safe. We highly recommend our friend Sebastíans tour – From Violence To Innovation!
And if you have questions, or if I misrepresented this community in any way, please let us know in the comments, or via email so we can make updates.
Did This Help You? If so, we would greatly appreciate it if you comment below and share on Facebook, or any of your favorite social media pages!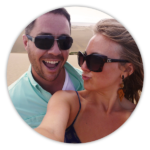 Brian Garcia + Erin Nicole Bick are full-time location independent, online business owners. Brian's background is in firefighting, digital + photographic imaging, and web development. Erin's background is in professional hairstyling, social intuition, personal development, creative writing, and brand identity development. Together, they create eCourses, high-end online business development coaching, and social media marketing strategies. They go by… BE Adventure Partners!

Check out our must read articles about Lifestyle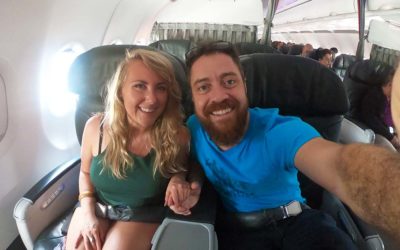 Today is a travel day where we're headed from Medellín to Santa Marta Colombia. Little do we know,...
read more

BE Adventure Partners guides people in making money online. Earn an independent living from your knowledge, skills & passions. Become self-reliant. Live a smart & simple life on your terms.