Here's the Best Digital Nomad Essentials that are tried and true, currently being used daily out on the journey! This essential gear is on the top of our list because it is what we actually use, and it works very well! For anyone wanting to learn How To BEcome A Digital Nomad, you'll be able to start getting the gear you'll use during your journey now!
Let's face it… Gear is essential. When you are out on your journey, traveling, living the location independent life, you want gear that can withstand a beating. It's not that we are harsh on our gear… It is inevitable that it will get bumped, scraped, and scratched. From being thrown by the Guatemalan Stevedore, to being pushed onto a puddle jumper by the Belizean baggage handler – your bags and gear will be put to the test!
What eases your mind is that the backpacks you use are resilient so as to protect the equipment inside. This list is not all-inclusive. Rather, it is a great starting point for the Digital Nomad or Location Independent individual who wants to ensure their gear is top-notch, field-tested, and traveler approved!
We put it through the test so that you can get going quicker!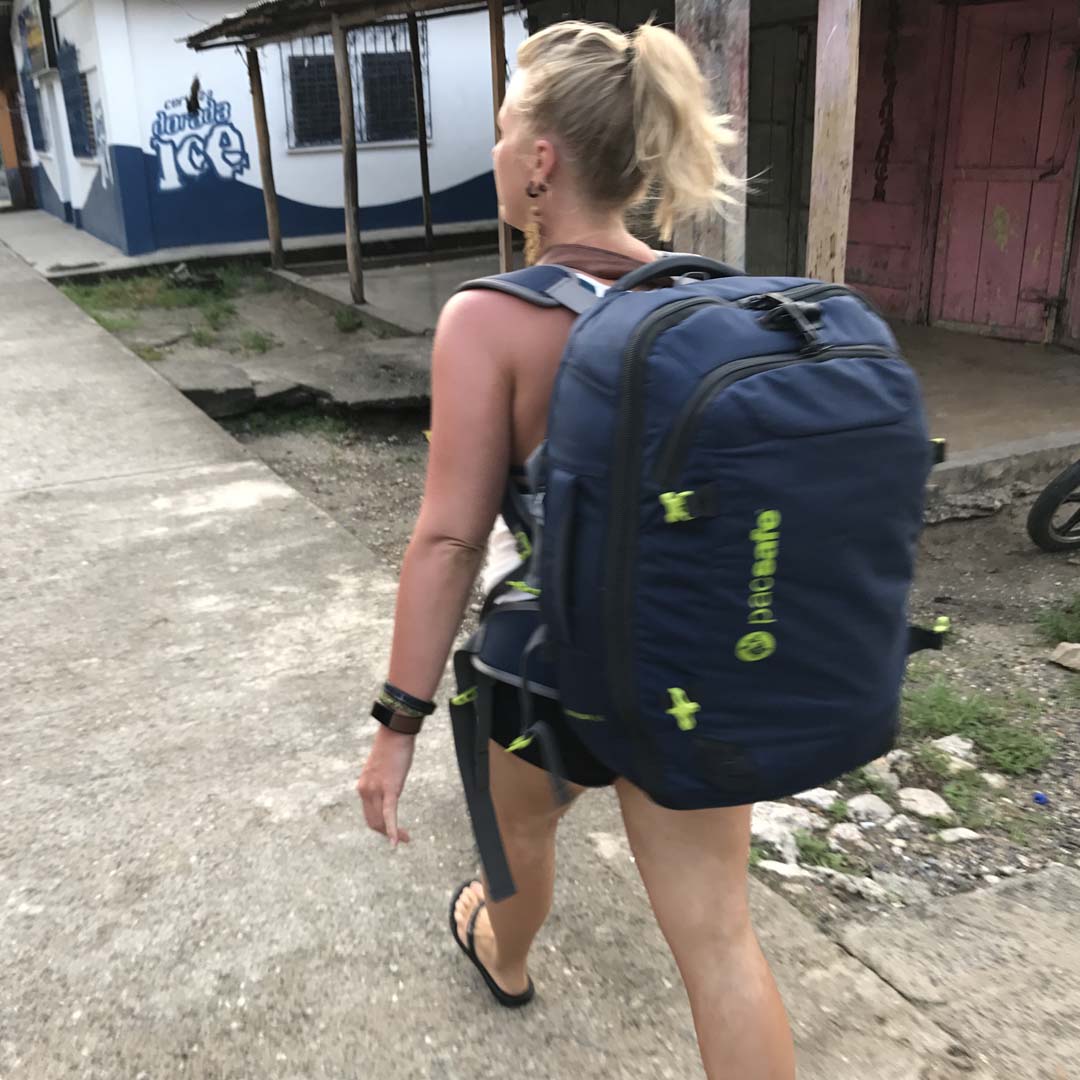 Pacsafe Venturesafe 45L GII
When security is of utmost importance, invest in peace of mind. Erin has been using the Pacsafe Venturesafe 45L GII Anti-Theft Carry-On Travel Pack since April 2017, and absolutely loves it!. The pack is essentially a safe that you put on your back… but light weight! With compartments for your laptop, and various other zippered compartments, this book-style opening pack has been sturdy through our non-stop travels. You gotta get Nomad Essentials that will last you!

Deuter Transit 40L
Buying a pack that fits your frame is important, especially if you are going to be traveling for several months or years. This Deuter Transit 40L has been amazing! Brian's back stays cool from the Aircontact system, and the formed shoulder straps and waistband helps keep the pack stable while trekking through the countryside. This pack has a book-style open and several compartments inside and outside to conveniently store your Digital Nomad Essentials!

Osprey Ultralight Stuff Pack
When you arrive to your destination, it does not make sense to continue packing around your main backpack. This is why you should invest in an Osprey Ultralight Stuff Pack. Weight matters, and this thing only weighs 4 oz while packing in a solid 18L of cargo! Keep this thing stuffed down in your pack so that when you are ready to go on a day hike, or a shopping trip for groceries, this can easily carry everything you'll need.

Saddleback Leather Co.
When you travel as a location independent, digital nomad you want to protect your investments. Saddleback Leather Co. offers a wide range of travel laptop bags that are handmade with high-quality leather. It took nearly 6 months of searching before I found this company. What I liked about them is that they have solid travel laptop bags that look great, and turn heads. They look good in casual settings, as well as in a more refined environment for us dapper gentlemen out there. Check out the full article on this Saddleback Leather Co. bag up here.
DJI Osmo
Time to step up your video game with the gimbaled DJI Osmo. This camera shoots in 4K and is completely stable. Imagine riding on the back of an ATV through the jungle of a little island. The road is rough, but your video is completely stable. Gone are the days of shaky footage, only for those who invest in their Nomad Essentials equipment, which is why the DJI Osmo made it on this Digital Nomad Essentials list! Besides handheld cameras, DJI also offers a whole array of drones that pack down small for travel. Time to go all in! Get yours today.
Photive Hydra Wireless Bluetooth Speaker
There's something about having some smooth jams playing while you are working your Digital Nomad biz. This Photive bluetooth speaker goes everywhere with us. With long battery life, waterproof enclosure, mini subwoofer, and rugged design, you're sure to enjoy up to 8-hours of continuous listening. You'll definitely be happy with the rich sound that comes bumping from this speaker!

JOBY GorillaPod SLR Zoom
Take travel tripods to the next level! The Joby GorillaPod is lightweight, flexible, and holds cameras up to 3kg (6.6lbs)! With a standard 1/4"-20 tripod mount and 3/8" adapter, you can mount any sort of camera to it. Considering this thing is so rugged, we went ahead and added the Arkon Phone Holder Adapter to it so that we could mount our iPhone 7 Plus quick for the perfect, stabilized shot! This is perfect for any traveler who wants a lightweight, and compact tripod that can sit there or grip onto almost anything!

Movo LV10 Lavalier Mic
When you Vlog or have a YouTube channel, it is important to have good audio. The Movo LV10 is exactly what we use to record webinars, audio, or use during video shoots. With a 20′ cord, this omnidirectional lavalier mic cuts through the wind and pops, while delivering crisp, clear audio. Only get this if you finally want to have good audio for your business needs!

Anker Ultra High Capacity Power Bank
Nothing sucks more than your iPhone 7 Plus running out of batteries. In steps the Anker PowerCore 20100 – Ultra High Capacity Power Bank! Problem solved! With this pack you can expect to recharge your iPhone 7 Plus nearly 7 times before you need to re-charge the Power Bank. By keeping this nomad essentials device in your laptop bag, you can go for days without needing to plug your phone, or tablet, into an actual wall socket. Get this today so that you no longer have to worry about, "Where's the next outlet"… because we've all been there!

There are many Digital Nomad Essentials, and this was just a starting point. Depending on where you go, what you experience, your bag contents will constantly change. So keep stocked with nomad essentials that will give you an edge in your travel, your business, and your location independent life! Always keep learning, implementing, and growing!
Here's a cool article on the Top 7 Essential Digital Nomad Skillsets You Could Master Now!
Check out other Travel Resources to have the best experience in your business as you travel!
Read more: How To BEcome A Digital Nomad »
Until Next Time!
Adventure On… Adventure On!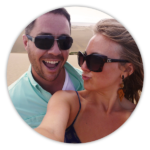 Hey, we're Brian + Erin. Currently, we're workin' on our bug out bus. Lucky the proverbial $hit hadn't hit the fan yet when we picked up this 40-foot beauty in Phoenix AZ and drove it up to Canada to convert it. Hopefully, we all still have time...
Honestly, this bus conversion has been the only sane thing in this insane world lately. We can't tell you how good it feels to BE working on something that lights our souls up and has such potential for a life that is entwined with nature, love, and happiness.
Our main goal is to inspire people to get off-grid and become self-reliant. We are well on our way and are super excited to talk about solutions with others who are shooting for a similar way of living.
Did This Blog Post Help You? If so, we would greatly appreciate it if you comment below and share it with a friend.

Check out our must-read articles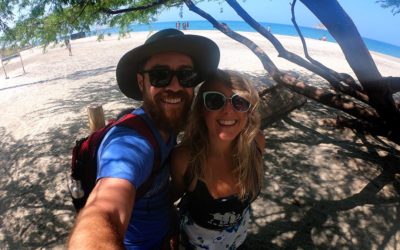 You may not look at your future as limitless, but if you did, what would it look like? In this...
read more

BE Adventure Partners guides people in making money online. Earn an independent living from your knowledge, skills & passions. Become self-reliant. Live a smart & simple life on your terms.