Osprey Sojourn 45L Review + How To Travel With Just A Carry-On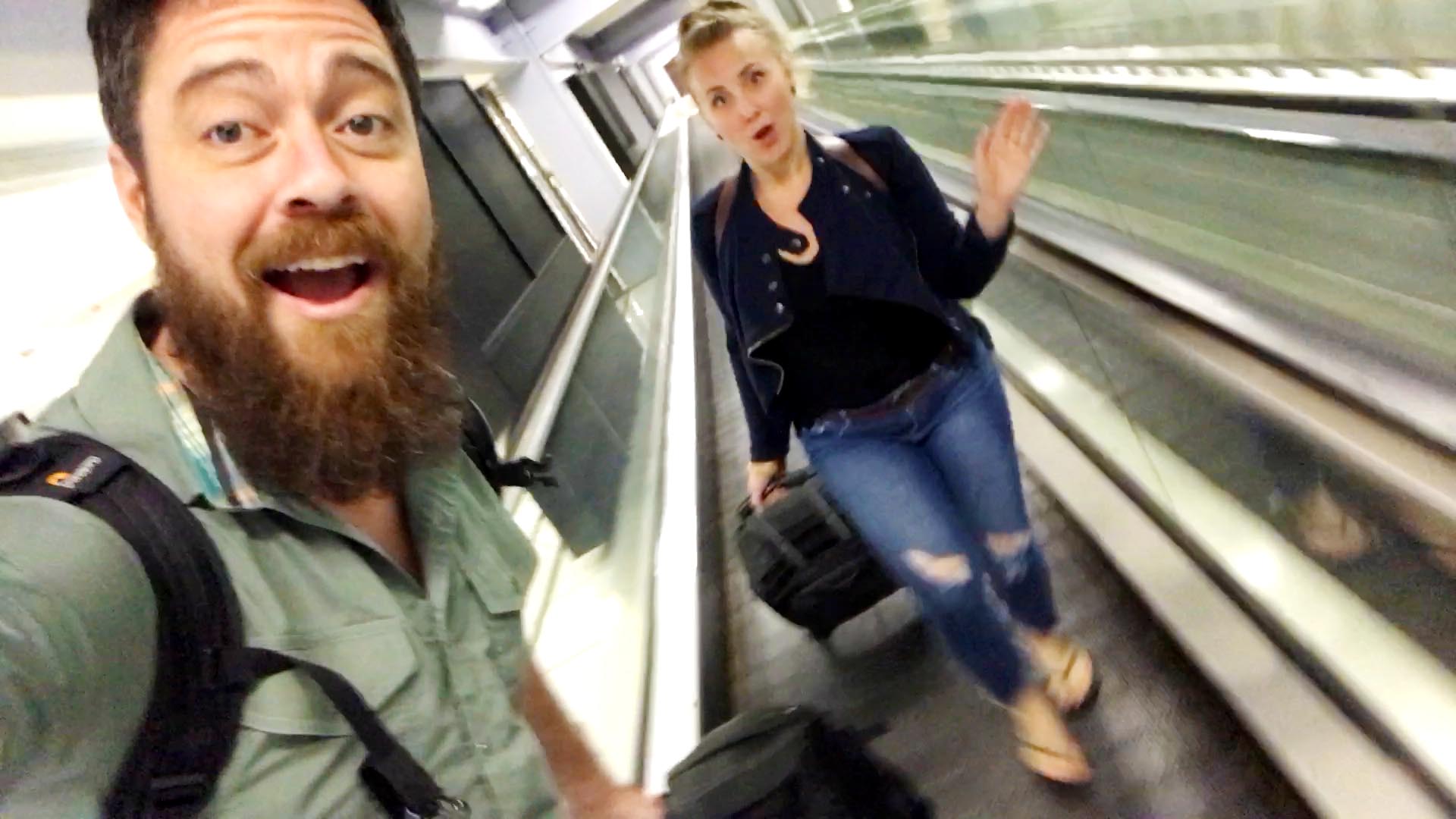 Updated July 2019
Upgrading to the Osprey Sojourn 45L was the best decision ever! If you're looking for Osprey luggage, our review will show you why we think this is the best-wheeled backpack for travel. After traveling for 1 year & 9 months together, we've switched our carry on backpacks from the Pacsafe 45L & Deuter 40L to the Osprey Sojourn 45L/22″. Our first destination out of the gate… Bogota, Colombia.
This article is a comprehensive review of the Osprey Sojourn 45
Whether you're going on a short trip (to escape the 9-5 grind) -OR- your lifestyle is travel full-time, like us, this bag will make your life easier!
What we really like about the Osprey Sojourn 45 is that it allows you to really travel with just a carry on bag!
Be sure to check out all the travel gear we showed in the YouTube video by going to our Amazon Influencer Shop. We have it all organized so you can easily find what you need, so YOU can BE where you want, when you want, with your Adventure Partner & business online!
Not a reader? Watch this on the BEAP YouTube Channel!
Osprey Sojourn 45L Wheeled Luggage Review
When this bag rolled out, we weren't even traveling yet! (See what I did there… the Sojourn 45L is a rolling wheeled bag!)
I (Brian) was a firefighter in Austin, Texas & Erin was a hairstylist in Toronto, Ontario.
We started traveling full-time together in April 2017. Read our full-story »
Initially, we were traveling with the Pacsafe 45L and Deuter 40L backpacks. Those bags are great!
BUTTTT…
We were ready to ditch the weight off our backs & go with the travel backpack with wheels style.
The Sojourn 45L Exceeds Expectation
I wish we found this carry-on bag sooner. This bag feels good. We've been looking at this particular Osprey bag for quite some time but were leery of buying it online (because I like to touch & feel something like this before investing in this upgrade).
It turns out; this is the best-wheeled backpack we have seen so far. As you'll see further down in the review, the features, lightweight, and brilliant design make this a bag you'll be proud of for a long time!
Initial Thoughts of This Trolley Backpack…
"Wow! The construction of this bag is so well done!"
– Brian
My preconceived doubts were that this bag was going to be flimsy and under constructed to pack in a lightweight frame, telescopic handle, wheels AND be able to cram in 45L of gear while still being small enough to fall within the carry-on bag size limits of most airlines.
I was surprised.
After watching countless YouTube videos, we headed to Whole Earth Provisions store in San Antonio, Texas to put our four hands on this travel backpack with wheels (Both Erin & I).
Going in with an open mind & able to accept that this may be yet another underperforming bag hyped up by influencers, our minds were about to be blown.
This Osprey luggage exceeded my expectations! And the details we're far above satisfactory. I'd give it a 5/5 hotness on the chili pepper scale!
Exterior Of The Osprey Travel Backpack
With all wheeled backpack luggage, the exterior is the first thing people see. The Osprey Sojourn 45 is pleasing to the eye and not flashy, especially when you get the Flash Black color as we did.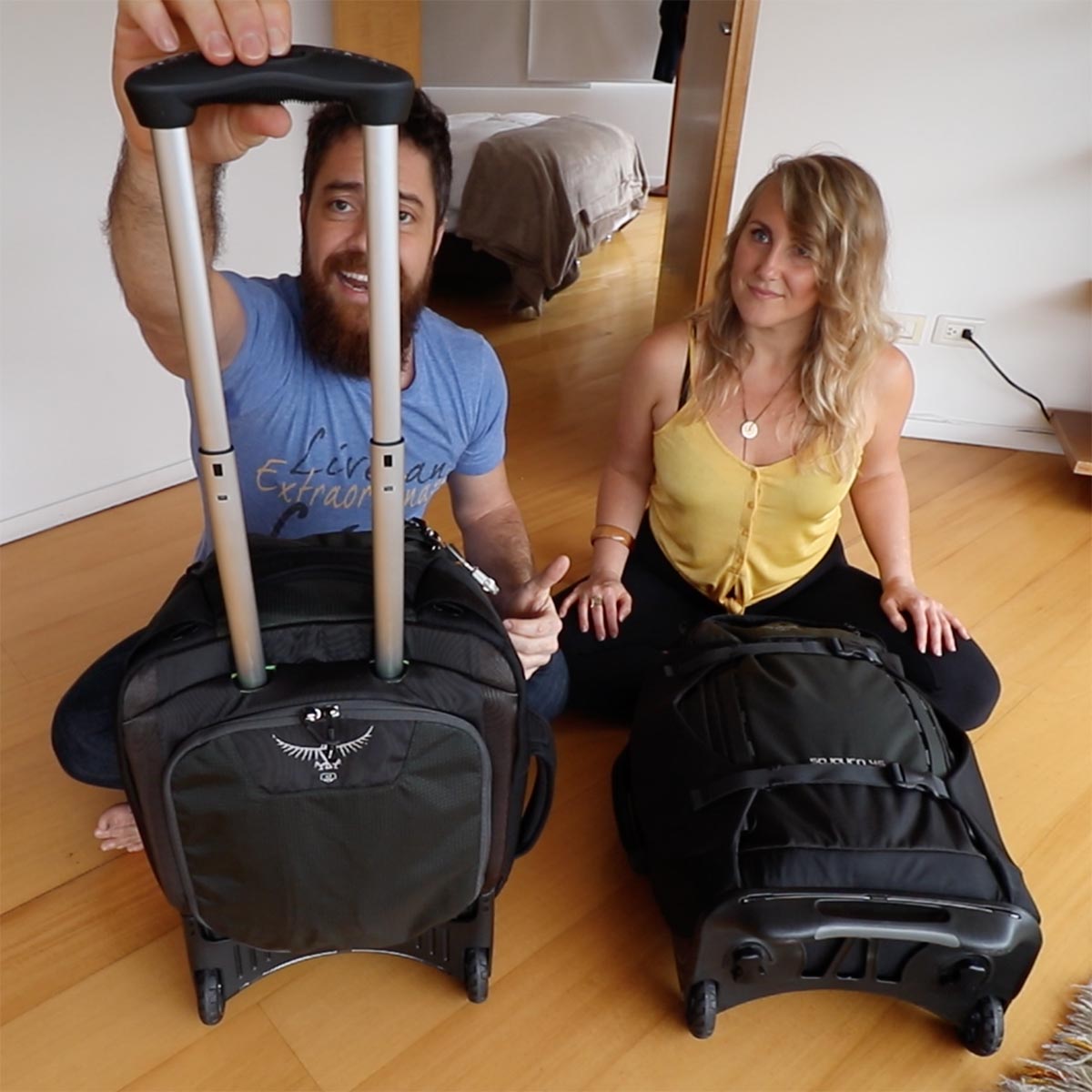 Sojourn Telescopic Handle
Pulling out the telescopic handle and rolling the Osprey Sojourn around, it felt solid, while still being lightweight. Regardless of how much gear you stuff into this trolley backpack, the handle retracts back down into it's home without any issues. There are hidden tubes that these handles seat down into within the bag lining.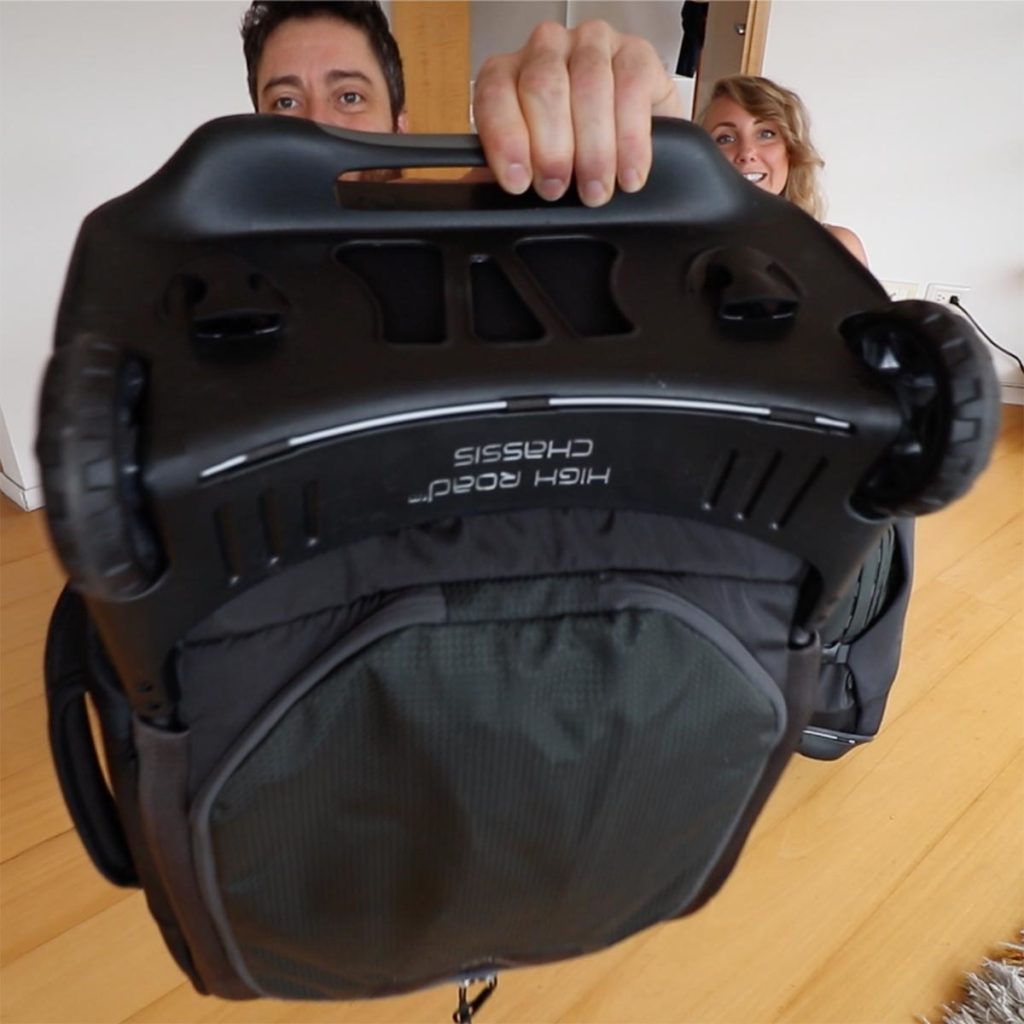 The Sojourn Is A Travel Backpack With Wheels
The wheels roll smooth & didn't feel flimsy. That was one of the things I was concerned about in the first place.
What if the wheels break?
Reviews I had read said that they had been using the Sojourn for years without any issues wheel issues, which gave me peace of mind!
Now that we've been using this travel backpack with wheels for just over seven months, We've rolled them over cobblestone, gravel, tarmac, asphalt, grass, upstairs, downstairs… You get the point! Regardless of where we've pulled this travel pack, the wheels have stayed strong!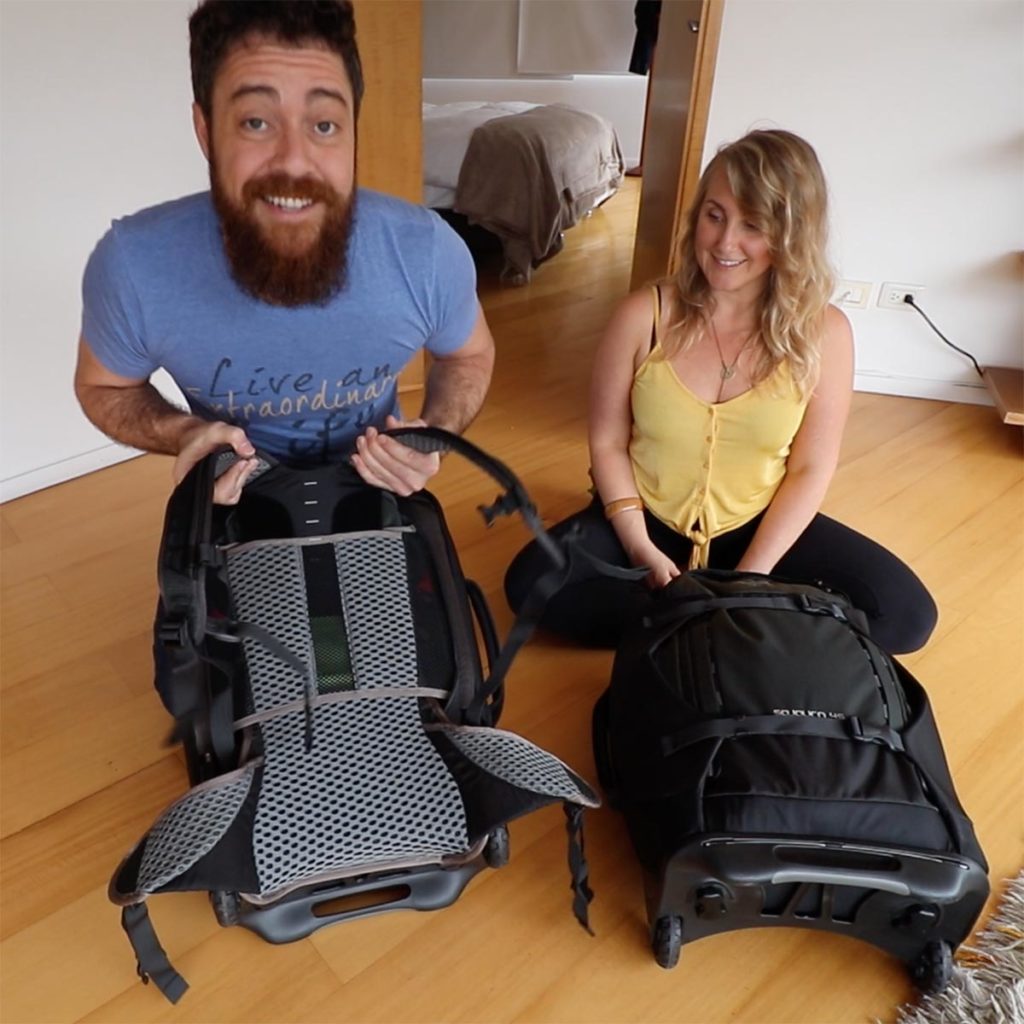 Transform The Sojourn 45 Into Travel Backpack Mode
On the backside of this Sojourn, there's a zippered flap, that when unzipped, your shoulder straps & lumbar support waist strap is revealed, making it a travel backpack. For those times that you have to slug your sack across a meadow, through the woods & up to a mountain to your Airbnb cottage on the cliff… Having this system is a must.
What's cool is that the suspension system is adjustable to YOUR torso size, making it a universal, unisex carry-on bag that not only looks good, this Osprey Sojourn feels good on and rolling around.
If for some reason you don't feel you'll use the backpack straps & lumbar waist strap, disconnect them and leave them at… eh… home? (or in your Dad's attic or barn if you sold your house & practically everything you own like we did!)
Read More: How I Sold My "American Dream" To Travel Full-Time »
Secure Your Gear With The Daisy Chain
On the outside of the Osprey wheeled backpack, there are two strong strips of anchor points, similar to the daisy chain, on the front main compartment panel.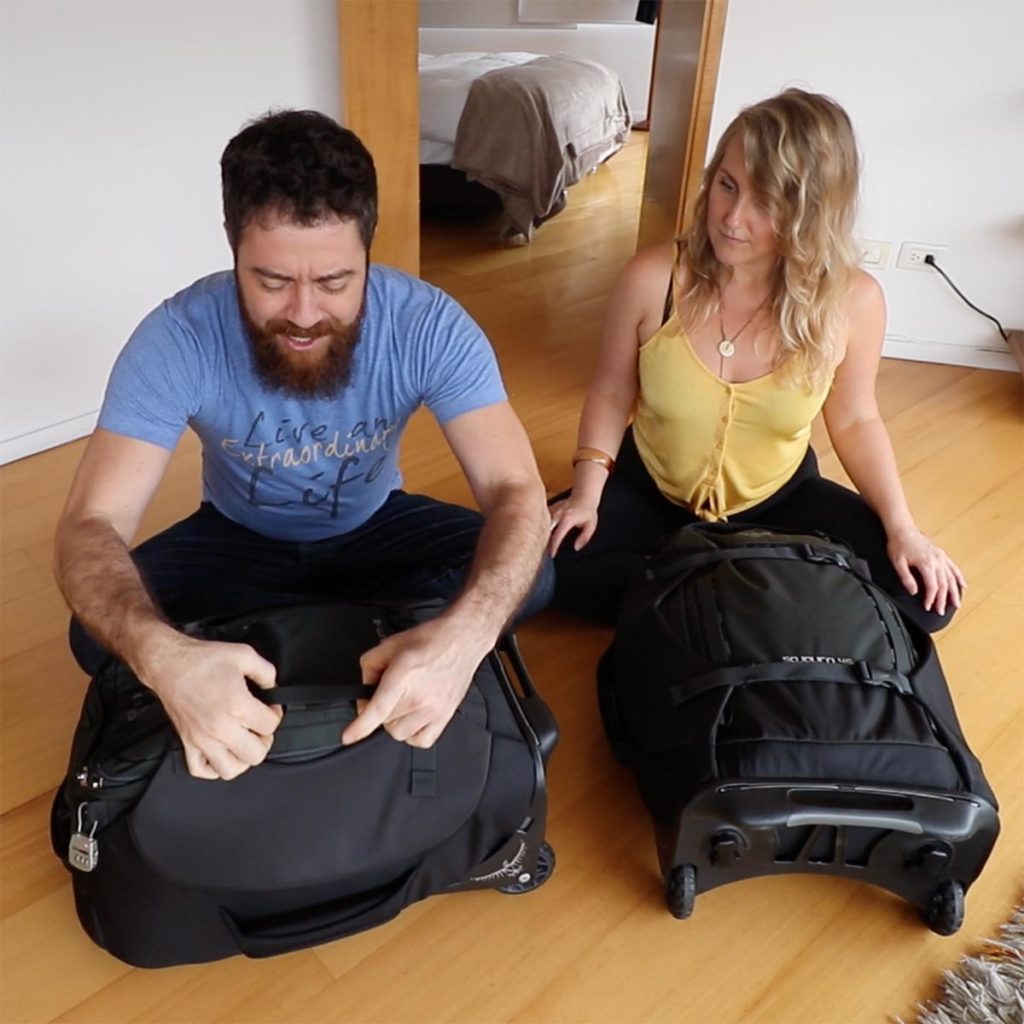 Using these loops will allow you to easily attach gear with carabiners, webbing, paracord, or anything else you can find to anchor on to the outside of your travel backpack. This daisy chain is super convenient if you want to clip your Klean Kanteen Water Bottle, tripod or yoga mat to the exterior of your pack.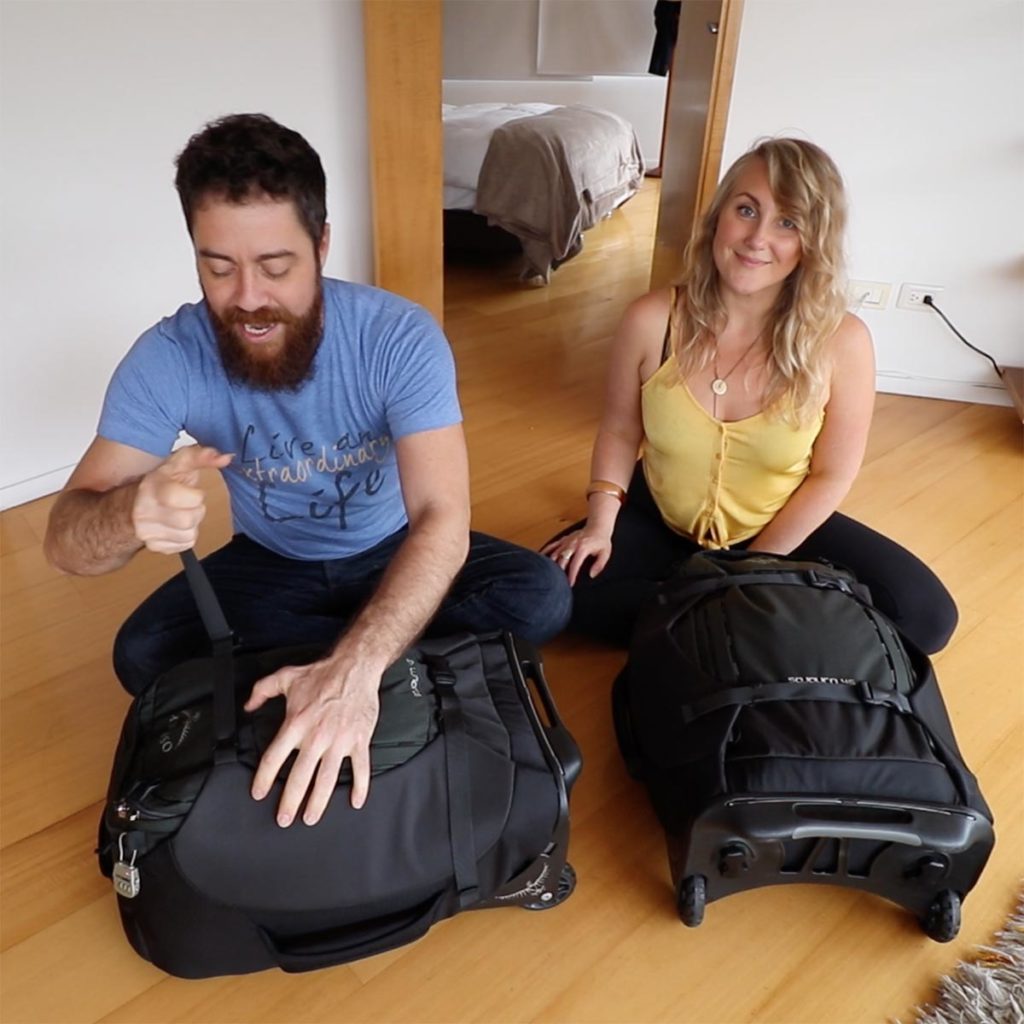 Wheeled Backpack Exterior Compression Straps
Do you know how sometimes you need just another inch to squeeze your carry-on bag into an overhead compartment on an airplane?
Well, Osprey thought of it all! On the exterior of the pack, there are two, high-strength compression straps. Once your bag is packed, you can connect both of these to give your gear a good squeeze, condensing it down into its smallest form possible!
At times, I have made this Osprey wheeled backpack so compressed that it's as hard as vacuum-packed coffee! (I love coffee).
Read More: Traveling With A Coffee Addiction »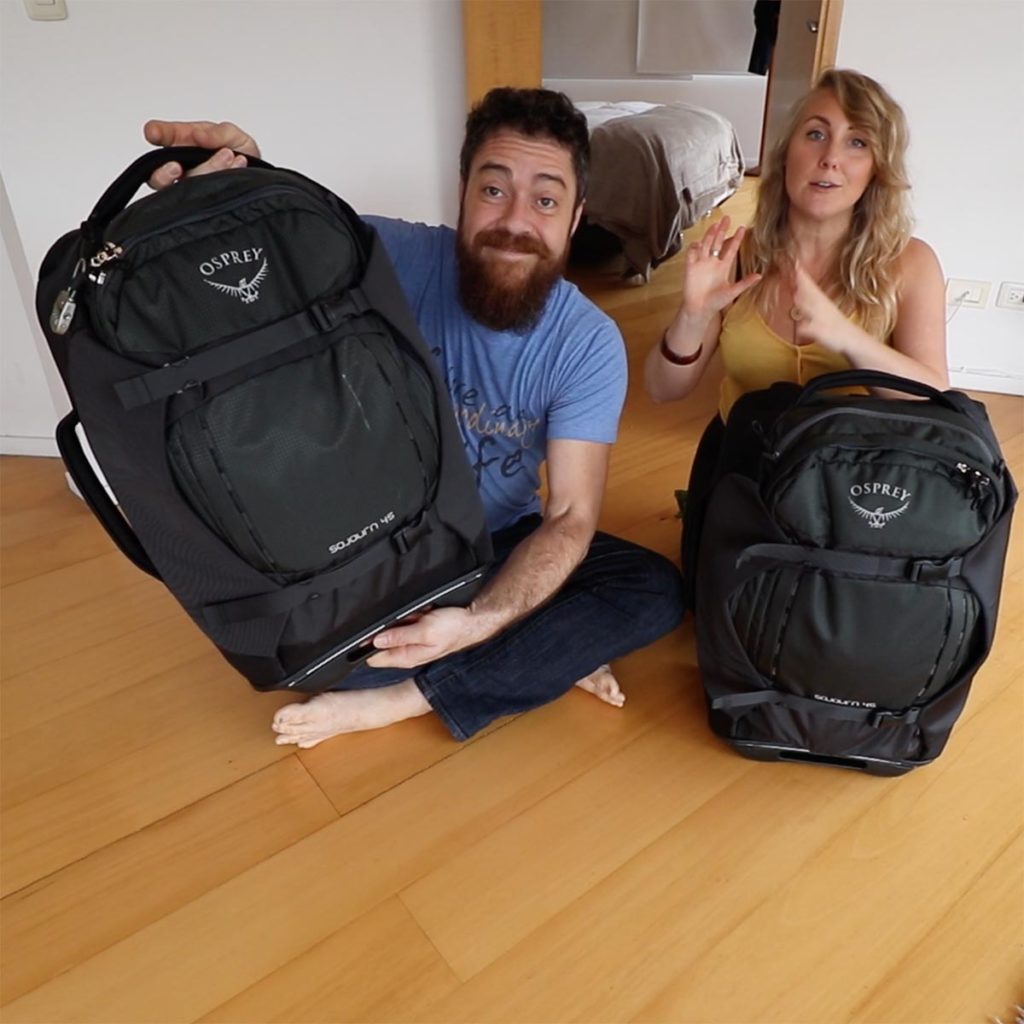 Easy To Handle With Three Exterior Handles
As you travel, there's going to be a multitude of places you'll stow your wheeled bag. What's nice is that Osprey put THREE handles on the exterior, making manipulating the travel backpack into any space easy to do.
On the top edge & side of the bag, two handles are padded and comfortable to grip.
Flip the Sojourn travel backpack upside-down, and there's a plastic handle built into the base, which acts as a "kickstand" when the bag is upright. What's sweet is that this bottom handle accomplishes TWO things:
A stable platform allowing the bag to sit upright
Grab handle when the base, wheeled portion of the bag is facing you.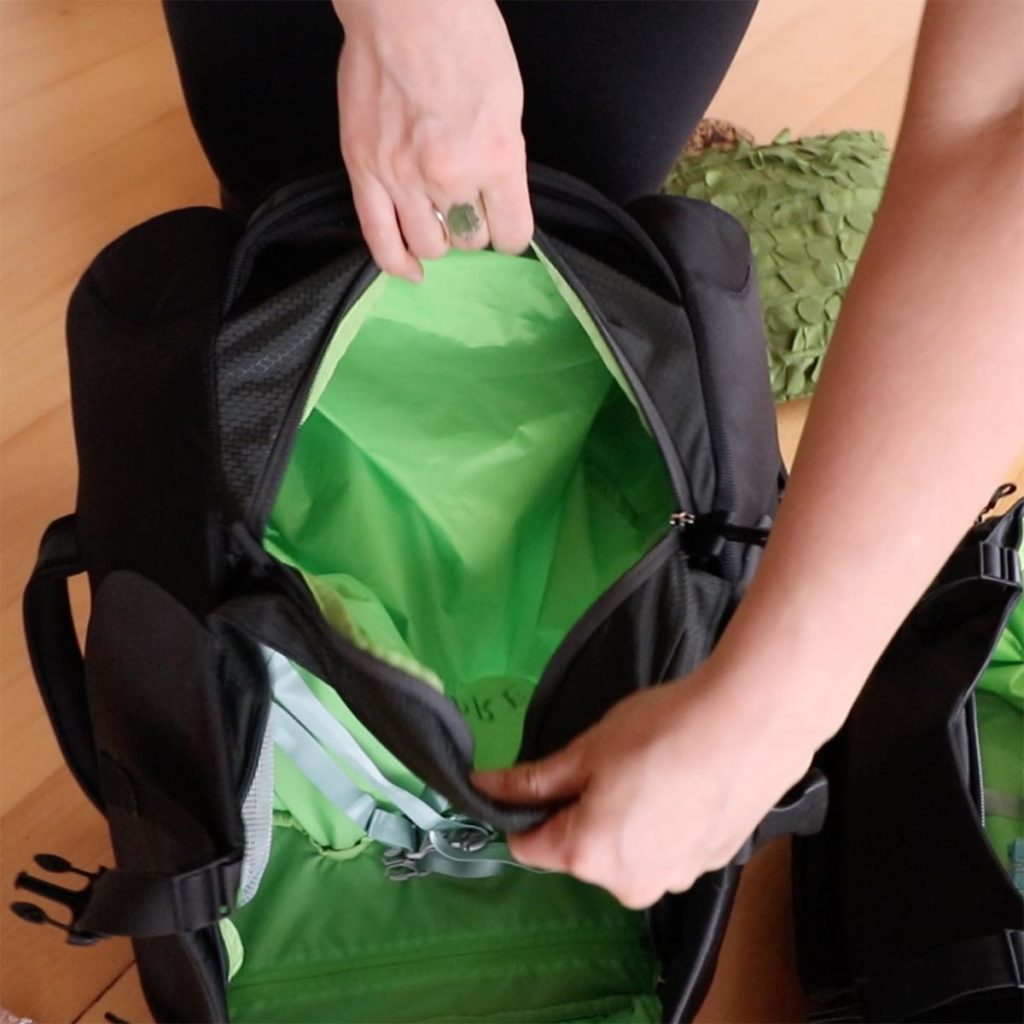 Convenient Front Loading Backpack Style
Without even having to open your entire main compartment up, Osprey conveniently located a zippered pocket on the top edge of the bag big enough to put all your liquids & toiletries.
We love this front-loading backpack feature, because all too often when carrying on a bag at the airport, you'll inevitably be asked to remove all your liquids for inspection.
The curved zippered pocket located directly on top of the travel backpack is DEEP! We had no problem fitting all our liquids and our toiletry bags all in this one spot.
What's best is that this compartment is sealed off from the rest of the bag. So, if you experience a liquid explosion, it's contained to the inside of that compartment. This liquid compartment is yet another sweet feature that Osprey delivered on!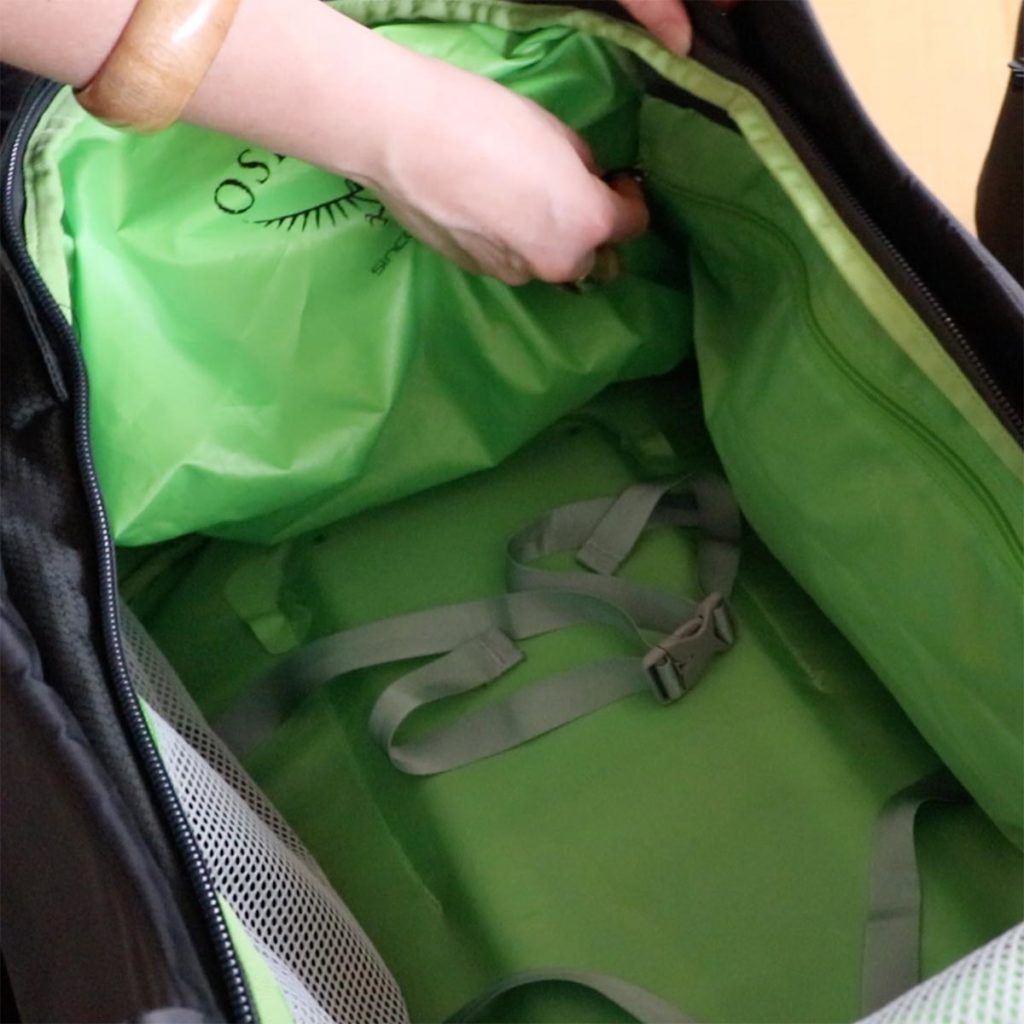 Interior of The Osprey Sojourn 45L
The main compartment has a heavy-duty zipper with lock pass-through on the zipper pulls so that you can put a TSA Approved lock on it. We use this lock »
Unzipping the main compartment, you'll love the amount of space you have to haul your clothes & gear. Coming from my 40L Deuter, this rucksack with wheels made me feel like I could spread out like a starfish on a coral reef!
For a carry-on bag, this is a TON of room!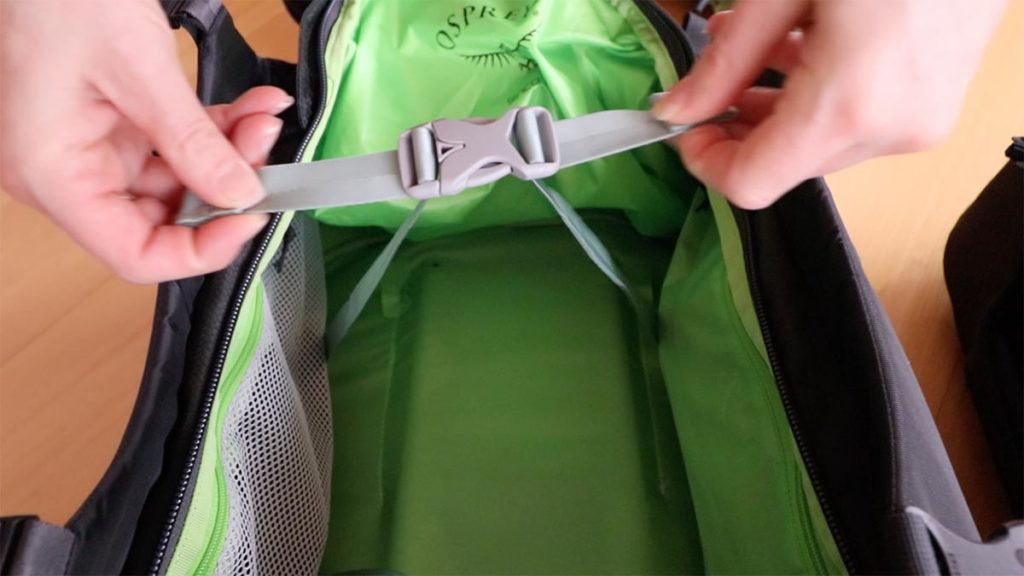 Osprey Sojourn 45L Interior Retention Straps
Looking into the interior, you'll notice that it's bright green, which makes finding what you need easy (because who has anything this color of green that could get lost in the pack?)
Sewn to the bottom of the backpack, you'll notice that there are TWO retention straps. Since we have been packing bags for a couple of years now, this design helps you synch down your contents so that they don't shift during a bumpy ride in a tuk-tuk up a mountain road to your ecolodge.
What's great about the location of these two straps is that there are interior pockets that you can easily access without having to unclip the straps. That's a huge win because it's increasing accessibility to exactly what you need when you need it.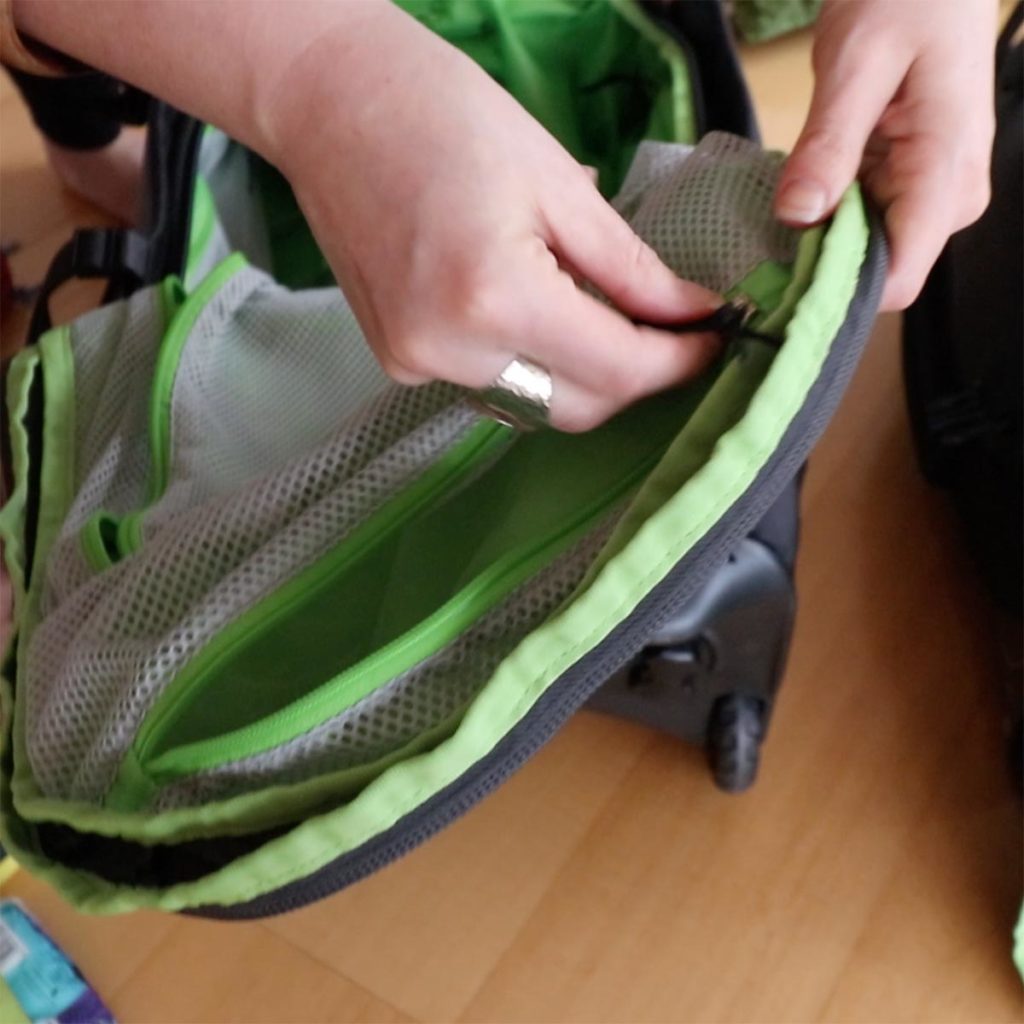 Main Compartment Flap Pockets
On the inside of the main compartment panel, there are two mesh pockets. One is smaller than the other. These two pockets are a great way to store some lighter-weight items that you want to access quickly. In my Osprey Sojourn, I put things like a small first aid kit, sleeping eye mask, and earplugs, along with some wet wipes.
Osprey stepped up to the plate again and sewed in pleats for the mesh compartments here. Not only can you fit more stuff in them, but both pockets are also effortless to access what you do have stowed.
How To Travel With Just A Carry-On
People think Erin and I are crazy for traveling with just a carry-on bag. For one, they believe that it's just "heavy."
First, when it comes to a carry-on, most airlines have restrictions on how much weight you can carry. Recently, on our way from San Antonio, Texas to Bogota, Colombia, we were each overweight by 4 kg.
InterJet's limit is 10 kg for a carry-on.
Luckily, the agent was excellent and had just been to Colombia on vacation and let us slide because of the distance we were going to be traveling.
Second, some people think that we're not able to carry enough stuff. I wholeheartedly agree that you cannot bring much and we live in a minimalistic sort of way being full-time travelers.
We don't plan on traveling full-time from a carry-on bag forever. It does wear us out from time to time, making us want to explore doing the #VanLife concept of travel. The idea of Van Life is where you go buy a van, like a Mercedes-Benz Sprinter or a school bus dubbed a "Skoolie" and outfit it with a bed, bathroom, kitchen, and storage. When you're traveling in this style, you can carry a LOT more gear to go on even more adventures! So, stay tuned, because we may do that sometime in 2019.
Travel Easy With A Carry On Backpack With Wheels
But for now, we're traveling full-time with our Osprey Sojourn 45L/22" Carry On Wheeled Rolly Bags! This backpack makes going through airports easier.
The best way to travel with wheeled luggage is only to carry what you need. When you think you have what you need, reassess because you'll find that you NEED a lot less than you think to BE fulfilled & live a happy life.
Which Is Right For You?
When we were initially picking between a few different sized trolley backpacks, we had to ask ourselves a few questions:
Should it be a carry-on size?
Do we need wheels?
Is it a front-loading backpack?
Does it have a telescopic handle?
Is it rugged enough?
Are there locking zippers?
After exploring our purpose of the travel backpack, suddenly it made it easier to narrow it down to the Osprey Sojourn 45.
One reason we didn't get the Sojourn 60L or Sojourn 80L is that both of those are not carry-on sized travel backpacks. They are both more like travel luggage because of their larger sizes.
Something notable is that regardless of which travel backpack you buy, they are all laid out similarly. The difference is in the volume of the space, which increases the overall exterior dimensions the larger you go.
Read More:
Is The Osprey Sojourn A Man's Backpack Or A Woman's Backpack?
When it comes to style, both Erin and I enjoy the way the Osprey Sojourn 45 looks. From the sleek design and ease of function, this bag looks great as we both pull it through the airport or down the street.
Osprey Women's Backpack
Regardless of whether you're looking for a women's backpack or a man's backpack, the Osprey will fit your needs. Erin ranks this as the best travel backpack for women.
Something to consider is that this particular bag is available a man's bag or as a woman's bag. What's even cooler is that we've seen other Travel Vlogger couples using this travel backpack, too. It's as if we're dressing as twins with our bags.
But that's not the case.
When a bag has excellent function and hasn't been designed to "look" like a woman's trolley backpack or a man's rucksack with wheels, it can be confidently used by either, making it a unisex travel backpack with wheels.
Where To Buy The Osprey Sojourn
On our BE Adventure Partners YouTube channel, we get people asking us all the time where to buy the Osprey Sojourn 45.
We bought our Sojourns in the store at Whole Earth Provision Company in San Antonio, Texas.
However, the easiest way to get it would be through our Amazon Associates link HERE. If you do want to get it on Amazon, they generally ship it super fast. Depending on where you live, it could potentially arrive the same day (because Amazon is THAT fast!)
We do want to be completely transparent with you. When you use our link, we do earn a small referral fee at no extra cost to you. We want to say, "Thank you!" in advanced! As we appreciate you because it allows us to continue to create more content that could help you get more of what you want in life. Gratitude!
Read More:
How To Travel More
We are only able to travel with just a travel backpack with wheels because we started our business online, BE Adventure Partners.
Traveling is a byproduct of creating our online business.
Our goal is to help other people to build a business online, make an impact, and BE where they want!
If that sounds interesting to you, and you've been itching to live the travel lifestyle, BEcome a Triber! We create eCourses that walk Tribe members through building a business online, and we have a private support community where you can get your questions answered, which is often the help people need to keep their heads in the game.

Read More:
In Conclusion
Overall, we're delighted with the Osprey Sojourn 45L travel backpack with wheels. Having the ability to carry it on your back, or transform it into a rolly bag will give your back a break and is a nice feature. Happy travels!
Did You Like This Article? Pin It!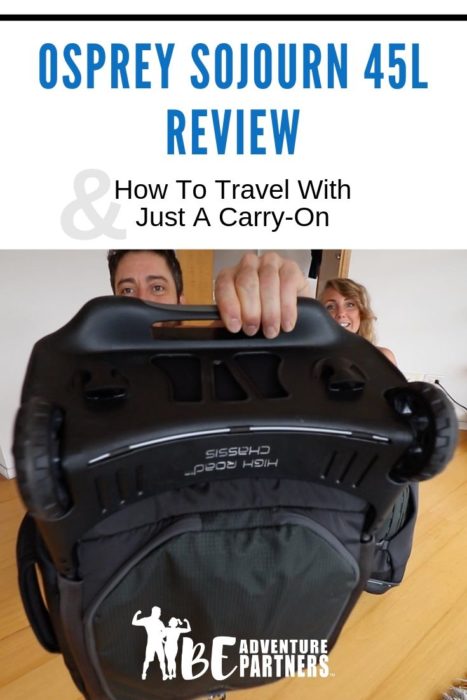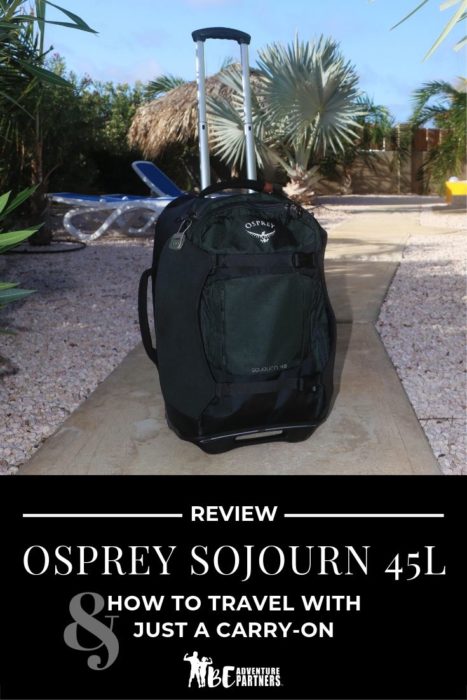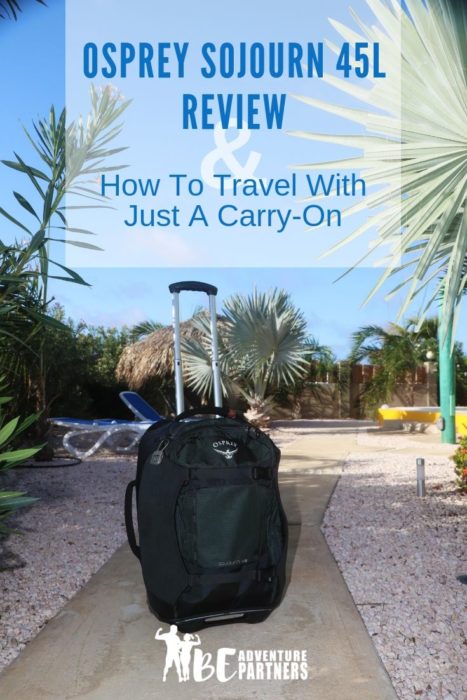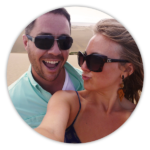 Hey, we're Brian + Erin. Currently, we're workin' on our bug out bus. Lucky the proverbial $hit hadn't hit the fan yet when we picked up this 40-foot beauty in Phoenix AZ and drove it up to Canada to convert it. Hopefully, we all still have time...
Honestly, this bus conversion has been the only sane thing in this insane world lately. We can't tell you how good it feels to BE working on something that lights our souls up and has such potential for a life that is entwined with nature, love, and happiness.
Our main goal is to inspire people to get off-grid and become self-reliant. We are well on our way and are super excited to talk about solutions with others who are shooting for a similar way of living.
Did This Blog Post Help You? If so, we would greatly appreciate it if you comment below and share it with a friend.

Check out our must read articles about Lifestyle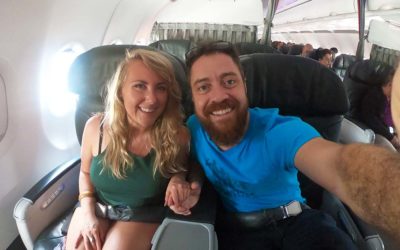 Today is a travel day where we're headed from Medellín to Santa Marta Colombia. Little do we know,...
read more

BE Adventure Partners guides people in making money online. Earn an independent living from your knowledge, skills & passions. Become self-reliant. Live a smart & simple life on your terms.